Truman Library Institute Commemorates 75th Anniversary of UN Charter Signing
|
June 23, 2020
Digital Initiative Recognizes UN Anniversary and First Presidential Homecoming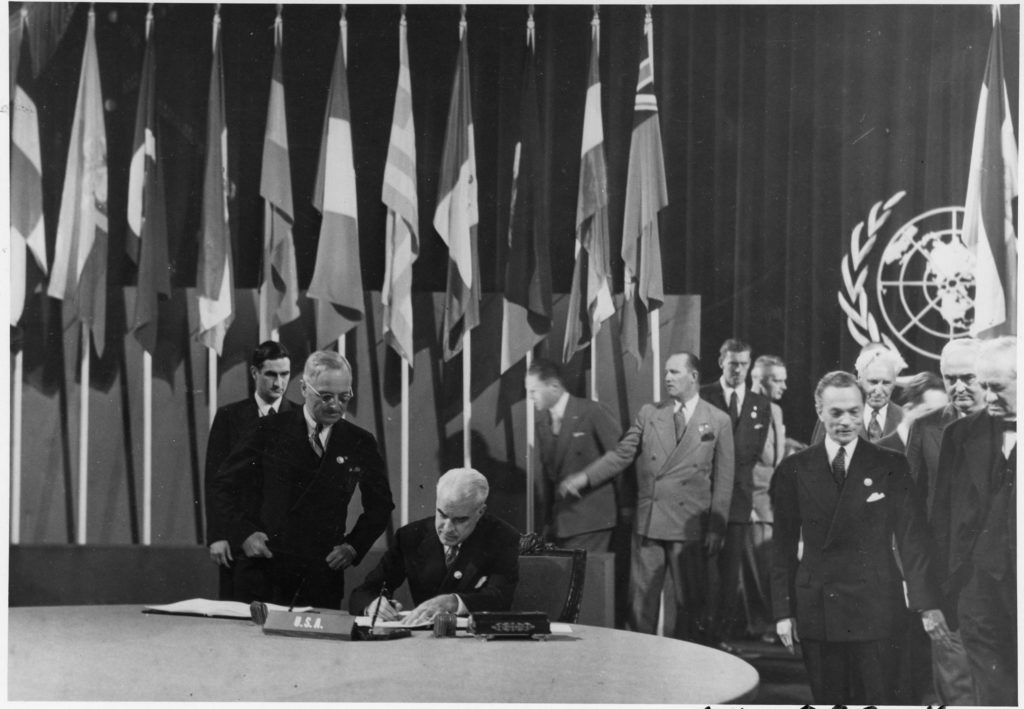 INDEPENDENCE, Mo. – The Truman Library Institute and the Harry S. Truman Library and Museum are launching a special online initiative in observance of the 75th anniversary of Truman's address to the delegates of the United Nations Conference and his subsequent first visit back home as President of the United States.
President Harry Truman addressed the delegates of the UN Conference on June 26, 1945, saying, "By their own example the strong nations of the world should lead the way to international justice. That principle of justice is the foundation stone of this Charter. That principle is the guiding spirit by which it must be carried out—not by words alone but by continued concrete acts of good will."
The Institute is honoring this anniversary by releasing a brief video highlighting audio from President Truman's speech along with photos from that historic day.
"President Truman's address to the UN provides an exceedingly relevant example on how the nations can come together to tackle global issues," said Dr. Kurt Graham, Director of the Truman Library. "As we celebrate each milestone of this 75th anniversary year, we are more inspired by our hometown president than ever before."
Following President Truman's UN address, he boarded a plane to return home to Independence—his first visit as President of the United States—where he visited friends and family, held the first presidential press conference in his hometown and was awarded an honorary degree from UMKC.
The Institute is hosting a digital program focused on Truman's first presidential homecoming on Tuesday, June 30, at 6 p.m. Part of the 75th anniversary series, this free program features a presentation from Doug Richardson, Chief of Interpretations and Visitor Services at the Harry S Truman National Historic Site.
The Truman Library Institute has prepared a media gallery (bit.ly/Truman75thMedia) in observation of the 75th anniversary of Truman's presidency with video, audio, photos, and artifacts of key moments from the first four months of the Truman presidency. The folder on the anniversary of the UN Charter signing and the president's visit home includes audio of Truman's address to the UN Conference, a transcript of his address at UMKC's commencement ceremony, color photos of his visit with family and more. Graham and other Truman experts are available for interviews by online video, phone, and email.
The Truman Library is currently closed for a transformative renovation, with construction continuing consistent with public health and safety guidelines. Installation of the new exhibits is expected to begin this month. Preview the all-new 12,000-square-foot exhibition in this fly-through video, and view current progress on the project in this renovation update.
CONTACT:
Dean Davison
816-787-2886
Dean@DavisonStrategicComms.com
Lacey Helmig, Director of Communications
816.400.1217
Lacey.Helmig@TrumanLibraryInstitute.org
The Truman Library Institute is the member-supported, nonprofit partner of the Harry S. Truman Library and Museum, one of 14 presidential libraries of the National Archives and Records Administration. The Truman Library Institute draws on President Truman's legacy to enrich public understanding of history, the presidency, and America's unique form of government. This mission is achieved through the development and funding of world-class museum exhibits, a robust international research grant program, public forums, and nationally acclaimed education programs serving more than 50,000 students and teachers each year. Learn more at TrumanLibraryInstitute.org.