Harry and Bess Truman's 100th Wedding Anniversary
Friday, June 28, 2019 at 6 p.m.
On a summer day so stifling that the wedding flowers began to wilt, Harry and Bess Truman were married at Trinity Episcopal Church in Independence on June 28, 1919. The couple enjoyed 53 years of marriage, from Independence to the White House and back again, an American love story for the ages.
As our hometown president and first lady enter their 100th anniversary year, please join us for a platinum anniversary celebration, complete with a group vow renewal ceremony followed by the wedding reception of the century featuring a concert by the 135th Army Band.
The event culminates with a large-scale vow renewal ceremony on the steps of the Truman Library, with couples of all ages invited to renew their vows in a short but meaningful ceremony at 6 p.m. Immediately following, all are welcome to join us for the wedding reception of the century featuring a concert by the 135th Army band along with dessert and a champagne toast to our favorite presidential couple.
The event is free to attend and participate in, but RSVPs are requested.  Everyone who is pre-registered will receive a commemorative gift.
---
Plan to spend the day in Independence celebrating the platinum anniversary while exploring the hometown that meant so much to our presidential couple. Be sure to hit these highlights:
500 W. U.S. Hwy. 24, Independence, MO 64050
Open 9 a.m. to 6 p.m. in honor of 100th Anniversary
3 p.m. Treasures from the Collection Discussion
Visit America's best presidential museum to learn more about Harry Truman and his leadership  through one of the most tumultuous period's in our nation's history. Learn more about Harry and Bess' inspiring love story, with exhibits featuring dozens of their love letters, artifacts from their 53-year marriage and more. Join us at 3 p.m. in the Main Lobby for a Treasures from the Collection discussion, with the curatorial team displaying several artifacts not typically on display, including Bess' wedding dress.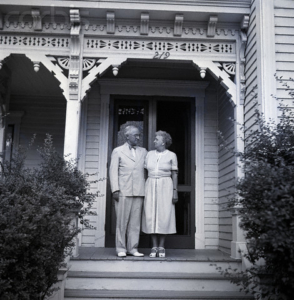 219 N. Delaware St., Independence, MO 64050
Tours 9 a.m. to 4:30 p.m., Photo Opportunity 4 p.m. to 5:30 p.m.
Tour Harry and Bess' home of more than 50 years at the Harry S Truman National Historic Site, where Harry and Bess moved in after their honeymoon and remained until President Truman's death. Tours are available free of charge from 9 a.m. to 4:30 p.m. Visitors can walk the halls where Harry and Bess walked and view a special plate given to the couple commemorating their wedding and countless other objects they treasured throughout their marriage. The Truman Home will offer a special opportunity to recreate the iconic Harry and Bess photo (at right) on their front porch from 4 p.m. to 5:30 p.m.
409 N. Liberty St., Independence, MO 64050
Open 1 p.m. to 5 p.m.
Special Program at 4 p.m.
Step foot in the church where Harry and Bess were married 100 years ago this year. At 4 p.m. — the exact moment that Harry and Bess were married a century ago — Truman Library Archivist Tammy Williams will give a brief talk focused on the love story of Harry and Bess. The church will be open from 1 p.m. to 5 p.m. that day for visitors to tour.
217 N. Main St., Independence, MO 64050
Open 9 a.m. to 5 p.m.
Visit the historic 1859 Jail Museum, offering extended hours and free admission in honor of the anniversary along with an opportunity to view the special exhibit "I Do: Wedding Traditions in Jackson County," featuring 19th and 20th century Jackson County wedding dresses along with stories about popular wedding traditions and their origins.
217 N. Main St., Independence, MO 64050
Open 9 a.m. to 5 p.m.
Tour the Historic Truman Courthouse, where Harry Truman started his political career and oversaw the day-to-day operations of Jackson County in the late 1920s and early 1930s. Jackson County Historical Society will offer free tours of the courthouse at 11 a.m. and 2 p.m.
Walk the historic streets of Harry and Bess' hometown and enjoy the same iconic Square that the presidential couple frequented, including Clinton's Soda Fountain, where President Truman worked his first job. There are more than a dozen dining options on the Square to sample before or after the anniversary event, including some offering 100th anniversary specials in honor of the hometown couple.
---
Harry and Bess' 100th Wedding Anniversary is presented as part of a partnership between the Harry S. Truman Library and Museum, the Truman Library Institute, the Harry S. Truman National Historic Site, the City of Independence, the Independence Square Association and the Jackson County Historical Society.