Featured Event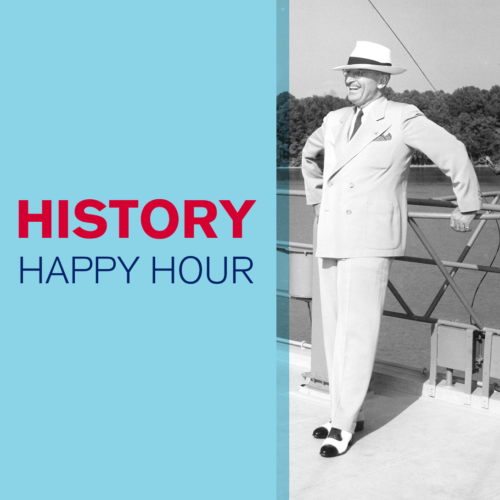 History Happy Hour
SOLD OUT – History Happy Hour: In the Kitchen with Bess
4:00 p.m. to 5:00 p.m.

Truman Library Institute
5151 Troost Ave., Ste. 300
Kansas City, MO 64110
**This event has reached capacity. Save the date for the next History Happy Hour event taking place Friday, September 13.**
Bess Truman had skill and style in the kitchen. From macaroni and cheese to meat loaf, her recipes were sure to satisfy. Join archivist Tammy K. Williams as we do a deep dive into Mrs. Truman's recipe box.  During this History Happy Hour, we will talk about recipes that Mrs. Truman gave out and received, food trends in the 1940s and 1950s, and some of the Truman family favorite foods and meals.
Tickets are free for Truman Library Institute members or $10 for non-members and include appetizers and custom drink pairings by Happy Hour, Inc., including Pear Tart white wine, Café' Amaro Liqueur, Sweet Tea Vodka, Blueberry Lemon Shandy and Chocolate Peanut Butter Porter.
This History Happy Hour takes place at the Truman Library Institute offices on the campus of Rockhurst University. Doors open at 3:45 p.m., with networking time from 3:45 to 4:15 p.m. The program will begin at 4:15 p.m.
Upcoming Events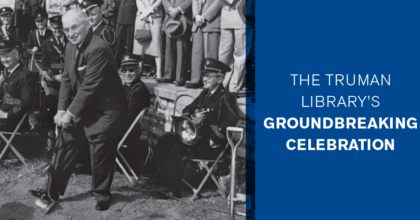 Thursday, September 5, 2019
Groundbreaking Celebration
PRIVATE EVENT: THE TRUMAN LIBRARY'S GROUNDBREAKING CELEBRATION
3 p.m. Celebration

Front Lawn,
Harry S. Truman Library and Museum
The Truman Library's Groundbreaking Celebration will include remarks from Governor Michael L. Parson and Archivist of the United States David Ferriero and takes place Thursday, September 5 at 3 p.m. This event is invitation-only and will be followed by a champagne toast.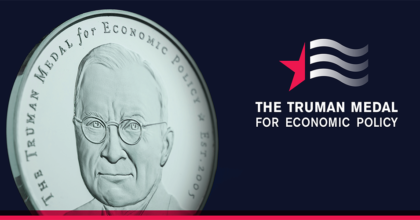 Thursday, October 10, 2019
SIGNATURE EVENT
2019 Truman Medal for Economic Policy Award
6 p.m. Reception | 6:30 p.m. Program

Truman Forum, Plaza Branch of the KC Public Library
4801 Main St.
Kansas City, MO 64112
Join us for the 2019 Truman Medal for Economic Policy Award Ceremony, honoring former Chair of the Federal Reserve Board Janet Yellen. Currently a Distinguished Fellow in Residence with the Economic Studies Program at the Brookings Institution, Dr. Yellen has also served as Vice Chair of the Federal Reserve Board and President and Chief Executive Officer of the Federal Reserve Bank of San Francisco, as well as Chair of the White House Council of Economic Advisors.
The Truman Medal for Economic Policy is awarded biennially in a highly-anticipated public program, jointly sponsored by the Truman Library Institute, the Henry W. Bloch School of Management, University of Missouri–Kansas City, the Economic Club of Kansas City, and the Missouri Council on Economic Education. The Medal was established in 2005 to provide a forum to recognize exceptional economic policy contributions and past honorees include Robert Shiller, Alan Greenspan, John B. Taylor and more.
Join us for an award presentation followed by a conversation between Dr. Yellen and David Von Drehle, columnist for The Washington Post. The award ceremony and program will begin at 6:30 p.m., with a reception preceding at 6 p.m.
Find full event details here.
This event is free and open to the public, but RSVPs are requested.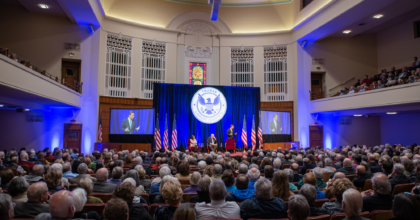 Saturday, November 16, 2019
SIGNATURE EVENT
SAVE THE DATE – The Bennett Forum on the Presidency
6 p.m., Unity Temple on the Plaza, Kansas City, Mo.
Save the date for Kansas City's most anticipated politically-themed event, the Bennett Forum on the Presidency. One of the Truman Library Institute's most popular events of the year, the Bennett Forum is scheduled for Saturday, November 16 at 6 p.m.
Please save the date, then subscribe to our emails to be the first informed when this year's speakers are announced.