TRUMAN CIVIL RIGHTS SYMPOSIUM
A NATIONAL 75th ANNIVERSARY COMMEMORATION
July 26-28, 2023 ★ Washington, D.C
On July 26, 1948, with the stroke of a pen, President Harry S. Truman changed the course of American history. By signing Executive Order 9981, "Establishing the President's Committee on Equality of Treatment and Opportunity in the Armed Services," he officially declared that "there shall be equality of treatment and opportunity for all persons in the armed services without regard to race, color, religion or national origin." His action reflected the growing realization by more and more Americans that our nation could no longer reconcile segregation with the values we had fought a war to uphold.
Seventy-five years on, during a three-day public symposium in Washington, D.C., the Truman Library Institute led the national commemoration of this landmark civil rights anniversary. Transcripts of all sessions are available below, and they can also be viewed on Youtube.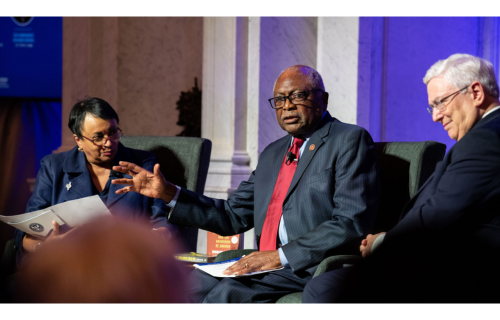 OPENING EVENT: TO SECURE THESE RIGHTS
Venue: Library of Congress
Rep. James E. Clyburn
Judge Richard Gergel, U.S. District Court for the District of South Carolina
Dr. Carla Hayden, 14th Librarian of Congress
This special event features a recorded message from former President Barack Obama.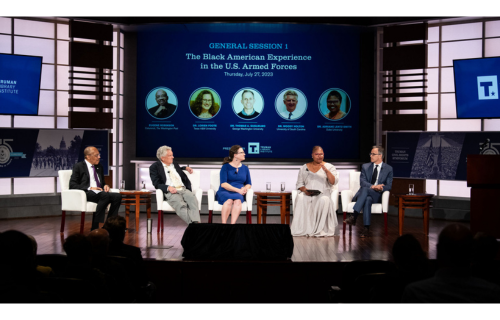 THE BLACK AMERICAN EXPERIENCE IN THE U.S. ARMED FORCES
Venue: George Washington University
Panel discussion moderated by Pulitzer Prize-winning journalist Eugene Robinson
Dr. Woody Holton, Professor of History at the University of South Carolina
Dr. Lorien Foote, Professor of History at Texas A&M University
Dr. Adriane Lentz-Smith, Associate Professor of History at Duke University
Dr. Thomas Guglielmo, Department Chair and Associate Professor of American Studies at George Washington University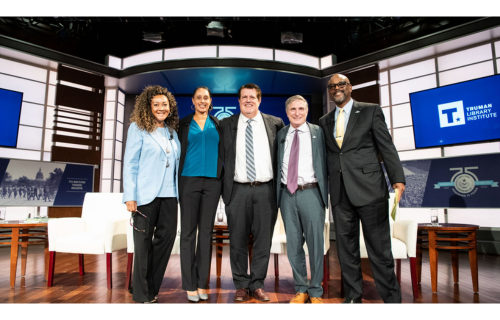 THE RIGHT TO FIGHT: THE IMPLEMENTATION AND IMPACT OF EXECUTIVE ORDER 9981
Venue: George Washington University
Panel discussion moderated by Michele Norris
Dr. Sabrina Thomas, Associate Professor of History at Texas Tech University
Dr. David P. Cline, Professor of History and Founding Director of the San Diego State University Center for Public and Oral History
Dr. Kyle Longley, Professor of History and Director of the Masters in War and Society Program at Chapman University
Dr. Robert F. Jefferson, Associate Professor of History at the University of New Mexico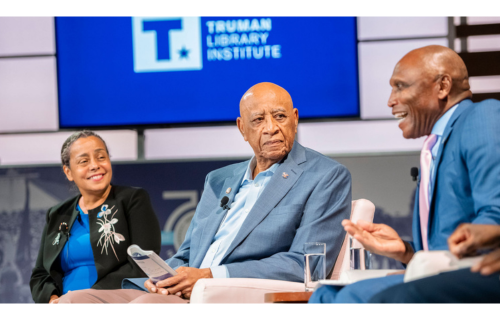 VETERAN VOICES: DESEGREGATION'S IMPACT ON THE INDIVIDUAL EXPERIENCE
Venue: George Washington University
Panel discussion moderated by attorney and author Rawn James
Amb. John L. Estrada, former United States Ambassador to Trinidad and Tobago and 15th Sergeant Major of the Marine Corps
Adm. (Ret.) Michelle Howard, the highest ranking African American in U.S. Navy history and first woman to achieve four-star rank in any branch of the U.S. Armed Forces
Brig. Gen. Terrence A. Adams, Director, Cyberspace Operations and Warfighter Communications, U.S. Air Force
Brig. Gen. (Ret.) Donald Scott, the first graduate of HBCU Lincoln University to earn a star in the U.S. Army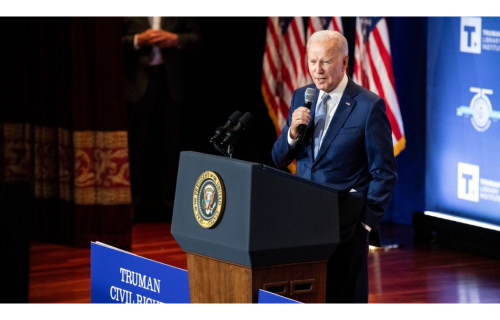 KEYNOTE EVENT
Venue: National Archives
Pre-Program Participants include David Von Drehle, Washington Post Columnist; Theodore (Ted) Colbert III, Boeing; Truman Library Director Kurt Graham; Archivist Colleen Shogan; Adm. (Ret) Michelle Howard, U.S. Navy; and Adm. Linda L. Fagan, 27th Commandant of the U.S. Coast Guard
Keynote Event:
Welcome by The Hon. Emanuel Cleaver II
Introduction of President Biden by The Hon. James Clyburn
Symposium Address by President Joe Biden
Closing Remarks by Alex Burden, Executive Director, Truman Library Institute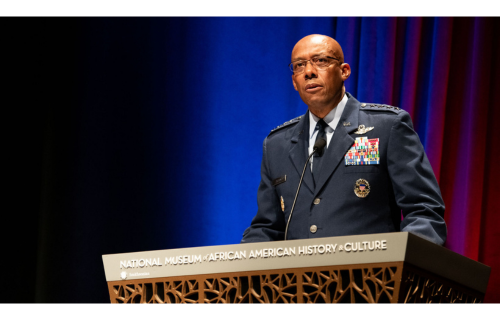 CLOSING EVENT: THE FUTURE OF INCLUSION: EQUAL OPPORTUNITY IN TODAY'S MILITARY…AND TOMORROW'S
Venue: National Museum of African American History and Culture
Panel discussion moderated by Cmdr. Theodore "Ted" R. Johnson
Secretary Anthony Woods, Maryland Department of Veterans Affairs
Kori Schake, Senior Fellow and Director of Foreign and Defense Policy Studies, American Enterprise Institute
Capt. (Ret.) Cynthia Macri, M.D., FACS, FACOG
Lt. Col. (Ret.) Jason Dempsey, Executive Director, Center for Veteran Transition & Integration at Columbia University
Closing remarks by General CQ Brown, Jr., Chief of Staff of the U.S. Air Force


With Additional Funding Support From
LEIGH AND TYLER NOTTBERG FAMILY FOUNDATION
ANN BAUM – G. KENNETH AND ANN BAUM PHILANTHROPIC FUND
JAN AND TOM KREAMER
Holland 1916
Kristen and Don Trigg
Cheryl and Billy Geffon
Kristin Stephen
M. Jeannine Strandjord