2023 Forum on the Presidency

TRUMAN AND CIVIL RIGHTS
6:30-8:00 p.m., Thursday, November 30, 2023
Online & Onstage at Unity Temple on the Plaza
707 W. 47th Street, Kansas City, Missouri
On July 26, 1948, President Harry S. Truman changed the course of American history. With the signing of Executive Order 9981, "Establishing the President's Committee on Equality of Treatment and Opportunity in the Armed Services," Truman officially declared that "there shall be equality of treatment and opportunity for all persons in the armed services without regard to race, color, religion or national origin."
Join us for an evening of riveting storytelling exploring the genesis and legacy of Executive Order 9981. Robin Givhan, Pulitzer Prize winning journalist and our moderator for the evening, will be joined by Brig. Gen. Terrence A. Adams, Judge Richard Gergel and Adriane D. Lentz-Smith, Ph.D.  In July, the Truman Library Institute organized the national commemoration for E.O. 9981. The three-day Truman Civil Rights Symposium in Washington, D.C. has been hailed as one of the most important events of its kind—and now it's coming to Kansas City, for one night only!
The 17th Annual Bennett Forum on the Presidency is offered exclusively to Truman Library Institute members and VIP guests. 
Student / Teacher level = 1 free ticket
Basic level = 2 free tickets
Family level and higher = 4 free tickets
Claim your free tickets (in-person or virtual) today!
Not yet a member? JOIN now to receive your members-only invitation.
Featured Guests
MODERATOR
ROBIN GIVHAN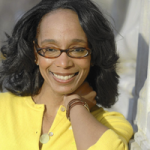 Robin Givhan is senior critic-at-large for the Washington Post.
She received her Bachelor of Arts in English from Princeton University and a Master's of Science in journalism from the University of Michigan. In 1995, she arrived at the Washington Post where she began covering the news, trends and business of the international fashion industry. She also wrote a weekly culture column. In 2009, she began covering Michelle Obama and the cultural and social shifts stirred by the first African American family in the White House. From 2010-2012, she was special correspondent for style and culture at Newsweek Daily Beast. She returned to the Post in 2014 as fashion critic. In 2020, she was appointed senior critic-at-large with a focus on politics, race and the arts.
Givhan's work has appeared in Harper's Bazaar, Vogue, Vogue Italia, British Vogue, Essence, Elle UK, New York and the New Yorker. She has contributed to several books including Runway Madness, No Sweat: Fashion, Free Trade and the Rights of Garment Workers, and Thirty Ways of Looking at Hillary: Reflections by Women Writers. She is the author, along with the Washington Post photo staff, of Michelle: Her First Year as First Lady.
Her first solo book, The Battle of Versailles: The Night American Fashion Stumbled into the Spotlight and Made History, was published in March 2015. It is a cultural history of the 1973 Franco-American runway extravaganza that altered the trajectory of the fashion industry.
In 2006, she won the Pulitzer Prize in criticism for her fashion coverage. She lives in Washington, DC.
PANELISTS
BRIGADIER GENERAL TERRENCE A. ADAMS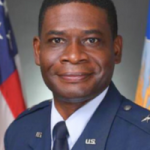 Brigadier General Terrence A. Adams is the Deputy Principal Cyber Advisor (DPCA) to the Secretary of Defense and Senior Military Advisor for Cyber Policy. As the DPCA, he serves as the principal advisor to the Secretary on military cyber forces and activities. He is also responsible for assessing and overseeing the implementation of the cyber strategy of the Department and execution of the cyber posture review of the Department on behalf of the Secretary. On behalf of the Principal Cyber Advisor, Brig. Gen. Adams leads a cross-functional team focused on synchronizing and coordinating military and civilian cyber forces and activities of the Department.
Brig. Gen. Adams was born in Tuskegee, Alabama, and enlisted in the Army as a private (E-1) after high school. After serving in the Army for six years, he entered the Air Force through the Reserve Officer Training Corps at Alabama State University – Detachment 019 after graduating from Auburn University in Montgomery, Alabama. He commanded six times at the squadron, group, and wing levels, three of these commands while deployed. Most recently, he served as Commander 628th Air Base Wing, and Commander of Joint Base Charleston, South Carolina. Brig. Gen. Adams deployed to Seeb Air Base, Oman, Kirkuk AB, Iraq, Ali AB, Iraq, and Al Udeid AB, Qatar in support of operations Southern Watch, Iraq Freedom, Enduring Freedom, New Dawn, and Combined Joint Task Force Horn of Africa. He has held a variety of positions at squadron, group, wing, major command, air staff and joint levels.
Prior to his current position, the general was the Director, Cyberspace Operations and Warfighter Communications, Office of the Deputy Chief of Staff for Intelligence, Surveillance, Reconnaissance, and Cyber Effects Operations, Headquarters U.S. Air Force, the Pentagon, Arlington, Virginia.
THE HONORABLE RICHARD GERGEL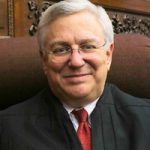 Richard Mark Gergel is a U.S. District Judge for the District of South Carolina. His book, Unexampled Courage: The Blinding of Sgt. Isaac Woodard and the Awakening of President Harry S. Truman and Judge J. Waties Waring, was the basis for the PBS American Experience documentary, The Blinding of Isaac Woodard. Judge Gergel currently presides in the same Charleston, South Carolina, courthouse where Judge Waring heard arguments from President Truman's Justice Department against a police officer who beat and blinded Sgt. Isaac Woodard, a decorated Black World War II veteran hours after he had been honorably discharged. Though an all-white jury acquitted the police officer, the case served as a turning point for both President Truman and Judge Waring, leading to the establishment of the first Presidential Commission on Civil Rights. Judge Gergel was nominated to the U.S. District Court bench by President Barack Obama and was confirmed unanimously by the U.S. Senate in August 2010. He earned undergraduate and law degrees from Duke University.
ADRIANE LENTZ-SMITH, PH.D.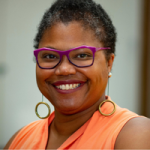 Dr. Adriane Lentz-Smith is an Associate Professor of History and African American studies at Duke University where her courses include the Civil Rights Movement, Black Lives, Modern America, and History in Fact and Fiction. She is also a Senior Fellow in Duke's Kenan Institute for Ethics. Dr. Lentz-Smith is the author of Freedom Struggles: African Americans and World War I (2009). She appeared in the PBS American Experience Voice of Freedom documentary and has served as an historical consultant for the BBC HistoryExtra podcast series on the civil rights movement. She has published articles on modern U.S. history and Black struggles for civil and human rights in Southern Cultures, Modern American History, and American Quarterly. Dr. Lentz-Smith earned a B.A. in History from Harvard-Radcliffe and a Ph.D. in History from Yale University.
The 17th Annual Bennett Forum on the Presidency is offered exclusively to Truman Library Institute members and VIP guests. 
Not yet a member? JOIN now to receive your members-only invitation. Along with free museum admission at the Truman Library and all presidential libraries operated by the National Archives, you'll receive…
Student / Teacher level = 1 free Bennett Forum ticket with a $25 annual membership
Basic level = 2 free Bennett Forum tickets with a $35 annual membership
Family level and higher = 4 free Bennett Forum tickets with a $50 annual membership
About the Forum on the Presidency
The Howard & Virginia Bennett Forum on the Presidency was established in 2006 by Mary and Michael Johnston to fulfill President Truman's vision for his presidential library as a "classroom for democracy."
2022
THE AMERICAN STRUGGLE
Jon Meacham
David Von Drehle
2021
ON DEMOCRACY
Heather Cox Richardson
David Von Drehle
2020
PRESIDENTIAL ELECTIONS
Jon Meacham
David Von Drehle
2019
AMERICA'S GREATEST PRESIDENTS
Sen. Jeff Flake
Doris Kearns Goodwin
David Von Drehle
2018
PRESIDENTIAL POWER IN TIMES OF CRISIS
Michael Beschloss
Jane Mayer
David Von Drehle
2017
THE PRESIDENCY IN THE POST-TRUTH ERA
Doris Kearns Goodwin
David Von Drehle
2016
PRESIDENTIAL POLITICS AND THE FUTURE OF AMERICA'S DEMOCRACY
Jane Mayer
Douglas Brinkley
David Von Drehle
2015
LEADERSHIP LESSONS FROM THE WHITE HOUSE
Doris Kearns Goodwin
Bill Moyers
2014
AN EVENING WITH BILL MOYERS
With Special Guest Bob Kerrey
2013
AMERICAN PRESIDENTS AND THEIR CABINETS
Bob Kerrey
Donald Rumsfeld
William S. Cohen
David Von Drehle
2012
PRESIDENTS, CONGRESS AND THE CONFLICT OF POWER
Marvin Kalb
Margaret Hoover
Timothy Naftali
Jim Slattery
2011
PRESIDENTIAL POWER ABROAD: TRUMAN TO OBAMA
Madeleine Albright
Bob Kerrey
Leslie Gelb
Chuck Hagel
2010
PRESIDENTS AT WAR: KOREA TO AFGHANISTAN
Bob Kerrey
Andrew Bacevich
Senator Evan Bayh
Douglas Brinkley
2009
PRESIDENTIAL LEADERSHIP IN TRANSFORMATIONAL TIMES
Arianna Huffington
Joseph S. Nye, Jr.
Robert Kuttner
Timothy Naftali
2008
THE MEDIA AND THE PRESIDENCY: PLAYING POLITICS
Ted Sorensen
Scott Simon
Timothy Naftali
Costas Panagopoulos
2007
PRESIDENTIAL POWER: HOW MUCH IS TOO MUCH?
Bill Moyers
Michael Beschloss
Timothy Naftali
Elizabeth Spaulding