Harry Truman Is Headed Back to Washington!
WHAT More than 75 years after ascending to the presidency, Harry Truman is headed back to Washington. For nearly two decades, Missouri leaders have sought to secure a place for Truman – consistently ranked among our nation's greatest leaders – in the National Statuary Hall Collection. Today, the dream is nearly a reality. A newly commissioned bronze statue of President Truman will be unveiled and dedicated in the U.S. Capitol Rotunda on September 29, 2022. READ THE NEWS RELEASE.
WHO The Truman Library Institute – the non-profit partner of the Harry S. Truman Library and Museum – spearheaded the campaign to create and fund the new Truman Statue. A committee of Truman family and friends, along with current and former Institute board members, reviewed proposals from six artists and presentations from four finalists before choosing Kansas City-based sculptor Tom Corbin.
WHY Harry S. Truman's story is richly and uniquely American. From humble beginnings, he rose to become the most powerful man in the world. For nearly eight years, he guided our nation and the world through perilous times, from the ending of World War II to the beginning of the Cold War. The list of Harry Truman's difficult and world-shaping decisions is long and unparalleled. Today, he is consistently ranked among the top five American leaders. Truman's legacy of principled and decisive leadership is the standard that U.S. presidents now and forever will aspire to.
WHERE The Truman Statue will be received into the National Statuary Hall Collection and permanently installed on an inscribed pedestal in the U.S. Capitol Rotunda. In addition to its active use by Congress, the U.S. Capitol is a museum of American art and history. Each year, it is visited by an estimated 3 to 5 million people from across the nation and around the world.
The Making of the Truman Statue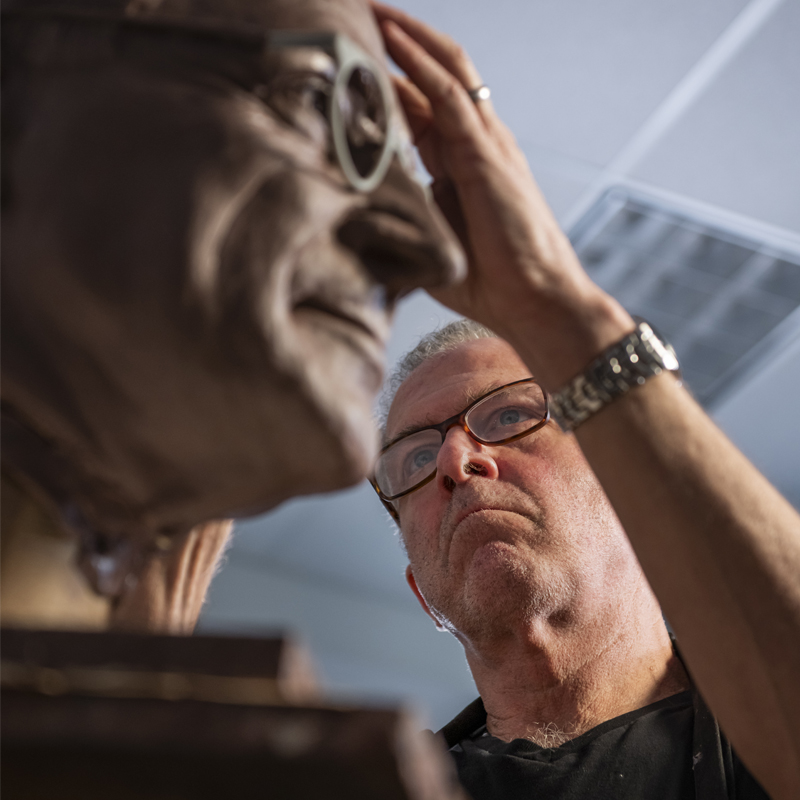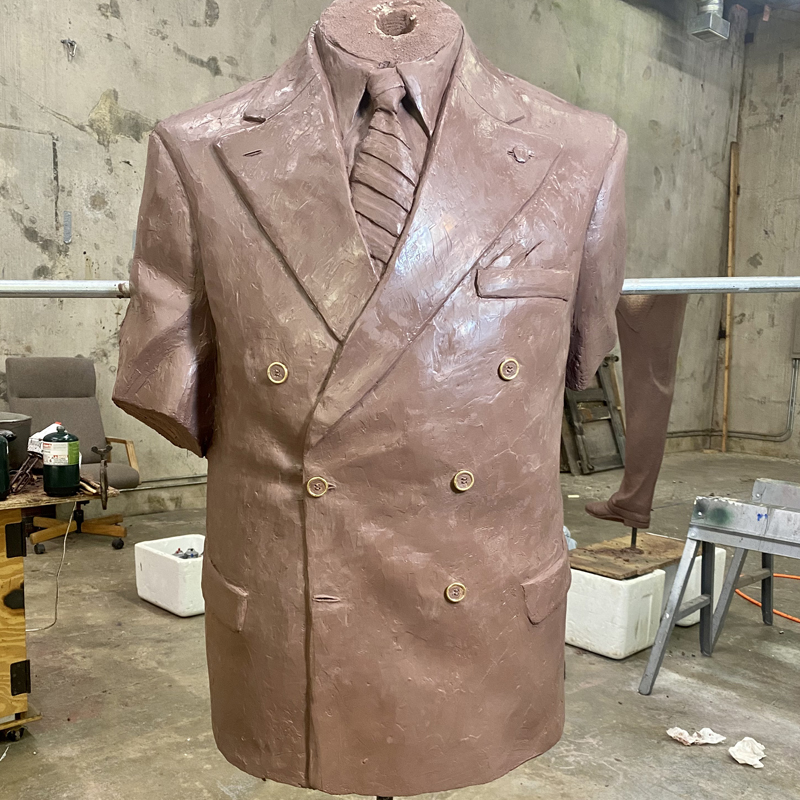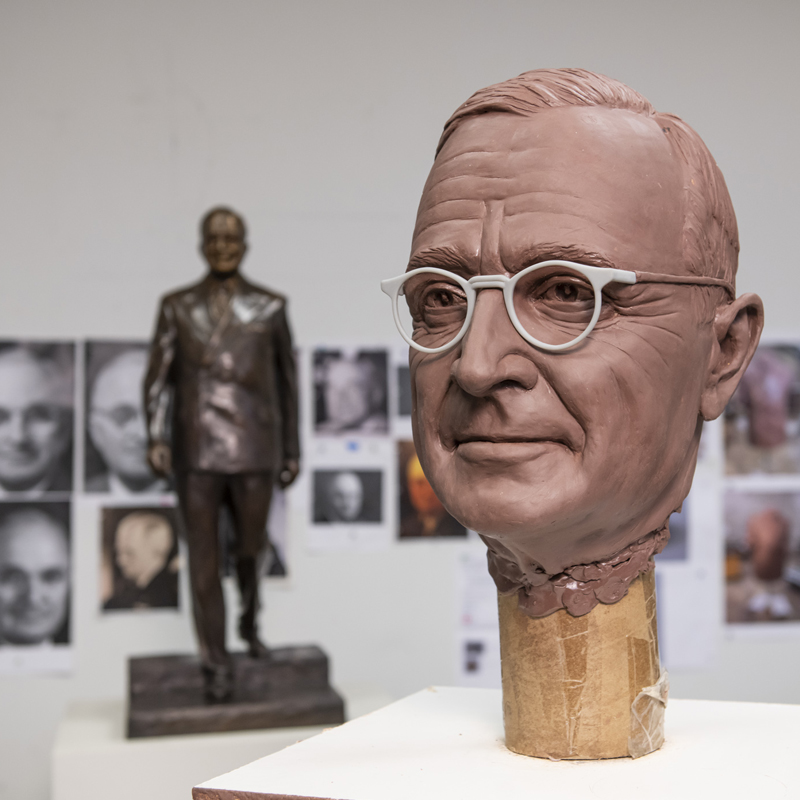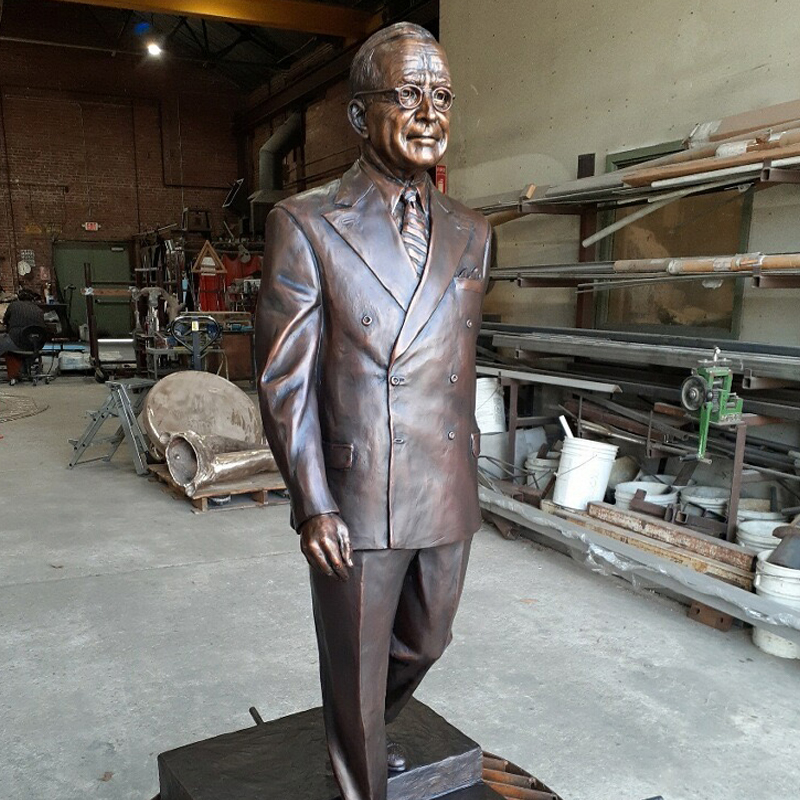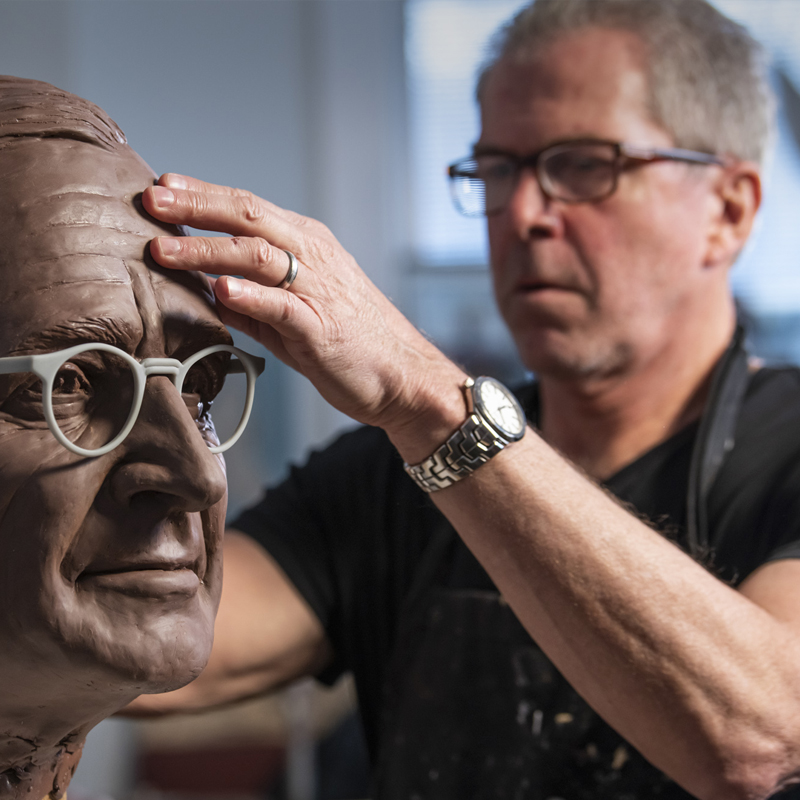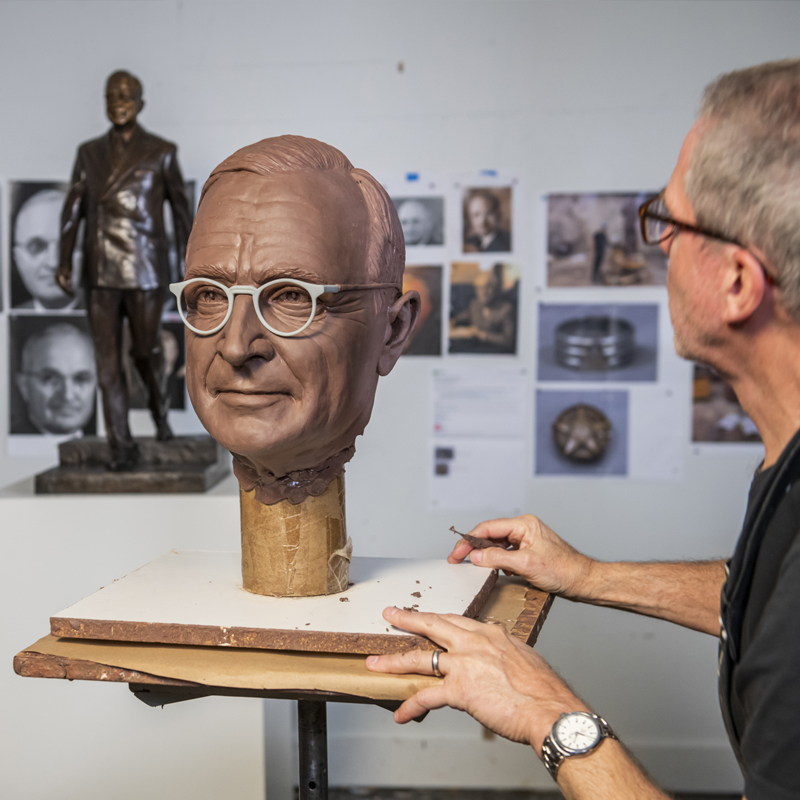 Clifton Truman Daniel, President Truman's Eldest Grandson
"There's no better place to explore Truman's story than at his presidential library, but for the millions who may never walk through those doors, there will soon be another chance to come face to face with my grandfather. To everyone who has worked to make this a reality, to everyone now joining the campaign: my family and I can't thank you enough for envisioning, creating and funding this enduring monument as a tribute to Grandpa's leadership and legacy."
U.S. Rep. Emanuel Cleaver II
"The world needs to know about this man from Missouri who did so much for this country… He is a giant, and giants must always be remembered."
Alex Burden, Executive Director, Truman Library Institute
"At the heart of the Institute's mission is a steadfast commitment to promoting President Truman's legacy. I firmly believe that there's no better way to advance that mission than with this highly visible effort to bring Harry Truman back to Washington, D.C."
Tom Corbin, Sculptor
"Portraying this amazing man through my art is the highlight of my career."
Truman Statue Campaign Donors
The installation of the Harry S. Truman Statue in the Capitol Rotunda is made possible thanks to the efforts of a group of dedicated volunteers and community leaders. These faithful friends shared their time and talents over the past six years to ensure Truman's story stands as a shining example in our nation's capitol. This extraordinary legacy project was made possible by generous gifts from organizations and individuals across the country, including:
Marny and John Sherman
Cheryl and Billy Geffon
Jane and Richard Bruening
Joseph Shepard and Senator Claire McCaskill
Mary and John Hunkeler
Emerson
Cappy and Peter Powell
Kansas City Southern
Belger Cartage Service, Inc.
Ellen and Irvine O. Hockaday, Jr.
Frank and Margaret G. McGee Fund
Molly McGee
Vicki and Bill Reisler
M. Jeannine Strandjord / Ewing Marion Kauffman Foundation
Annabel and James B. Nutter, Sr., Sonya and James B. Nutter, Jr.,Nancy Nutter Moore
Mary Ellen and James Ascher
Christy and Bill Gautreaux
Ginny and Dan Crisci
Barbara and Allen Lefko
Katie and Clyde Wendel
Willard Family Foundation
Susanne Shutz
Black & Veatch
Hallmark Cards, Inc.
Barbara and Bill Nelson Family
Amy and Robert Dunn
Kathie Allison
Sarah and Jon Baum
Kirk W. Carpenter
Anne and Rudy deLeon
Anne and Daniel Durrie
Laurie J. Hamilton
June and Sam Hamra
Claire Jerry
Jan and Tom Kreamer
Jill and Tom McGee
Patty Petet
Becky Blades and Cary Phillips
Page and Bruce Reed
James and Mary R. Stilley, Jr.
Lisa A. Sullivan
George P. Viegelmann, Jr.
Patrick Wilson and Jason Geske
Mary Linna and Dick Woods
Patricia Cleary Miller
Mary Ann Shaw
Cathy and Jerry Radek
Charles and Paula Fischbach
Sue and Overton Durrett
Cathy Jambrosic and Michele Stauffer
Piper Parker
Karen Ball and David Von Drehle
Join the Truman Statue Campaign
We are in the final stages of the Truman Statue Campaign, but there's still time to be part of this once-in-a-lifetime opportunity.
If you have any questions or would like to learn more about the Truman Statue Campaign, please contact:
Alex Burden, Executive Director
816.400.1215
Kim Rausch, Development Director
816.400.1214