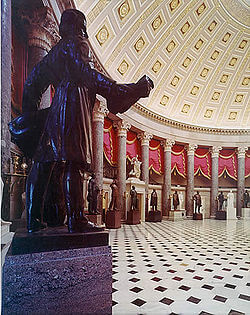 Truman Statue Campaign
National Statuary Hall in Washington, D.C.
The Truman Library Institute is leading a national effort to finance, create and install a statue of Harry S. Truman in the U.S. Capitol Building's National Statuary Hall in Washington, D.C. This stunning, two-story, semicircular gallery resides in one of the most recognizable symbols of representative democracy in the world. This historic setting serves as the main exhibition space for the National Statuary Hall Collection, which features statues of 100 of our nation's most famous historical figures.

If you agree that President Truman – one of America's greatest leaders and Missouri's most famous native son – deserves to be honored in National Statuary Hall, please support this campaign with a tax-deductible contribution. Show more
The installation of a Truman statue at the U.S. Capitol has received the necessary approvals from the Missouri Legislature, Governor Jay Nixon and the Architect of the U.S. Capitol, Stephen T. Ayers. The Truman Library Institute's Truman Statue Campaign has the strong support of the Truman Library Institute's Board of Directors, Jackson County Executive Frank White, the Missouri Congressional delegation, City of Independence Mayor Eileen Weir and project champion, Congressman Emanuel Cleaver, who shares our commitment in honoring President Truman.
To capitalize on this exciting opportunity, the Institute plans to raise $350,000, identify and hire an artist; create the sculpture and pedestal; transport the sculpture from the artist's studio to Washington, D.C.; deliver the currently installed statue of Francis Blair back to Missouri; and celebrate Truman's legacy with an installation ceremony.
National Statuary Hall, formerly known as the old House Chamber, is one of the most historic halls of the U.S. Capitol Building. Presidents James Madison, James Monroe, John Quincy Adams, Andrew Jackson and Millard Fillmore were inaugurated in the Hall, and the House of Representatives met in the space from 1807 until 1857, when the present House Chamber was completed. The idea for the National Statuary Hall – a sculpture collection that commemorates the heroes and innovators from every state of the Union – was introduced shortly after Congress moved to the new wing. Today, National Statuary Hall is one of the most popular rooms in the U.S. Capitol Building. It, and its collection of statues from individual states, is visited by three million visitors every year – thousands of tourists each day – and continues to be used for important national ceremonies.
Now, more than ever, it's important to remind Americans and visitors to our nation's capitol that President Truman's legacy is worth remembering and honoring. The Truman Library Institute respectfully requests that you consider supporting our efforts with a generous contribution.
Contact Kim Rausch at kim.rausch@TrumanLibraryInstitute.org or 816.400.1214 to support this important project.
A classroom for democracy
Core Education Programs
Each year, the Truman Library Institute invests more than a half-million dollars in nationally acclaimed educational programs for schoolchildren and their teachers, who rely on our nation's best presidential museum as an essential resource for history education. These programs help them to not only learn, but also embrace the study of history, government and the importance of civic engagement.   Show more
Your support helps open the doors to some of the greatest lessons in leadership our country has to offer, including The White House Decision Center, Guided Museum Tours, Educational Outreach Programs, Research Grants and Awards program, Teacher in-service training and workshops, the Summer Teacher Institute, and National History Day.
Truman's legacy teaches students that by our values, decisions and investments, ordinary people can make and extraordinary difference. It's why kids love Harry Truman – in him they can see their own potential for greatness.
Public Programs & Commemorative Events
The Honorable Ike Skelton Veterans Day Program
Endowment opportunities and title sponsorship recognition is available
It can be argued that there would be no Truman Library, no President Truman, if there had been no Captain Harry.  For Harry Truman – and this is true for countless men and women – uniformed service changed the course of his life and set him on a path that eventually led to the White House. He rose to the world's highest office but never forgot those whose service to our great country was offered in the trenches. Show more
Founded in 2012, the annual Veterans Day program at the Harry S. Truman Library and Museum is named in honor of Caption Harry Truman and Congressman Skelton, forever recognizing their passion and dedication to our nation's active and retired military personnel.
Scholarships
"The Bus Stops Here" Field Trip Grant Program 
Annual underwriting needed  $20,000+
The recent economic downturn has decimated local school districts' budgets, which in turn has dramatically diminished teachers' abilities to expose their students to valuable learning opportunities outside of their classrooms. Show more
In response, the Institute created The 'Bus Stops Here' Field Trip Grant Program. This program underwrites museum admission fees and program-related expenses so students may access exhibitions and educational programs, like Museum Tours, the White House Decision Center and the Truman Footlocker Program – all free of charge.
Sponsorships
Museum Exhibitions
Various levels available starting at $5,000+
The Harry S. Truman Library and Museum is home to more than 32,000 artifacts, 112,000 photographs, and 15,000,000 documents that chronicle the life and times our nation's 33rd president.  Show more
Special exhibition underwriters provide the funds which enable the Harry S. Truman Library and Museum to continue presenting exciting temporary exhibits that complement our permanent exhibitions and make each visitor's experience more compelling and informative. These exhibits further share chapters in Harry Truman's life – stories that will help future generations understand and appreciate the high standard to which we should hold all of our nation's leaders accountable.