YOU CAN PROUDLY SAY, TRUMAN IS THE NEW BENCHMARK FOR PRESIDENTIAL LIBRARIES.

Patrick Gallagher, Gallagher & Associates
THE TRUTH IS ALL I WANT FOR HISTORY.

Harry S. Truman
NEWS RELEASES
July 28, 2021  |  Harry S. Truman Presidential Library and Museum Reopens after $29 Million Transformation
September 5, 2019  |  Truman Library Breaks Ground on Museum Transformation
July 16, 2019  |  Truman Library to Close for Major Renovation
PHOTOS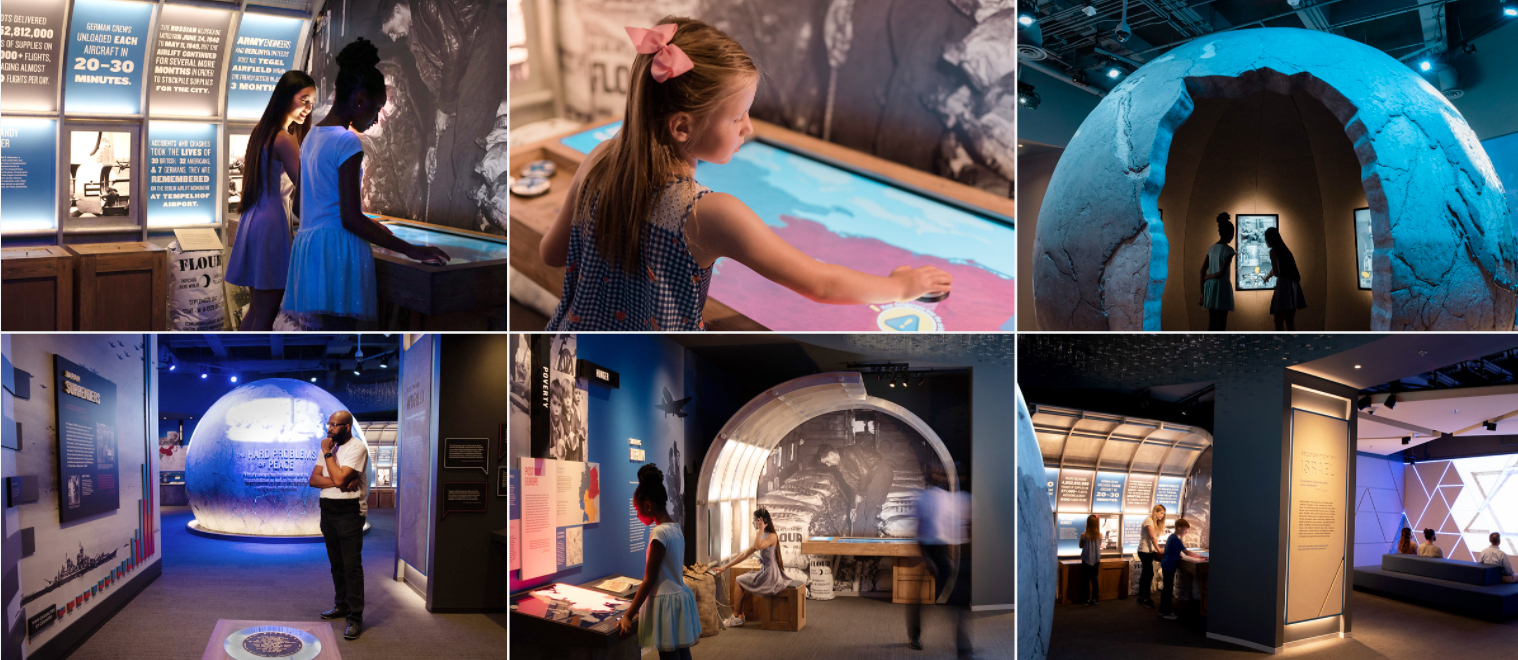 Download hi-res images for print.
Download low-res images for web.
FACT SHEETS

VIDEOS
B-Roll (2:54 minutes)
Renovation Flythrough
Inside the Transformation
QUOTES
KURT GRAHAM | Director, Harry S. Truman Library and Museum
"This renovation is worthy of the 33rd President. It speaks to the significance. This is a story of a man and a time that literally changed the map of the world. The world needs to know that story, and now we're ready to tell it."
"One of the things that I'm really proud of with this new exhibit is that we've been able to tell the story of the Truman presidency in so many different ways, and at so many different levels. This is the very definition of an immersive environment. There's something here for everyone."
"What we learn from Harry Truman is that leadership matters, and I think that's the lesson for America and for Americans today. Leadership matters in the world, leadership matters in the nation, and it matters in our communities. Being someone who knows how to make decisions, who knows how to lead people and inspire people, that is always going to be relevant. If we're going to have a democracy, if we are going to have a form of government in which the people participate, then we need more people to act like Harry Truman."
ALEX BURDEN | Executive Director, Truman Library Institute
"It's the 75th anniversary of Truman's presidency, which provides us a wonderful opportunity to remind America and visitors and students about Truman and what a great leader he was. President Truman was a fantastic president, he made great decisions for our country, he was also a great leader, he was also a great human being, and we need examples for people of all ages of a leader like Harry Truman."
"The renovated Truman Library is going to be a wonderful educational resource for the Kansas City community, and more specifically for the dozens of schools and school districts that were partners of ours before we closed and will be partners again once we reopen. And their experience will be better because of the quality of the museum experience and because of the educational strategy and elements that we worked into this."
CLIFTON TRUMAN DANIEL | Eldest Grandson of President Truman
"The significance of my grandfather's presidential legacy is more evident than ever. Renovating his library and museum is a fitting way to honor the leading architect of our modern democratic institutions."
DAVID VON DREHLE | Washington Post Columnist
"Our rebuilding, reimagining and recreating of the museum that tells the story of Harry Turman's life is one of the most important events in his presidential library. This is the museum for the next generation of Americans who maybe know his name but don't know his story. And we're going to bring that story to them in a compelling and a lasting way."
PATRICK GALLAGHER | Founder, Gallagher & Associates
"When you look at the context of a museum experience, you have to know today that everyone comes with a different lens. So when a family's in a space together, its our goal to give enough diversity of engagement that the family stays together and that they talk about what they're doing."
"When I look at what I know is in the presidential library system, I think you can proudly say, 'Truman will be the new benchmark for presidential libraries'."
BRUCE LIGHTBODY | Museum Designer, Gallagher & Associates
"When you walk in, you immediately know you're in a world-class museum. I think it does raise the bar; it sets a new standard."
JOHN SHERMAN | Owner, Kansas City Royals
"Here in Kansas City, the Truman Library is an iconic cultural institution. We need to preserve it for the future. The story that's told here should be important across the country and across the world, given the decisions that were made at a critical time in world history that we're still benefiting from today."
CHARLOTTE KEMPER BLACK | Director, Charitable Trusts & Foundations for Commerce Bank
"This campaign matters to me and our community because we owe Truman's legacy the best version of itself. Not only is there just doing the right thing to preserve, honor and uplift Truman's legacy, but also – sort of selfishly – I think knowing that you contributed – and that you can walk through this incredible museum thinking I helped make this happen – is pretty cool!"
CONTACT US
Truman Library Research / Archives
Truman Library Visitor Services
Truman Library Education Programs
HARRY S. TRUMAN
I HOPE THIS LIBRARY WILL GIVE YOU, AND ESPECIALLY THE YOUNG PEOPLE AMONG YOU, A BETTER UNDERSTANDING OF THE HISTORY AND THE NATURE OF THE PRESIDENCY AND THE GOVERNMENT OF THE UNITED STATES.

Harry S. Truman
Harry S. Truman's story is richly and uniquely American. From humble beginnings, he rose to become the most powerful man in the world. For nearly eight years, he guided our nation and the world through perilous times, from the ending of World War II to the beginning of the Cold War. Since the Library's dedication in July 1957, the Harry S. Truman Library and Museum has welcomed and inspired millions of visitors from across the globe.