Harry S. Truman Legacy of Leadership Award

PRESENTED AT WILD ABOUT HARRY – APRIL 19, 2018
Established in 2010 by the Truman Library Institute to honor the enduring legacy of America's 33rd President and to recognize individuals who have a sustained and distinguished record of serving our nation and its democratic ideals, the award is presented each spring at the Truman Library Institute's annual fund raising dinner, Wild About Harry.
The 2018 Harry S. Truman Legacy of Leadership Award will be presented to David McCullough at the 19th annual Wild About Harry, taking place Thursday, April 19, 2018.
David McCullough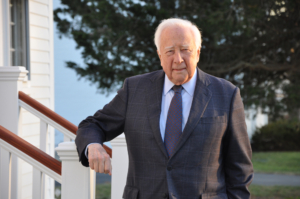 The Truman Library Institute's Board of Directors is pleased to present David McCullough with the 2018 Harry S. Truman Legacy of Leadership Award in recognition of his decades-long efforts to preserve and promote President Truman's legacy, as well as his highly visible support of presidential libraries, advocacy of history education and civic literacy.
Widely recognized as a "master of the art of narrative history," David McCullough has twice received the Pulitzer Prize, for Truman and John Adams, and twice received the National Book Award, for The Path Between the Seas and Mornings on Horseback. His other acclaimed books include The Johnstown Flood, The Great Bridge, Brave Companions, 1776, The Greater Journey and The Wright Brothers. He is the recipient of numerous honors and awards, including the Presidential Medal of Freedom, the nation's highest civilian award.
His most recent book, The American Spirit: Who We Are What We Stand For, a collection of his speeches and a New York Times bestseller, has been praised as "powerful," "clarifying and uplifting," "brilliant" and a book "every citizen of the Republic ought to read."
In a crowded, productive career, he has been an editor, teacher, lecturer and familiar presence on public television — as host of Smithsonian World, The American Experience, and narrator of numerous documentaries including Ken Burns's The Civil War. John Adams, the seven-part mini-series on HBO produced by Tom Hanks, was one of the most acclaimed television events of recent years.
The citation accompanying his honorary degree from Yale put it best, "As an historian, he paints with words, giving us pictures of the American people that live, breathe, and above all, confront the fundamental issues of courage, achievement, and moral character."
Past Award Recipients
2010      James A. Baker, III
2011      Christopher "Kit" Bond
2012      Dr. Robert M. Gates
2013      General Richard B. Myers
2014      Dr. Donna E. Shalala
2015      The Hon. Robert J. Dole
2016      Dr. Henry A. Kissinger
2017      Rep. James Clyburn & Rep. John Lewis
2018      David McCullough