Featured Event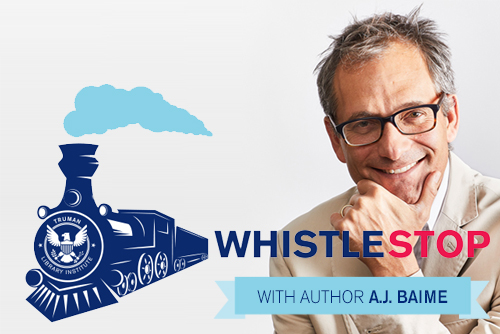 Thursday, September 23, 2021
ONLINE EVENT
Whistle Stops: A Tour of the New Presidential Exhibition
4 p.m. CDT
Featuring A.J. Baime
We're launching a new series of virtual programs! Climb aboard a fast-paced Whistle Stop tour of the all-new and nationally celebrated Harry S. Truman Presidential Library and Museum.
The first departure is scheduled for Thursday, September 23 at 4 p.m. CDT. You'll travel to the dramatic opening of the new presidential museum and the history-packed film titled An Unlikely President. With A.J. Baime on board as our expert guide, you'll have exclusive access to the historic footage featured in this film…and the dramatic stories behind the moving images, from the 1944 Democratic National Convention to the death of President Roosevelt on April 12, 1945.
This half-hour highlights event asks the question, "Is Truman up to the job?" and charts the course for future destinations on your Whistle Stop tour.
Every stop opens the Museum doors for you to explore the fascinating exhibits, artifacts, films and stories inside the acclaimed and all-new Harry S. Truman Library and Museum. There's no charge to ride along on this Whistle Stop tour, but you do need to register for the program to receive your ticket (otherwise known as program link)!
A.J. Baime is the New York Times bestselling author of The Accidental  President: Harry S. Truman and the Four Months That Changed the World. A "master storyteller," Baime is a regular contributor to the Wall Street Journal; his articles also have appeared in the New York Times, Popular Science, Men's Journal, and numerous other publications.
REGISTER FOR THIS FREE ONLINE EVENT.
Registration will close for this event at 3 p.m. CDT on Thursday, September 23.
LEARN MORE about this NEW series of virtual programs.
Upcoming Events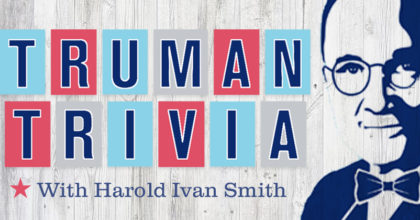 Thursday, September 30, 2021
ONLINE EVENT
Truman Trivia Night
6 p.m. CDT
What did FDR forbid Vice President Truman from doing? What two foreign policies did Truman describe as "two halves of the same walnut"?
Test your Truman know-how in an interactive trivia webinar with author Harold Ivan Smith based on his new book, Almost Everything Worth Knowing About Harry S. Truman: 33rd President of the United States. Smith will quiz participants using some of the more than 600 questions in his book and share the fascinating stories behind the answers.
Harold Ivan Smith is an independent Truman scholar who has dedicated a decade to researching the well-known legacy of and lesser known facts about the Man from Missouri. He is also the author of Eleanor: A Spiritual Biography, about Truman's predecessor's wife, Eleanor Roosevelt.