Upcoming Events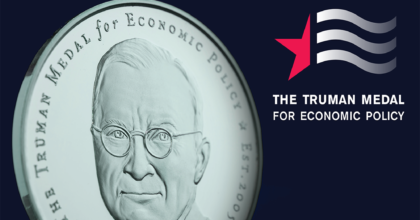 Thursday, October 6, 2022
SIGNATURE EVENT
Truman Medal for Economic Policy
6 p.m. Reception | 6:30 p.m. Program

Truman Forum, Plaza Branch of the KC Public Library
4801 Main St., Kansas City, MO 64112
Join us for the Truman Medal for Economic Policy Award Ceremony, honoring former Vice Chairman of the Federal Reserve Board Roger W. Ferguson, Jr.
Ferguson, one of the most prominent Black executives in the financial industry, was most recently President and Chief Executive Officer of TIAA. He served as Vice Chairman of the Board of Governors of the Federal Reserve from 1999 to 2006. As the only Governor in Washington, D.C., on 9/11, he led the Fed's initial response to the terrorist attacks, taking actions that kept the U.S. financial system functioning while reassuring the global financial community that the U.S. economy would not be paralyzed. After leaving the Federal Reserve, Ferguson served on President Obama's Council on Jobs and Competitiveness and co-chaired the National Academy of Sciences' Committee on the Long-Run Macro-Economic Effects of the Aging U.S. Population.
The award ceremony and program will begin at 6:30 p.m., preceded by a wine reception at 6 p.m.
The Truman Medal for Economic Policy is awarded biennially* in a highly-anticipated public program, jointly sponsored by the Truman Library Institute, the Henry W. Bloch School of Management, University of Missouri–Kansas City, the Economic Club of Kansas City, and the Missouri Council on Economic Education. The Medal was established in 2005 to provide a forum to recognize exceptional economic policy contributions and past honorees include Robert Shiller, Alan Greenspan, John B. Taylor and more.
Please save the date for this signature Truman legacy event. Then, sign-up for TRU E-news to receive event updates and registration links delivered to your inbox.
*For the safety of our friends and patrons, the 2021 award ceremony honoring Roger W. Ferguson, Jr. was postponed a year. The next Truman Medal recipient will be announced in 2023.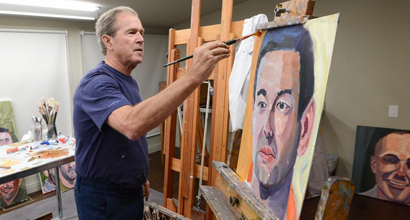 Saturday, October 8, 2022
EXHIBITION OPENING
Portraits of Courage
Harry S. Truman Library and Museum
A vibrant collection of oil paintings and stories by President George W. Bush honors the sacrifice and courage of America's military veterans – and highlights the work of the Bush Institute Military Service Initiative.
Growing out of President Bush's own outreach and the ongoing work of the George W. Bush Institute's Military Service Initiative, Portraits of Courage brings together 66 full-color portraits and a four-panel mural painted by President Bush of members of the United States military who have served our Nation with honor since 9/11— and whom he has come to know personally.