Featured Event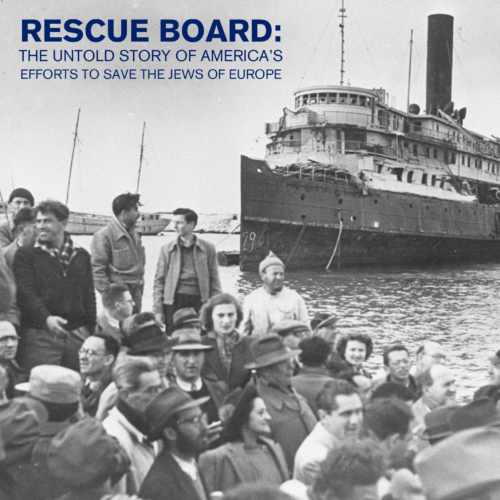 Thursday, October 17, 2019
Public Program
Rescue Board: The Untold Story of America's Efforts to Save the Jews of Europe
7 p.m. Program

Jewish Community Campus,
Lewis and Shirley White Theatre
5801 West 115th Street
Overland Park, KS 66211
After more than a decade with a harsh Congressional immigration policy preventing most Jewish refugees from coming to America, Franklin D. Roosevelt created the War Refugee Board in 1944 to aid the civilian victims of the war. A team of diplomats, relief workers, millionaires and more sprang into action to maneuver food into concentration camps, negotiate ransoms, trick the Nazis and funnel millions of dollars into Europe.
Historian Rebecca Erbelding tells this thrilling story in her book Rescue Board: The Untold Story of America's Efforts to Save the Jews of Europe, winner of the JDC-Herbert Katzki National Jewish Book Award in 2018. Please join us for an evening featuring Dr. Erbelding telling the captivating story of the efforts of the War Refugee Board, with a book sale and signing to follow her presentation.
Dr. Erbelding worked as an archivist and curator for the U.S. Holocaust Memorial Museum for more than a decade and currently serves as a historian for the museum's current temporary exhibition, Americans and the Holocaust. Her work has been featured in the New York Times, the Washington Post, the New Yorker, and on the History Channel and National Geographic, largely concerning her 2007 discovery of the personal photo album of Karl Hoecker, the adjutant to the final commandant of the Auschwitz concentration camp.
This free public program is presented in partnership with the Midwest Center for Holocaust Education.
Upcoming Events