Featured Event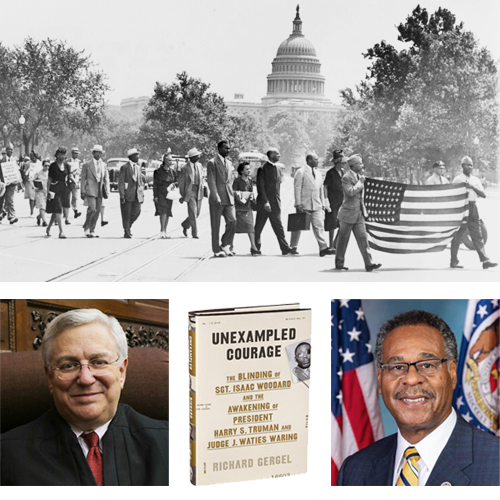 Wednesday, December 15, 2021
ONLINE EVENT
Freedom From Fear: Executive Order 9808 and Truman's Fight for Freedom
6 p.m. (CT)
In 1946, Black WWII veterans who had risked their lives overseas returned home to another fight for freedom. In the weeks and months following V-J Day, violence against Black Americans – and veterans, in particular – soared. In February, decorated war veteran Isaac Woodard was pulled from a Greyhound bus before being brutally beaten and blinded while in police custody. Then, on July 25, 1946, two Georgia couples – Roger and Dorothy Malcom and George and Mae Murray Dorsey – were dragged from their car at gunpoint, tied up and shot 60 times at close range. No arrests were made.
Four days after the Georgia lynchings, protestors marched on Washington, D.C. carrying signs with slogans like What the Hell Did We Fight For? and Freedom From Fear. President Truman's response was clear – "I shall fight to end evils like this!" – but he was frustrated both by the judicial branch and the southern Democratic bloc in Congress. Undeterred, Truman drew on the Constitution and his presidential powers and issued Executive Order 9808, creating a 16-member Presidential Committee on Civil Rights.
Truman's landmark action 75 years ago this month was the first significant federal response to racial violence since Reconstruction. What would be the findings of the committee, and how would Harry Truman—an unlikely champion for racial equity—respond?
Join us as we explore this dramatic and little-known chapter of the Civil Rights movement in America.
DISTINGUISHED GUESTS
Richard Gergel is a United States district judge who presides in the same courthouse in Charleston, South Carolina, where Judge J. Waties Waring – a pioneer in the early Civil Rights movement – once served. A native of Columbia, South Carolina, Judge Gergel earned undergraduate and law degrees from Duke University. He is the author of Unexampled Courage: The Blinding of Sgt. Isaac Woodard and the Awakening of President Harry S. Truman and Judge J. Waties Waring.
Emanuel Cleaver II has represented Truman's congressional district in the U.S. House of Representatives since 2005. A member of the Democratic Party, he chaired the Congressional Black Caucus from January 2011 to 2013.
REGISTER FOR THIS FREE ONLINE EVENT
Please note: Register for this event by 4 p.m. CT on December 15 to receive your Zoom program link.
Upcoming Events