Featured Event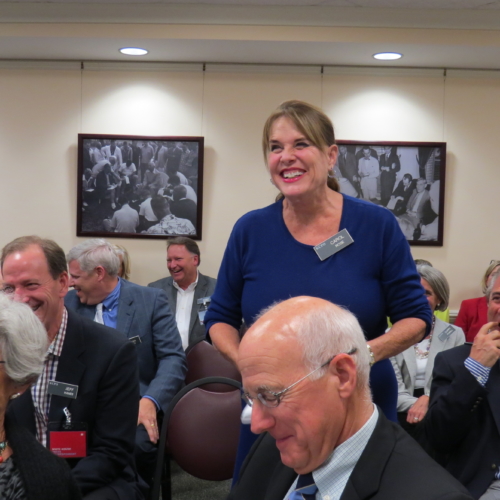 Saturday, October 20, 2018
White House Decision Center
White House Decision Center Community Session – "Ending the War in Japan"
Saturday, October 20 from 10 a.m. to 1 p.m.
World War II themed museum tour at 10 a.m.
White House Decision Center simulation from 10:30 a.m. to 1 p.m.
Picture this:  It is May 1945. The United States and its allies defeated Hitler and Mussolini in Europe, but the war in the Pacific rages on. President Truman, the Joint Chiefs of Staff, and other key advisors are vigorously debating how to end the war with Japan quickly and with as few casualties as possible. Should the U.S. remove or maintain the unconditional surrender term? Is the blockade, a land invasion, or a combination of the two the best way to end the war? Should atomic weapons, a new tool in the U.S. military arsenal, be used? Gather your advisors and review the most recent intelligence.
The decision is yours.
Welcome to the White House Decision Center. Usually reserved for student groups and corporate teambuilding retreats, this nationally-acclaimed "ropes course for the mind" is opening for members of the community to test their presidential mettle on Saturday, October 20. Set in a recreated West Wing, participants step into the roles of President Truman and his advisors to tackle some of the greatest challenges faced by any world leader. Nearly 90,000 students and adults have engaged in this intellectual exercise and left saying things like, "The program is unbelievable!" and "The history is truly 'hands on.'"
Join us for a brief museum tour focused on World War II followed by a special community session of the White House Decision Center simulation. Ages 15 and up are invited to this program that is free for Truman Library Institute members or included with museum admission for non-members. Snacks and beverages are included, but limited space is available so secure your spot on President Truman's cabinet today.
Upcoming Events
Ongoing Programs & Exhibits
Feature Film: Harry S. Truman: 1884-1972

Narrated by David McCullough, this 45-minute film by Academy Award winner Charles Guggenheim examines Truman's life, from his humble birth in Lamar, Missouri, to the courtship of his wife, Bess Wallace, his service in World War I, his entry into local politics under "Boss" Tom Pendergast, his election to the U.S. Senate, and his rise to the Presidency.

Daily Show Times: Hourly from 9:30 a.m. to 3:30 p.m.

White Glove Wednesdays

Harry S. Truman Library and Museum | Museum Lobby
Get up close and personal with rarely viewed artifacts from the Truman Collection every Wednesday at 11 a.m., May through September.


Museums Exhibitions

The new temporary exhibit will open in March 2018.

Permanent Exhibitions and Attractions:
Harry S. Truman: The Presidential Years
Harry S. Truman: Life and Times
Truman's Working Office
Oval Office Replica
Truman Grave Site
Museum Store (no admission charged)
Liberty Bell Replica

Learn More

The White House Decision Center

Set in a recreated West Wing, The WHDC offers stellar corporate team building events and hands-on history sessions for student groups.

Learn More