What did Batman and Robin Think of Harry S. Truman?
|
July 25, 2017
Batman Comic to Be Displayed at Harry S. Truman Library and Museum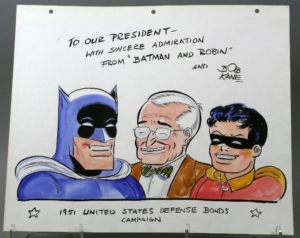 INDEPENDENCE, Mo. – Come see for yourself what Batman and Robin had to say about President Harry S. Truman when a special artifact is unveiled at a White Glove Wednesdays event on Aug. 2 at 11 a.m. at the Harry S. Truman Library and Museum in Independence.
Truman Library Registrar John Miller will showcase a hand-drawn cartoon that Batman creator Bob Kane drew and presented to President Truman during the 1951 United States Defense Bonds Campaign. White Glove Wednesdays is a program that takes place each Wednesday all summer at the Truman Library, where a staff member selects an artifact not typically on display at the museum for a special viewing and discussion.
This Batman cartoon is one object that has been on display this summer, along with a portrait of Thomas Hart Benton, the gown Bess Truman wore at a reception for Queen Elizabeth, a camera and photos from the Potsdam Conference and more.
With more than 33,000 artifacts stashed in the archives and collections of the Truman Library, it is impossible to display even a fraction at any given time. White Glove Wednesdays offers an opportunity for museum visitors to view some of these unique objects, learn more about their stories, and ask questions directly to the museum staff.
PLAN YOUR VISIT:
White Glove Wednesday featuring Batman cartoon by Bob Kane
Wednesday, Aug. 2, 11 a.m.
Harry S. Truman Library and Museum
500 W. U.S. Hwy. 24, Independence, Mo. 64050
The Truman Library Institute is the member-supported, nonprofit partner of the Harry S. Truman Library and Museum, one of 14 presidential libraries of the National Archives. The Truman Library Institute draws on President Truman's legacy to enrich the public understanding of history, the presidency and America's unique form of government. This mission is achieved through the development and funding of world-class museum exhibits, a robust international research grant program, public forums and nationally acclaimed education programs serving more than 40,000 students and teachers each year. Learn more at TrumanLibraryInstitute.org.
FOR MORE INFORMATION:
Lacey Helmig
Director of Communications
816-268-8233 (o) 503-927-1345 (c)