Harry S. Truman Presidential Library and Museum Reopens after $29 Million Transformation
|
June 28, 2021
Timed-entry tickets now on sale for amazing new museum experience
Monumental transformation made possible by campaign support from nearly 25,000 individual donors from every state in the Union
INDEPENDENCE, Mo. – The Harry S. Truman Presidential Library and Museum and Truman Library Institute announce the next phase in the reopening of the Truman Library following a $29 million museum transformation.
This next phase, which opens the doors to more museum visitors, begins Friday, July 2, 2021. Advance reservations are required. Timed-entry tickets may be purchased at TrumanLibrary.gov starting Monday, June 28.
This is the Truman Library's first major renovation in more than 20 years and the largest since the museum opened its doors in 1957. One of only 15 presidential libraries operated by the National Archives and Records Administration (NARA), the Truman Library closed on July 22, 2019 for the renovation; the pandemic extended the renovation process. NARA authorized the Truman Library to open to select groups of community partners to beta test the new exhibits on May 26. The beta test is complete and the public is invited to experience the stunning results.
General admission is $12 with discounts for seniors, students, veterans and active members of the U.S. military. Admission is free for members and children 12 and younger. Museum services and hours continue to be limited, per NARA guidelines. Current hours are 9 a.m. – 3 p.m. Wednesday through Saturday; 12-5 p.m. Sunday; closed Monday and Tuesday. Visitors must present timed tickets upon arrival for admittance. The most up-to-date visitor information may be found at TrumanLibraryInstitute.org/plan-your-visit.
"We are eager to share the new Truman Library exhibition with the public and are thrilled that this next phase in our reopening coincides with the Independence Day holiday weekend," said Library Director Kurt Graham.
"I can tell you that it is worth the wait."
KURT GRAHAM, TRUMAN LIBRARY DIRECTOR
This $29 million project was made possible by the Truman Library Institute, the nonprofit, member-supported partner organization founded by Harry Truman. The Institute's Stay TRU Capital Campaign launched with a $25 million goal and has, to date, raised $39 million for the new museum, as well as enhanced education programs, expanded public programs and an endowment for programming and outreach, all designed to highlight the 75th anniversary of Truman's presidency and to ensure the continued relevance and resonance of Truman's legacy.
"The generosity of our community has been astounding."
ALEX BURDEN, EXECUTIVE DIRECTOR, TRUMAN LIBRARY INSTITUTE
"We have benefited from stellar volunteer leadership from Kansas City, as well as support from dignitaries, elected officials, and donors from across the country," Burden said. "The incredible response to the capital campaign is providing not only for a much-needed transformation of the Truman Library but also for important programmatic elements, educational activities, and community engagement and outreach."
With Gallagher & Associates, an internationally recognized museum planning and design firm, the Truman Library has not just been renovated but entirely reimagined. Designers incorporated the latest storytelling techniques so visitors will experience the extraordinary journey of America and its 33rd President, Harry S. Truman. The Truman Transformation Team also includes The Clark Enersen Partners, JE Dunn Construction Company, Monadnock Media, MAD Systems, 1220 Exhibits and Schuler Shook lighting design.
"When I look at what I know is in the presidential library system, I think you can proudly say that Truman is the new benchmark for presidential libraries."
PATRICK GALLAGHER, FOUNDER, GALLAGHER & ASSOCIATES
Visitors can expect a cinematic experience of some of the most dramatic chapters of world history. Museum highlights include:
Immersive sound-and-light theaters depicting WWI and the Cold War
14-foot interactive globe exploring the hard problems of peace following WWII
Expanded insight on Truman's leadership on Civil Rights and the recognition of Israel
Fresh perspective on Truman's family, including Bess Truman's role as advisor and confidante
Loyalty Review Board role-playing game where players uncover government disloyalty during the Red Scare
Increased storytelling and never-before seen artifacts from the Korean War
"At its heart, the Truman Library is an educational institution," said Graham. "And we are so thrilled to be able to offer a 21st century experience and interpretation of one of the great proponents of American democracy. This renovation is worthy of our 33rd President. The world needs to know this story, and now we're ready to tell it."
"The significance of my grandfather's legacy is more evident than ever. This renovation is a fitting way to honor the leading architect of our modern democratic institutions."
CLIFTON TRUMAN DANIEL, ELDEST GRANDSON OF PRESIDENT TRUMAN
Media Kit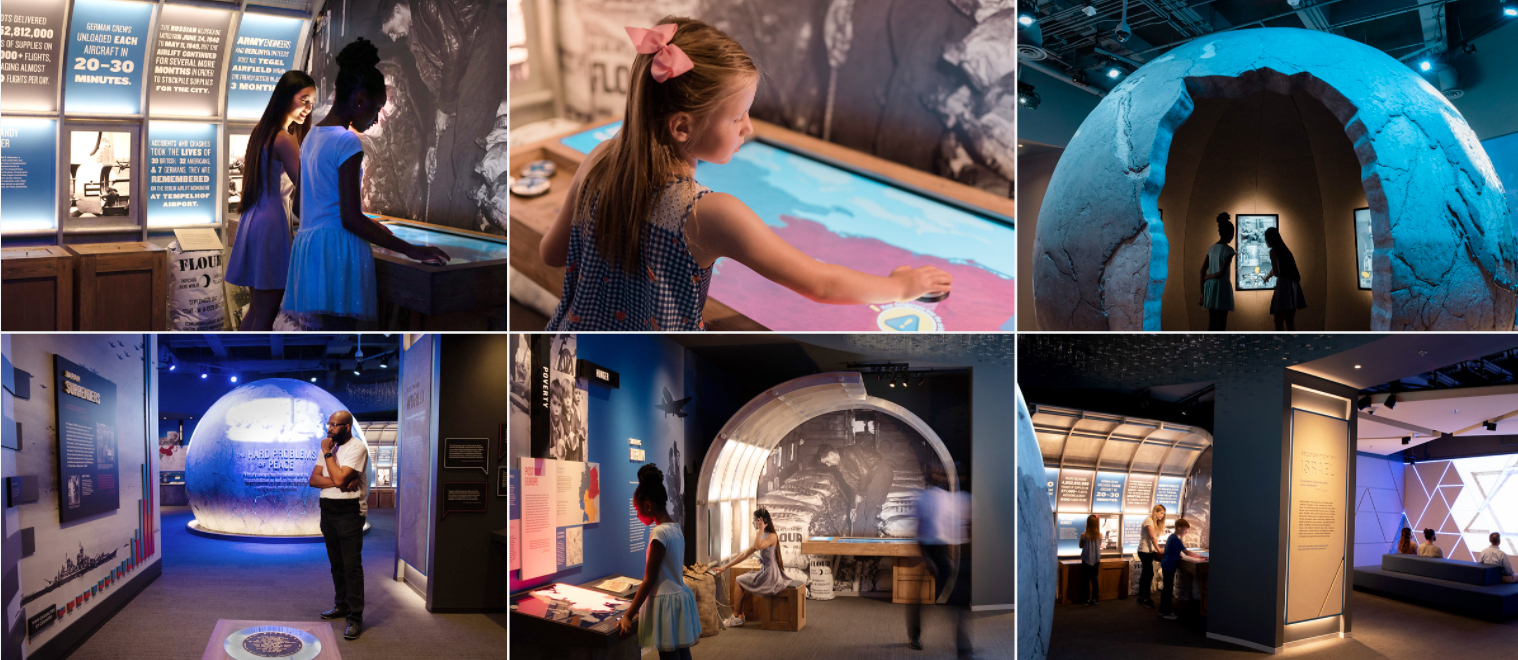 Click here for photos, videos, gallery descriptions, expert quotes and more.
Contact
Dean Davison  |  816-787-2886
Davison Strategic Communications
Susan Medler  |  816.400.1217
Director of Communications
The Truman Library Institute is the member-supported, nonprofit partner of the Harry S. Truman Library and Museum, one of 14 presidential libraries of the National Archives and Records Administration. The Truman Library Institute draws on President Truman's legacy to enrich public understanding of history, the presidency, and America's unique form of government. This mission is achieved through the development and funding of world-class museum exhibits, a robust international research grant program, public forums, and nationally acclaimed education programs serving more than 50,000 students and teachers each year. Learn more at TrumanLibraryInstitute.org.