Political Insiders to Headline Gala Event Benefiting Truman's Presidential Library and Legacy
|
December 16, 2015
The Truman Library Institute is proud to announce honorary and event chairs for its 17th annual fund raising dinner, Wild About Harry, to be held in the historic Muehlebach Tower on Thursday, April 7, 2016.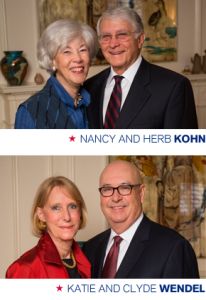 Longtime friends of the Truman Library Nancy and Herb Kohn will serve as honorary chairs, assisted by event chairs Katie and Clyde Wendel and the 2016 Wild About Harry Steering Committee.
The 2016 event will feature best-selling authors and political insiders Mark Halperin and John Heilemann. In addition, President Truman's grandson, Clifton Truman Daniel, will present the 2016 Harry S. Truman Legacy of Leadership Award to Dr. Henry A. Kissinger, 56th U.S. secretary of state.
Now a Kansas City tradition, Wild About Harry is known for bringing our nation's thought and opinion leaders to the site that once served as President Truman's political headquarters. Featured guests have included presidential family members, legendary journalist Tom Brokaw, award-winning presidential historian Doris Kearns Goodwin, and former Secretary of Defense Robert M. Gates.
Event proceeds provide vital funding for world-class museum exhibitions; top-drawer programs and forums at the Truman Library and in Greater Kansas City; and nationally acclaimed educational programs which serve nearly 40,000 teacher and students each year. Since the inaugural dinner in 2000, Wild About Harry has raised more than $4 million in support of these mission-core programs
Media Contacts:
Susan Medler, Truman Library Institute
816.268.8245 | susanmedler@gmail.com