Featured Event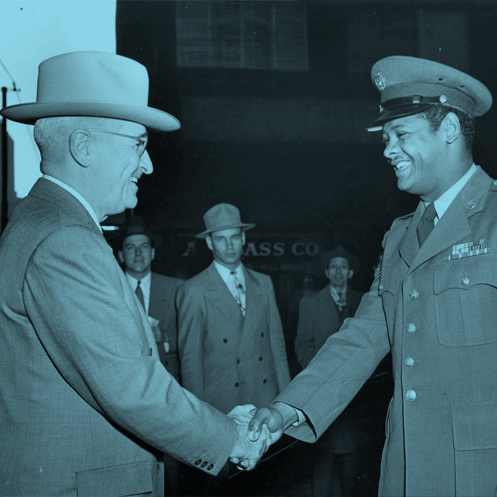 Public Program
Serving as One: 70th Anniversary of the Desegregation of the Armed Forces
5:30 p.m. Reception | 6:30 p.m. Program
Harry S. Truman Library and Museum
"It is my deep conviction that we have reached a turning point in the long history of our country's efforts to guarantee freedom and equality to all our citizens," President Harry S. Truman proclaimed in an address before the National Association for the Advancement of Colored People in 1947. One year later, President Truman signed his name to two documents—Executive Orders 9980 and 9981—desegregating the armed forces and the federal workforce.
Please join the Truman Library on the 70th anniversary of this important date—July 26, 2018—for a special event commemorating numerous actions Truman took to advance civil rights, including convening the President's Committee on Civil Rights and signing Executive Orders 9980 and 9981. Col. Norma J. Bradford (USA Ret.) will share her insights on her career in the U.S. Army and her rise from second lieutenant to colonel. Bradford will be joined by Rawn James, author of Double V: How Wars, Protest, and Harry Truman Desegregated America's Military. Their conversation will be moderated by Dr. Kurt Graham, director of the Truman Library, and will focus on the historical impact of Truman's executive order to desegregate the military viewed through the lens of Bradford's military career.
This free program is preceded by a special public reception.
Upcoming Events
Ongoing Programs & Exhibits
Feature Film: Harry S. Truman: 1884-1972

Narrated by David McCullough, this 45-minute film by Academy Award winner Charles Guggenheim examines Truman's life, from his humble birth in Lamar, Missouri, to the courtship of his wife, Bess Wallace, his service in World War I, his entry into local politics under "Boss" Tom Pendergast, his election to the U.S. Senate, and his rise to the Presidency.

Daily Show Times: Hourly from 9:30 a.m. to 3:30 p.m.

White Glove Wednesdays

Harry S. Truman Library and Museum | Museum Lobby
Get up close and personal with rarely viewed artifacts from the Truman Collection every Wednesday at 11 a.m., May through September.


Museums Exhibitions

The new temporary exhibit will open in March 2018.

Permanent Exhibitions and Attractions:
Harry S. Truman: The Presidential Years
Harry S. Truman: Life and Times
Truman's Working Office
Oval Office Replica
Truman Grave Site
Museum Store (no admission charged)
Liberty Bell Replica

Learn More

The White House Decision Center

Set in a recreated West Wing, The WHDC offers stellar corporate team building events and hands-on history sessions for student groups.

Learn More