2020 Harry S. Truman Book Award Honors Derek Leebaert
|
April 28, 2020
Biennial Award Honors Scholar of Truman Era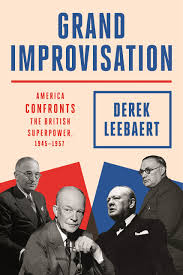 KANSAS CITY, Mo. – The Truman Library Institute has awarded Derek Leebaert the 2020 Harry S. Truman Book Award for Grand Improvisation: America Confronts the British Superpower, 1945-1957. Established in 1967, the Harry S. Truman Book Award recognizes the best book published within a two-year period focused on the Truman era of history.
Grand Improvisation debunks common myths about the United States' rise to power following World War II through a character-driven narrative. It examines the evolving relationship between the United States and the United Kingdom by describing events from Truman's ascent to the presidency to America's slide into Vietnam—with lessons for today.
"In an especially competitive field of contenders, Derek Leebaert's Grand Improvisation rose to the top as an excellent examination of the relationship between the United States and the United Kingdom in the post-World War II era," said Jason Parker, Professor of History Texas A&M University and Chair of the Book Award Committee. "Deeply researched and engagingly written, Grand Improvisation shows that the postwar transition from British to American world-primacy was slower, rockier and more 'improvisational' than is commonly thought."
Leebaert leads a global management consulting firm and is author of several award-winning books, including Magic and Mayhem: The Delusions of American Foreign Policy and To Dare and to Conquer: Special Operations and the Destiny of Nations. Leebaert joins 28 other distinguished authors including Michael Neiberg, Allan R. Millett, Dean Acheson, Alonzo Hamby and Wilson D. Miscamble who have received this prestigious biennial award for their work.
"It is a singular honor to earn this prestigious award," Leebaert said. "I especially value the feedback and approval from this particular committee given their expertise on this era of history."
Serving alongside Parker on the Harry S. Truman Book Award Committee are Curt Cardwell, Associate Professor of History at Drake University; Nicole Sackley, Associate Professor of History and American Studies at the University of Richmond; Amy Sayward, Professor of History at Middle Tennessee State University; and Tom Zeiler, Professor of Diplomatic History at the University of Colorado Boulder.
The Truman Library Institute plans to host Leebaert for a public program and book signing later this year.
CONTACT:
Lacey Helmig, Director of Communications
816.400.1217
Lacey.Helmig@TrumanLibraryInstitute.org
The Truman Library Institute is the member-supported, nonprofit partner of the Harry S. Truman Library and Museum, one of 14 presidential libraries of the National Archives and Records Administration. The Truman Library Institute draws on President Truman's legacy to enrich public understanding of history, the presidency, and America's unique form of government. This mission is achieved through the development and funding of world-class museum exhibits, a robust international research grant program, public forums, and nationally acclaimed education programs serving more than 50,000 students and teachers each year. Learn more at TrumanLibraryInstitute.org.