Truman Library Institute Commemorates 75th Anniversary of Truman Presidency
|
April 1, 2020
Easter Sunday, April 12 Marks Beginning of a Presidency that Changed the World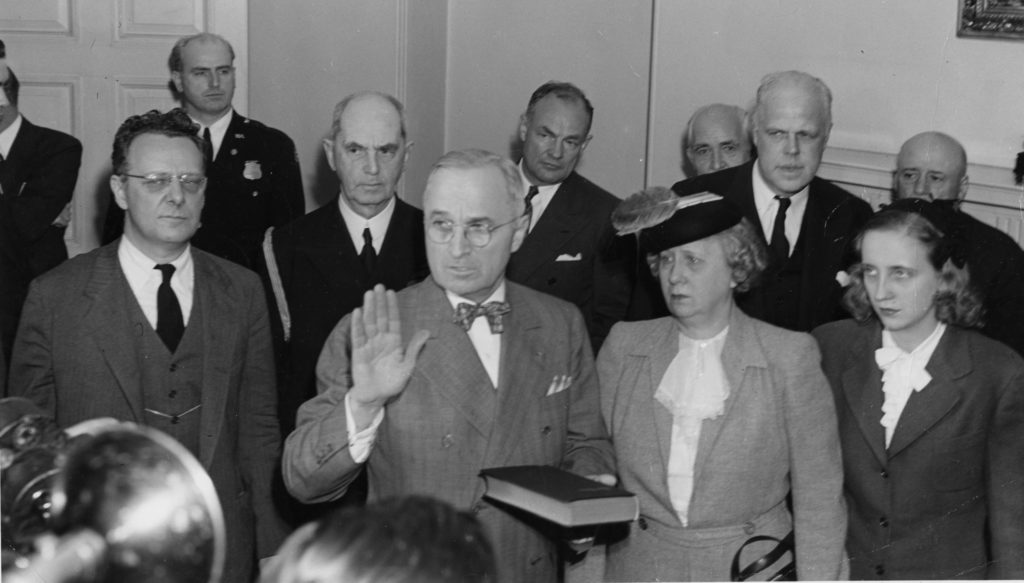 INDEPENDENCE, Mo. – The Harry S. Truman Library Institute and Harry S. Truman Library and Museum will commemorate the 75th anniversary of the Truman Presidency with online initiatives and events throughout 2020 while construction continues on its $30-million museum transformation project.
Sunday, April 12, marks the 75th anniversary of President Franklin D. Roosevelt's death and President Truman taking the oath of office.
"FDR, the President who guided Americans through the Great Depression and to the cusp of victory in World War II, was gone. His successor was a relatively unknown Missourian, Harry S. Truman," says Graham. "At this critical moment, people across the country and around the world asked, 'Who is Harry Truman?'"
Graham adds, "President Truman answered that question by demonstrating character, decisiveness and courage, leading the U.S. and the world through a whirlwind of critical moments in 1945. The next four months changed the world."
Among those critical moments were Germany's surrender on May 8, signing the United Nations Charter June 26, the Potsdam Conference July 17-August 2, using atomic bombs on August 6 and 9, and Japan's surrender on August 14.
75th Initiatives and Events
The Truman Library Institute will launch a Twitter feed on April 12 @HarrySTruman75 with daily quotes from President Truman documenting the challenges and decisions of his remarkable first four months in office.
A planned commemoration on Sunday, April 12, at the Truman Library has been cancelled.
To help teachers, students and parents, the Truman Library offers online education resources, including lessons on the atomic bomb, civil rights, the 1948 election, and the Potsdam Conference. trumanlibrary.gov/education
The Truman Library Institute has suspended public events in response to the pandemic, including Wild About Harry, the annual fundraising dinner planned for April 23 with honoree Gen. Jim Mattis and keynote speaker A.J. Baime, author of The Accidental President. The Truman Library Institute is working to reschedule the event.
To help media outlets report on the 75th anniversary, the Institute has created a media gallery (bit.ly/Truman75thMedia) with video, audio, photos, and artifacts of key moments from the first four months of the Truman presidency. Graham and other historians and Truman experts are available for interviews by online video, phone, and email. See editor's note below for details.
The Truman Library Institute has raised $28.5 million of its expanded goal of $30 million for the Stay TRU capital campaign. The Truman Library transformation project includes a strategic expansion and renovation of the Library's public spaces, including the installation of a new permanent Truman exhibition, addition of visitor-friendly amenities, and enhancement of educational and community programming. The all-new, 12,000-square-foot exhibition with state-of-the-art interactive experiences, a comprehensive educational strategy, and improved storytelling will make the Truman Library a hub for exploration and experiential learning that engages a 21st-century audience.
"On the 75th anniversary of my grandfather's presidency, the impact of his legacy on our world is more evident than ever," said Clifton Truman Daniel, Truman's eldest grandson and Truman Library Institute Honorary Chairman. "Renovating his library and museum is a fitting way to honor the leading architect of our modern democratic institutions."
Construction work continues, consistent with public health and safety guidelines. Lights are being hung and carpet laid in the galleries in preparation for exhibit installation to begin later this spring. The new visitor entrance is also taking shape with the ashlar stone exterior completed this week. The work remains on schedule for completion in autumn 2020. To see more, watch this fly-through: trumanlibraryinstitute.org/capital-campaign/flythrough/.
Editor's Note
Historians and experts available to speak about President Truman, his decisions, and legacy include:
CONTACT:
Dean Davison
816-787-2886
Dean@DavisonStrategicComms.com
Lacey Helmig, Director of Communications
816-400-1217
Lacey.Helmig@TrumanLibraryInstitute.org
The Truman Library Institute is the member-supported, nonprofit partner of the Harry S. Truman Library and Museum, one of 14 presidential libraries of the National Archives and Records Administration. The Truman Library Institute draws on President Truman's legacy to enrich public understanding of history, the presidency, and America's unique form of government. This mission is achieved through the development and funding of world-class museum exhibits, a robust international research grant program, public forums, and nationally acclaimed education programs serving more than 50,000 students and teachers each year. Learn more at TrumanLibraryInstitute.org.