Thank you! My students haven't stopped talking about the experience and remain completely blown away. Rest assured, I have every intention of yet another trip to The WHDC!

Dr. Bryan Vizzini, West Texas A&M University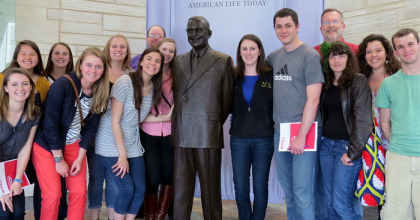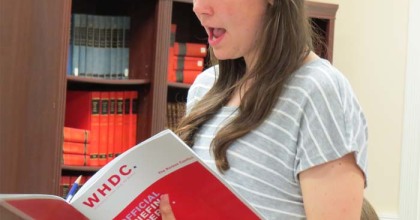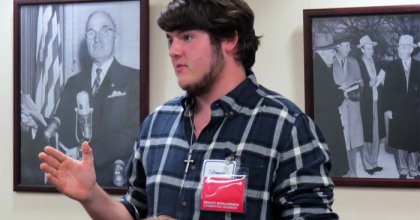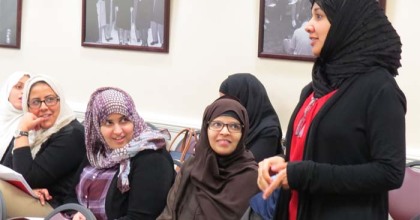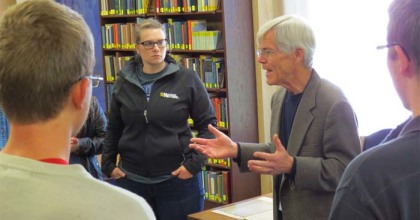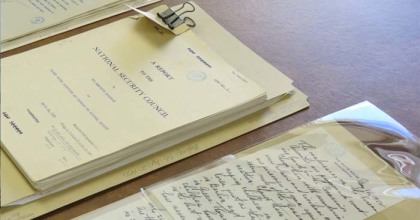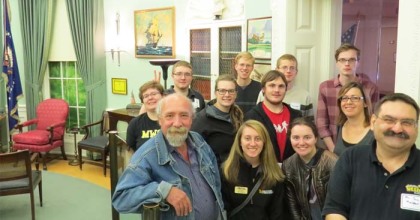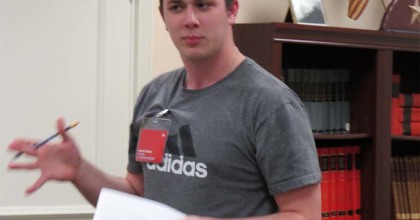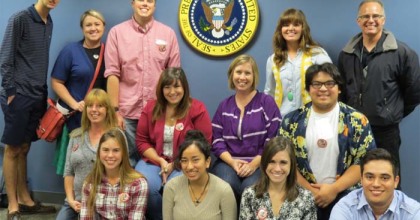 University Program:
High-stakes challenges for tomorrow's leaders
It is May 1945. The United States and its allies defeated Hitler and Mussolini in Europe, but the war in the Pacific rages on. President Truman, the Joint Chiefs of Staff, and other key advisors are vigorously debating how to end the war with Japan quickly and with as few casualties as possible. Should the U.S. remove or maintain the unconditional surrender term? Is the blockade, a land invasion, or a combination of the two the best way to end the war? Should atomic weapons, a new tool in the U.S. military arsenal, be used? Gather your advisors and review the most recent intelligence. The fate of the world is yours to decide.
Welcome to The White House Decision Center (WHDC). This unique educational program provides students first-hand experience in crisis management, world affairs, political science, and history.
Set in a recreated West Wing,The WHDC program significantly enhances the content of history, political science, communication studies, business, public affairs and leadership courses by providing information and experiences hard to convey in the classroom. Participants step into the roles of President Truman and his advisors to tackle some of the greatest challenges faced by any world leader.
The WHDC challenges your students' abilities to quickly synthesize complex information gleaned from the now-declassified primary sources that President Truman and his advisors read, work cooperatively in teams, resolve conflicts creatively, formulate recommendations, make and defend critical decisions, negotiate win-win solutions and lead like a head of state.
You're just 3 steps from The White House
Step 1: Customize your experience
2- to 5-hour sessions offered Monday through Saturday
Office hours or after hours
Catering and open bar, optional
$25 per person for groups or 6-72 (minimum charge: $450)
Step 2: Choose your decision
Ending the War with Japan
Addressing Postwar Civil Rights in the U.S. Armed Forces
Reacting to the Soviet Blockade of Berlin
Responding to the Communist Invasion of South Korea
Addressing the End of the British Mandate in Palestine
Learn More
Email | thewhitehousedecisioncenter@gmail.com
Phone | 816.268.8241
Virtual simulations available.
WHDC Reviews
Rockhurst Executive MBA Program
Show review
"Great experience. Thank you!"
"Great, fun learning opportunity."
"Great leadership experience."
Park University Hauptmann School of Public Affairs
Show review
"Thank you for all of the support and guidance that you and Kim provided.  I appreciate your professionalism, expertise, and kindness.  The WHDC could not have been more welcoming to the Park students. The students had a wonderful time at both the museum and WHDC. Two of my students actually sent me a note at 3:16 a.m. this morning to tell me what a great time they had at the library and museum.  They felt like they truly learned something new. Thank you for providing this service to the community.  We look forward to coming back in the future."
Dr. Becky Stuteville
Director, Park University Masters in Public Affairs Program
Thank you for these wonderful pictures and your messages. We are privileged that you and your team were on hand and rendered such expertise and assistance to our students. Becky relayed to me in great detail your hard work and efforts. I can appreciate what a transformative experience this was for the students.
I visited The WHDC with some others several years ago and while we did not engage in the entire program, it was clear that it provides a robust and engaging intense learning experience. In our view, all students (in high school, college, and advanced) would benefit greatly from The WHDC as it uniquely portrays the issues that President Truman faced, as well as the processes and considerations going into decisions.
You are clearly doing great and important work there. For our current Saudi students, this undoubtedly was a unique experience that they will take with them throughout their lives, and describe to their children. These students are indeed bright, diligent and sweet."
Dr. Lauri DiPadova-Stocks
Dean, Park University Hauptmann School of Public Affairs
Attebury Honors Program, West Texas A&M University
Show review
"Thank you!  The students haven't stopped talking about the experience and remain completely blown away.  Rest assured, I have every intention of yet another trip to Independence!"
Dr. Bryan Vizzini 

|  West Texas A&M University
"It raises a level of crisis to help participants see, and also gives roles to take in the teamwork skills without knowing it."
Anonymous

  |  student
"It teaches you to make high-pressure decisions with other people and their opinions."
Keltin Winens

  |  student
"Forces you to work together to make 'nationally crucial' decisions. Helps you rate certain aspects of situations by importance more effectively. Challenges time management."
Mackenzie Wilson

  |  student
"When supported by a strong individual, many who don't normally make decisions or provide feedback are given a chance."
Christian Garza

  |  student
"A fun and great learning experience. The documents were great!"
Luke Mora

  |  student
"A very unique opportunity to analyze data and argue points from a pre-determined viewpoint that is not necessarily your own."
Anonymous

  |  student
"This put the pressure that the Executive branch is under into perspective."
Maggie Stein

  |  student
"This program puts the process by which presidential decisions are made into perspective."
Ivan Chau 

|  student
Red Team Training, University of Foreign Military and Cultural Studies at Fort Leavenworth
Show review
"Great experience!"
Chuck Schnankel  |  student
"The experience was great."
Anonymous  |  student
"This is a phenomenal facility with such rich sources of history. I enjoyed every bit of this exercise. This has been my first opportunity to experience the perspective and mindset of one of our U.S. presidents in war."
T. Mitchell  |  student
"An unforgettable team-building experience that also enhances high-stakes problem-solving and leadership skills."
William Greenberg  |  instructor