The Truman Library is launching a massive renovation of the museum and its exhibitions, the first major renovation in more than 20 years and the largest since the museum opened its doors in 1957. The museum's last day open to the public is Monday, July 22, 2019, before the museum closes for approximately one year.
Learn more about the ambitious project, planned to coincide with the 75th anniversary of the start of Truman's presidency in 2020, at TrumanLibraryInstitute.org/Capital-Campaign.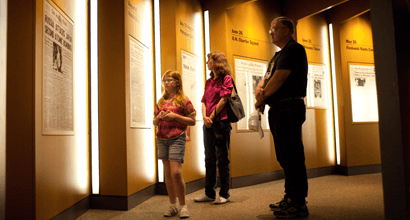 Harry S. Truman: The Presidential Years
The major issues and events of Harry Truman's presidency are highlighted in this exhibition, which forms the centerpiece of the Truman Library's world-acclaimed Museum.
Learn More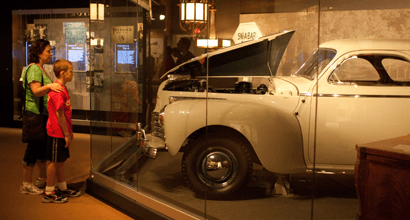 Harry S. Truman: Life & Times
Harry Truman hoped his presidential library would give young people, especially, a greater understanding of the American presidency. Show more
The Life and Times exhibition was created with these young visitors in mind. As they discover the ordinary boy who grew up to be an extraordinary leader, kids of all ages are invited to explore stories and artifacts, test their knowledge in a gameshow-styled exhibit, and make their own campaign buttons and "Buck Stops Here" signs.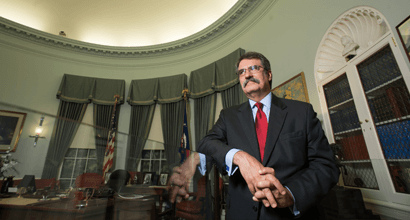 Truman's Oval Office
Step into a replica of Truman's Oval Office, meticulously recreated under the direction of Harry Truman, himself. In a recorded message, President Truman welcomes each visitor with an inspiring message that resonates across time.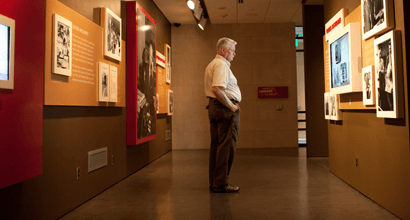 Truman's Working Office
From the time the Truman Library opened in 1957, Harry Truman maintained an office in his presidential library, often working five to six days a week. In his office he wrote his book of memoirs, Mr. Citizen, articles, letters, and other correspondence. Show more
He met with Presidents Hoover, Eisenhower, Kennedy, and Johnson, and with other notable Americans like Jack Benny, Ginger Rogers, Robert Kennedy, Thomas Hart Benton, Dean Acheson, and Earl Warren. Among the 56 items and mementos on his cluttered desk is the small photograph of Bess Wallace that she gave him in 1917 before he set off for his army service in France during the First World War.
A small stone and a block of wood are souvenirs of the White House renovation that took place during his presidency. A silver cigar box was a gift of state from President J. A. Rios of Chile. The original mockup of the presidential flag, redesigned in 1945 at the direction of President Truman, is displayed on one wall. The office desk itself is the one President Truman used in his private study in the White House.
A voracious reader, Truman kept in his office nearly 500 books, many of which are inscribed with handwritten notes from the authors, including Winston Churchill, T.S. Eliot, Herbert Hoover and Lyndon Johnson. Truman's Working Office is a favorite exhibit among visitors, who are attracted by the personal connection to history one feels in the office, which remains as it was the day Harry S. Truman died.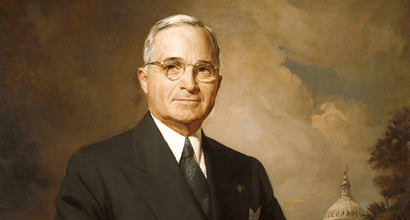 Harry S. Truman: 1884-1972
Narrated by David McCullough, this 45-minute film by Academy Award winner Charles Guggenheim illuminates the key events in Harry Truman's life:  his humble birth in Lamar, Missouri; the courtship of his wife, Bess Wallace; his service in World War I; his entry into local politics under "Boss" Tom Pendergast; his election to the U.S. Senate; and his rise to the presidency.