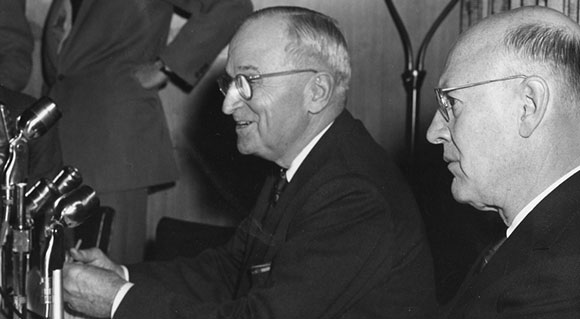 A Thanksgiving Promise
"Hunger has no nationality."
"Abundance should have no nationality, either."
On November 24, 1948, one day before Thanksgiving, Harry Truman uttered these words in his address to the Food and Agricultural Organization (FAO) of the United Nations. The FAO, created in 1945, is a specialized agency of the United Nations that leads international efforts to defeat hunger. Their goal is simple: to provide high-quality food and ensure food security for all.
Truman began the address reflecting on the first Thanksgiving celebration and reminding the audience members of the spirit of the holiday. The spirit, Truman said, "is in the sharing of the harvest, and in a feeling of warm friendship and goodwill for others less fortunate."
Segueing into the food shortage problem, Truman discussed progress on the International Wheat Agreement. This five-year agreement sought to stabilize global wheat prices and ensure steady importation and exportation of the crop despite national conflicts and other market fluctuations. More importantly, the agreement, if enacted, would aid the FAO in their mission to fight world hunger— a significant undertaking in light of the economic damage wrought by World War II.
In July of 1948, Truman had beseeched and failed to convince Congress to ratify the International Wheat Agreement, but promised the FAO that he would bring it to the new Congress in 1949.
Truman delivered on that promise made during his November 1948 address. Just four months later, in March of 1949, United States Secretary of Agriculture Charles Brannan signed the agreement to stabilize wheat trade.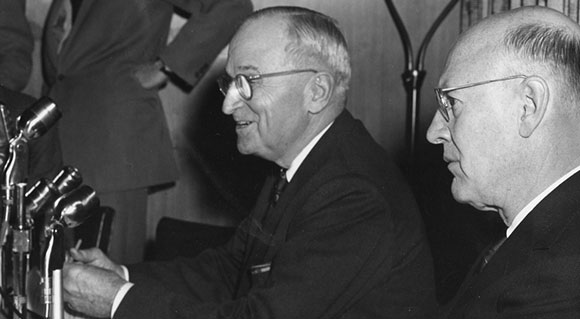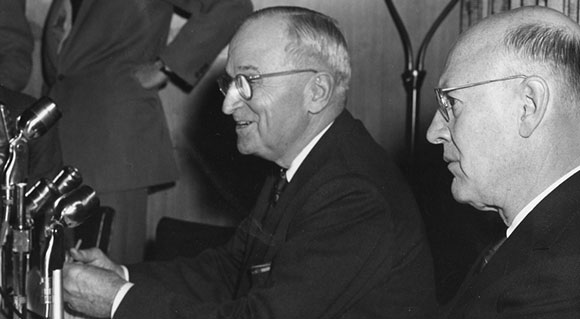 Former President Harry S. Truman with Charles Brannan, former Secretary of Agriculture, March 1958. 
Reflecting on the success of the agreement, Brannan noted "The IWA […] has helped the United States bridge the gap between a domestic support program and wheat from other sources; it has enabled importing countries to plan their agricultural production on a broader and sounder basis […] and it has done much to link the free world countries and strengthen trade ties between them."
By stabilizing international wheat trade, countries could better guarantee access to wheat for their citizens thus helping in the FAO's mission to ensure food security for all.
As we celebrate Thanksgiving this year, it is worth remembering the work that began in 1945 to fight world hunger — a fight Harry Truman championed, and a fight that remains.