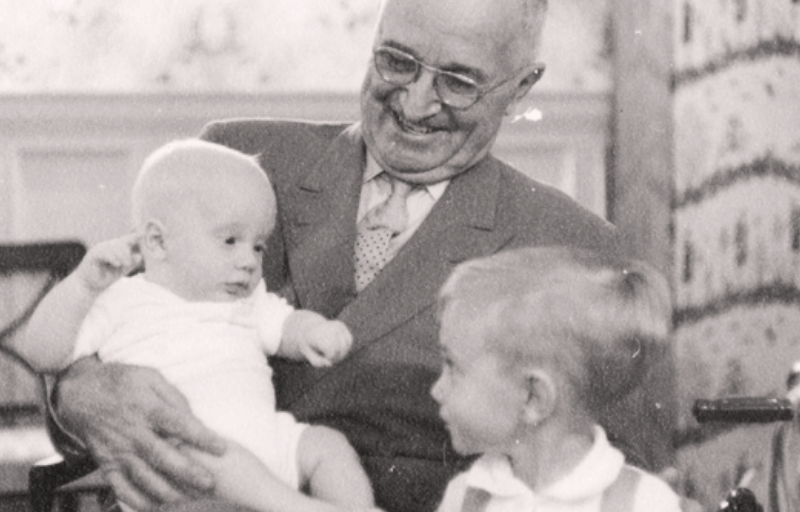 First Family Stories
By Clifton Truman Daniel
"First Family Stories" is a serial memoir exploring the history, humanity and humor of being part of one of America's First Families. Clifton Truman Daniel is the eldest grandson of Bess and Harry Truman.
"Babysitter in Chief"
Harry S. Truman, 33rd president of the United States, the "uncommon common man," bank clerk, farmer, small businessman, citizen soldier, and county judge who rose to the highest office in the land, brought the war in the Pacific to an end and kept Communists and dictators at bay worldwide … was a terrible babysitter.
When I was two or three, my parents, Margaret Truman Daniel and E. Clifton Daniel Jr., went on vacation and left me and my brother, William, in the care of our grandparents. The last thing my mother told my grandfather was, "Don't let anyone take their picture."
Celebrities have always been dogged by photographers. At the time of Grandpa's visit, dozens were camped out on the street outside our New York apartment, hoping for a glimpse of the ex-president.
Despite our lineage, my parents hoped we might lead normal lives and, therefore, tried to keep our public exposure to a minimum, hence my mother's no-photos policy.
Grandpa, besotted with his adorable grandsons, ignored her. No sooner had my parents walked out the front door than he scooped us up and stuck us in the living room window.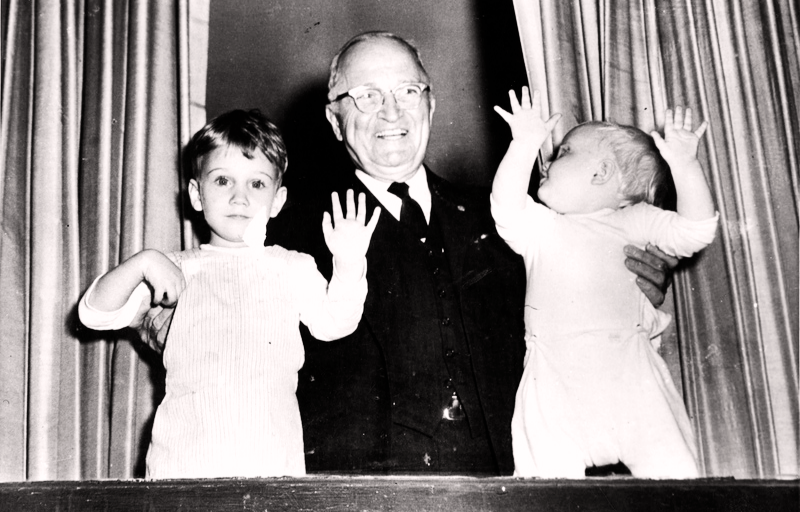 Former President Harry S. Truman (center) is pictured with two of his grandsons, Clifton Truman Daniel (left) 3, and William Wallace Daniel, 11 months (right). Note on the back of the photograph reads: "Harry S. Truman in the rare role of babysitter, showing off his grandsons" (Photo: Harry S. Truman Presidential Library & Museum)
My mother said she gave him hell for it, but I don't know. She certainly didn't give him hell for letting me nearly kill myself during the same visit.
I had a hobby horse. We kept it in the dining room. It was made of heavy plastic and sat on a wooden stand, supported by thick springs at the knees. You could ride it up and down, forward and back, and side to side. If you really got it going, it started bucking like a bronco, which I loved, but concerned my mother no end.
"Stop riding that thing so hard!" she'd yell. "You're going to kill yourself!"
Well, she wasn't in charge during that visit. Grandpa was. And he was sitting at the head of the dining room table, reading the newspaper, and paying me absolutely no mind. So I rode that thing as hard as I could. I had the stand lifting off the carpet, enjoying the hell out of myself.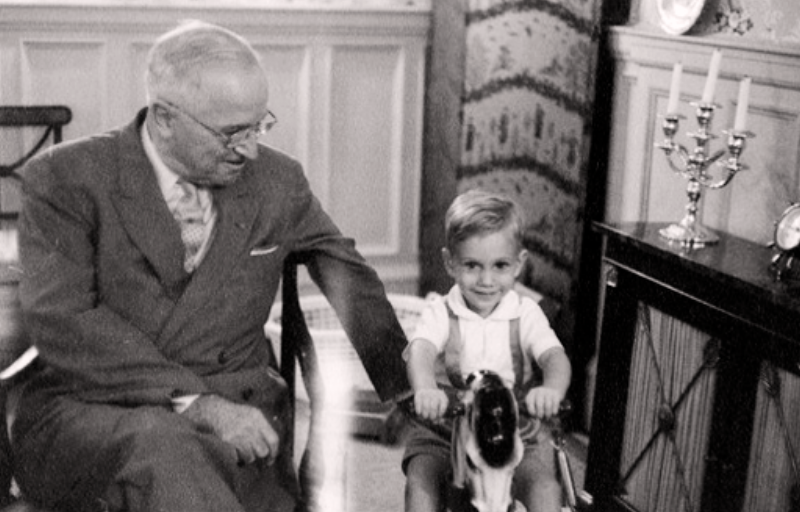 Clifton Truman Daniel is back in the saddle with Grandpa Truman, ca. 1960 (Photo: Harry S. Truman Presidential Library & Museum)
But sure enough, my mother was right. The thing came down wrong and pitched me off.
My grandmother was in the kitchen when she heard the crash. She came running out, saw me on the floor, said, "Oh, my!" and went to scoop me up. Of course the second I saw her, I burst into tears. It's good for a hug. Maybe even a cookie.
She'd almost reached me when a voice from across the room said, "Stop right there! Don't touch him!" And she did. She stopped cold. And I looked up to see who'd ruined all this for me and there was Grandpa, glaring at us over the top of the newspaper.
"You," he said to me. "Quit crying. You're not hurt."
I shut up immediately. No one had ever spoken to me like that.
"Get up," he said. "Get that contraption up and start riding it again."
I could not move fast enough. My grandmother helped me set the horse upright, then retreated to the kitchen. I climbed back on. Grandpa went back behind his newspaper. And I rode — very carefully — until I figured it was safe to slip off and get the hell out of there.
I learned years later that Grandpa himself had fallen off a horse, a live one. He was riding his pony around the yard of the family home in Independence, Missouri when he slid out of the saddle. My great-grandfather, John Truman, a lifelong farmer and livestock trader, was disgusted. He said, "Any boy who can't stay on a pony when it's walking deserves to walk himself." And he made Grandpa walk back to the house.
So stuff does, indeed, roll downhill. At least I was encouraged to get back on.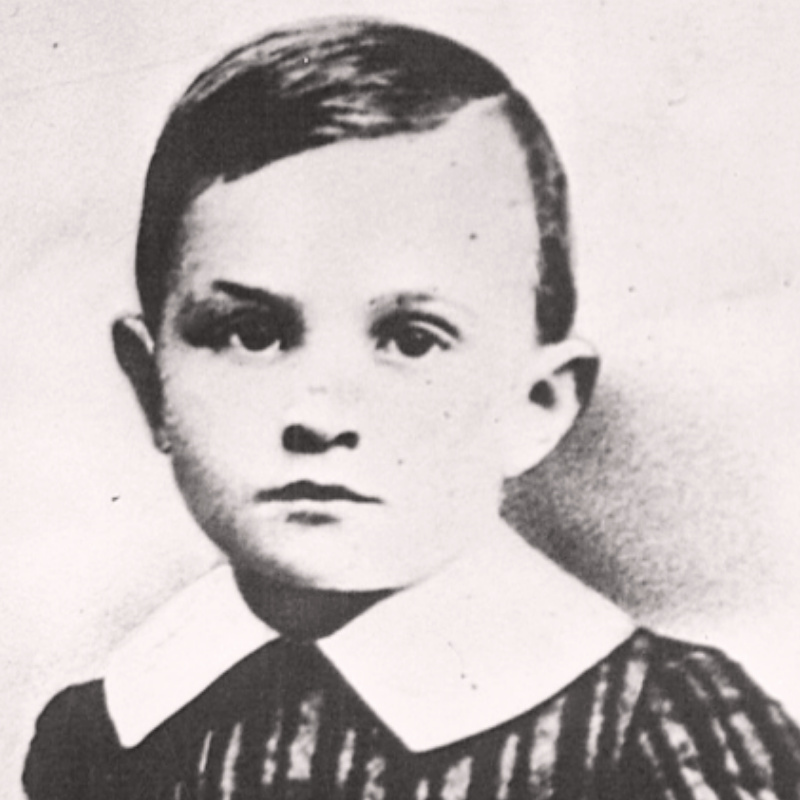 Harry S. Truman as a boy, ca. 1888 (Photo: Harry S. Truman Presidential Library & Museum)
---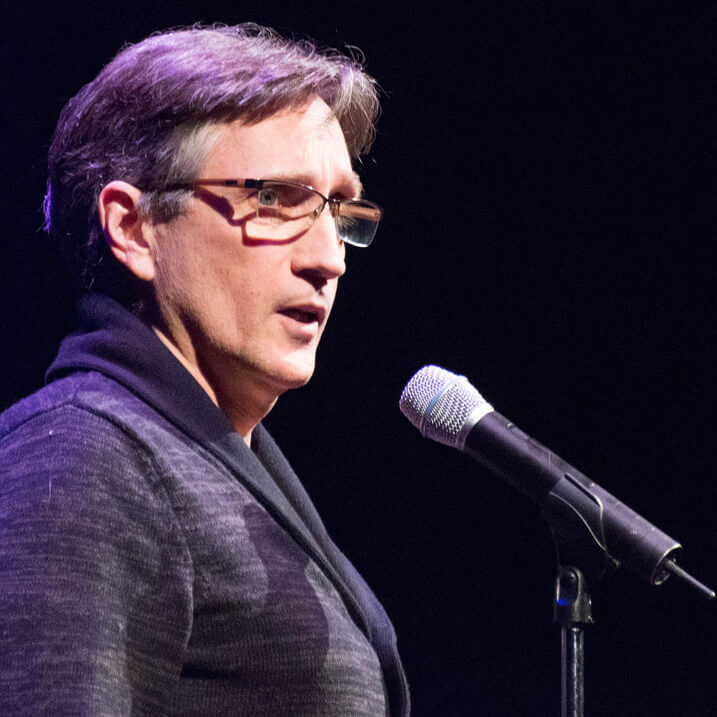 Clifton Truman Daniel is the eldest grandson of President Harry S. Truman and his wife, Bess. He is the son of author Margaret Truman and former New York Times Managing Editor E. Clifton Daniel, Jr. Mr. Daniel is honorary chairman of the board of the Truman Library Institute, board secretary of the Harry S. Truman Scholarship Foundation, and vice president of the Society of Presidential Descendants. He is the author of Growing Up with My Grandfather: Memories of Harry S. Truman and Dear Harry, Love Bess: Bess Truman's Letters to Harry Truman, 1919-1943. In addition to portraying his famous grandfather on stage, Mr. Daniel gives a series of lectures on various aspects of the Truman presidency and U.S. and White House history. Learn more.
---
Join our email list to receive stories, digital history, news, event alerts and more, right in your inbox: