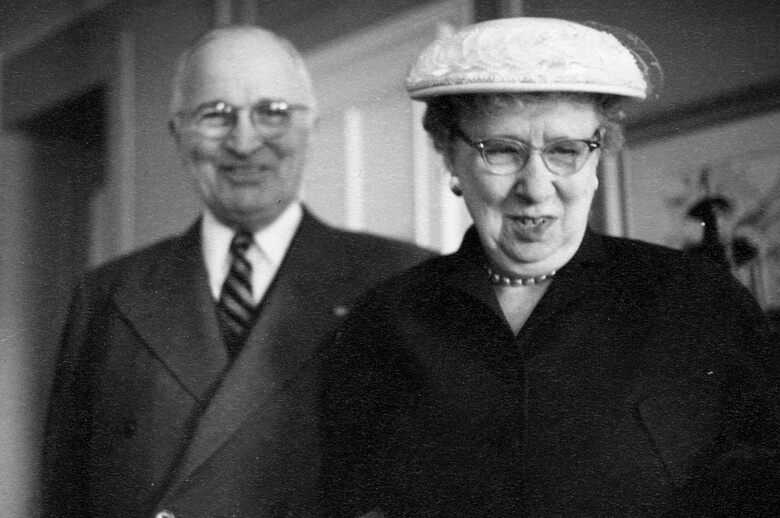 History Happy Hour: In the Kitchen with Bess
Friday, August 16, 2019 from 4:00-5:00 p.m.
Truman Library Institute
5151 Troost Ave., Ste. 300
Kansas City, MO 64110
On Friday, August 16, the Truman Library is hosting a History Happy Hour event featuring one of the Truman Library's archivists, Tammy K. Williams. This event takes place at the Truman Library Institute in Kansas City and will feature Williams exploring Bess Truman's recipe box, including recipes that she gave out and received, food trends in the 1940s and 1950s, and some of the Truman family favorite foods and meals.
Bess Truman had a certain style in the kitchen. Upon moving to the White House in 1945, she had to pass it along to the White House staff. It took three tries for the White House head butler and resident mixologist to make an Old-Fashioned that met her standards. He relied on his own recipe featuring orange slices, sugar and bitters for the first recipe. Bess thought that it was too sweet. He made some alterations on the second try, but Bess complained that she and the President didn't care for fruit punch. Finally, Bess was pleased when she was given a double bourbon on ice, declaring "Now that's the way we like our Old-Fashioneds."
Her style extended to the recipes that she wrote and gave out. In anticipation of this History Happy Hour program, we found two to share: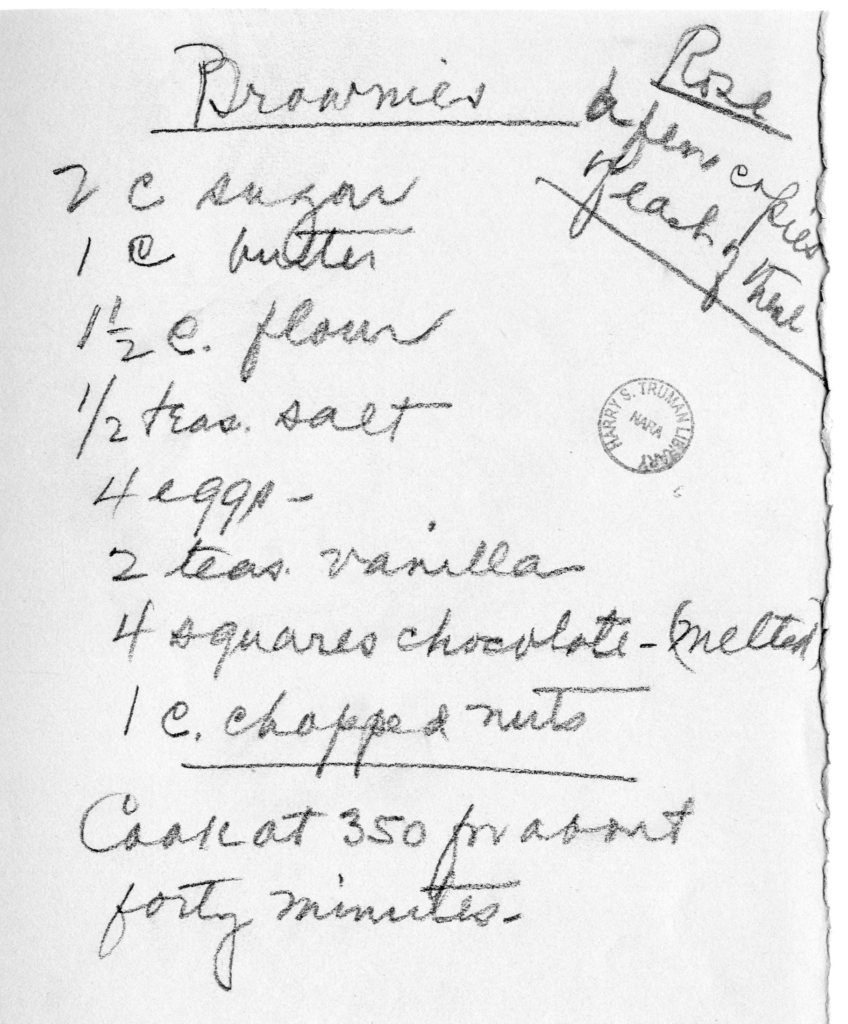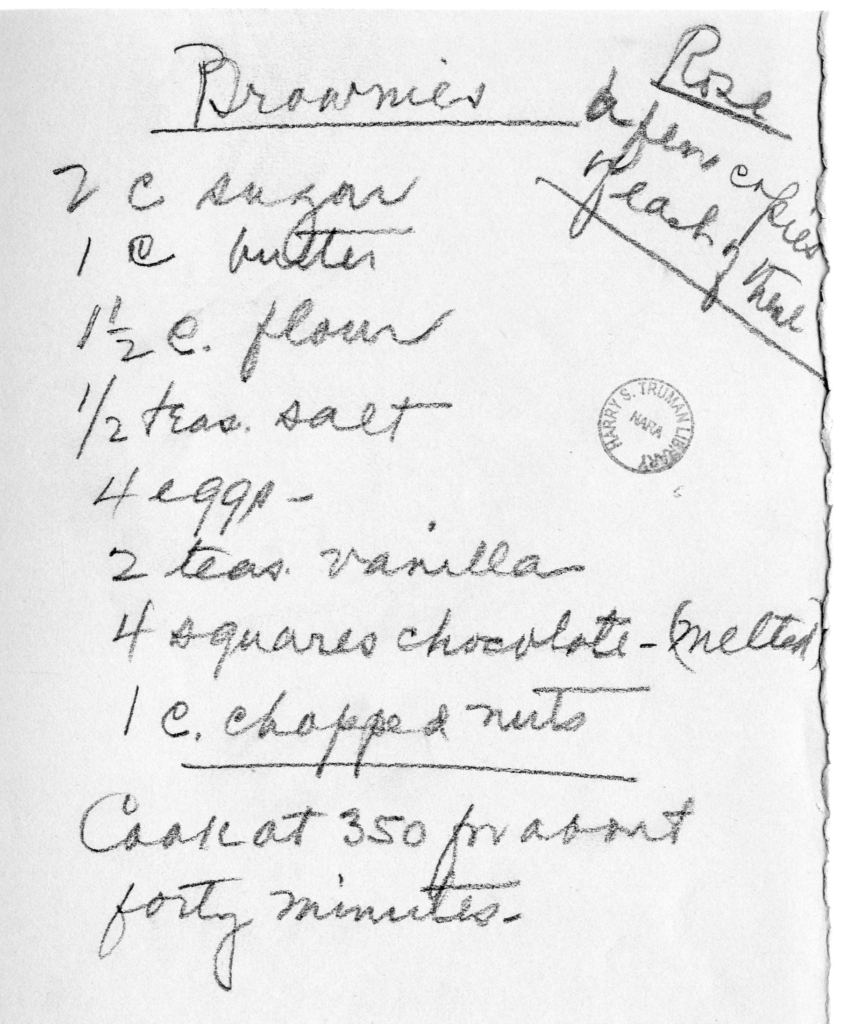 BROWNIES
2 Cups Sugar
1 Cup Butter
1 ½ Cup Flour
½ Teaspoon Salt
4 Eggs
2 Teaspoons Vanilla
4 Squares of Chocolate
1 Cup Chopped Nuts
Cook at 350 for about 40 minutes.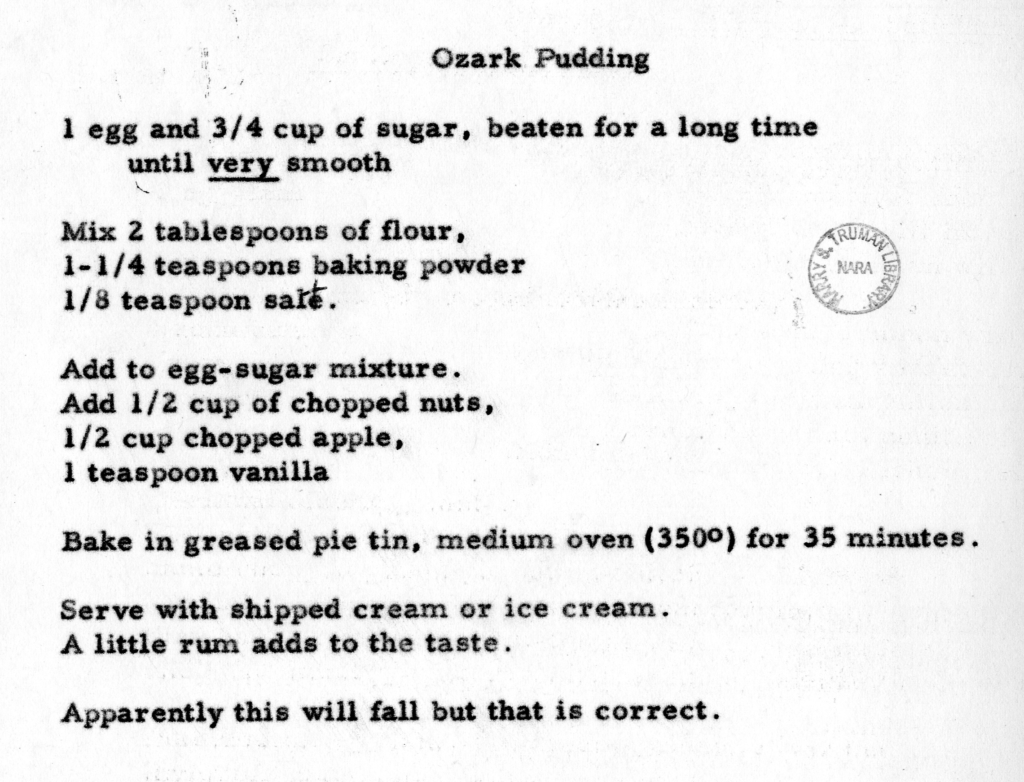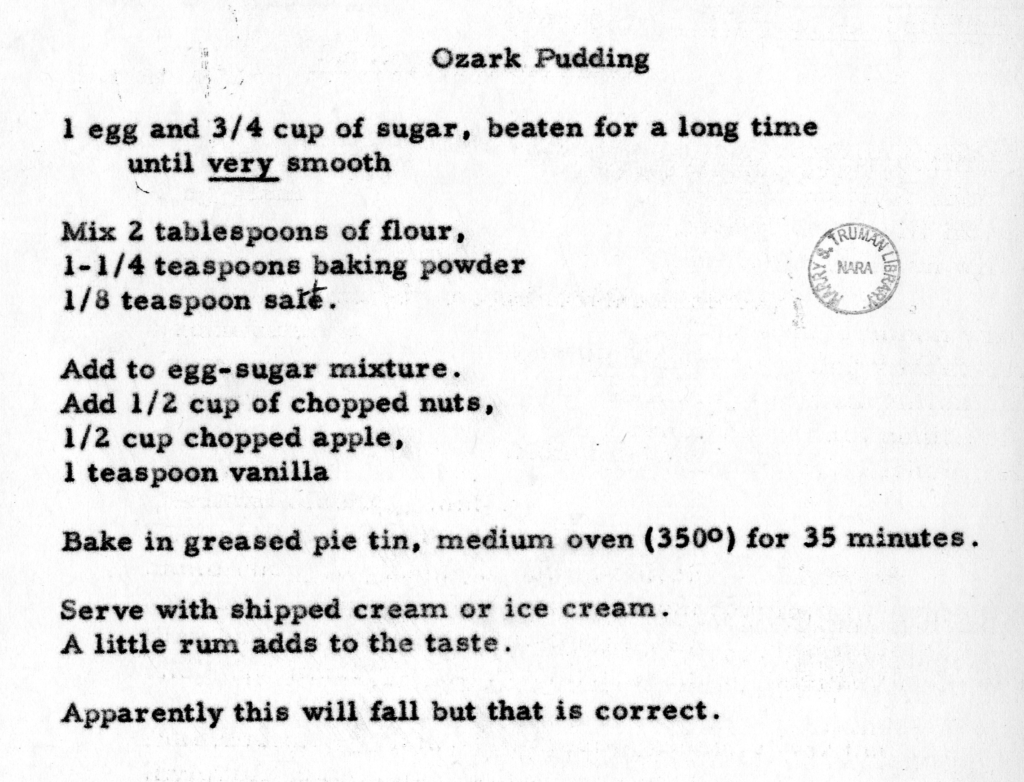 OZARK PUDDING
1 egg and ¾ cup of sugar, beaten for a long time until very smooth.
Mix 2 Tablespoons of flour, 1 1/14 Teaspoons baking powder, 1/8 Teaspoon salt.
Add to egg-sugar mixture.
Add ½ Cup of chopped nuts, ½ Cup chopped apple, 1 Teaspoon vanilla.
Bake in greased pie tin, medium oven (350 degrees) for 35 minutes.
Served with whipped cream or ice cream.
A little rum adds to the taste.
---
Tickets for this History Happy Hour program are free for members of the Truman Library Institute or $10 for non-members and include appetizers and drinks along with the program.
---
Join our email list to receive Truman updates right in your inbox: