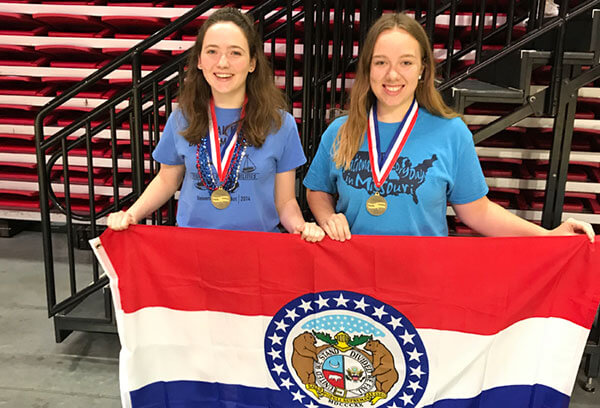 Harry S. Truman once said, "There is nothing new in the world except the history you do not know." Luckily for Hannah Scott and Erin Lowe, there's a lot of history they know. Armed with their knowledge of history, these two local students recently came home with gold medals from the National History Day competition in Washington, D.C.
Hannah and Erin began their journeys with National History Day at the Harry S. Truman Library and Museum, which has hosted the regional competition for more than 20 years, and provides coaching to students and the teachers guiding their students through this national competition. Members and supporters of the Truman Library Institute provide financial support that makes it possible for students to have this life-changing opportunity to take what they learn in school to a whole new level.
More than half a million students compete in National History Day throughout the country each year, designing entries based on their own interests in categories like documentary, exhibit and performance. The competition gives students a channel for pursuing the parts of history that fascinate them the most and to explore this beyond the school environment.
"National History Day has fostered a confidence in my potential, a passion for learning, and a drive to challenge myself, and I am eager to use that foundation to pursue my educational goals," said Hannah, who recently graduated from Odessa High School.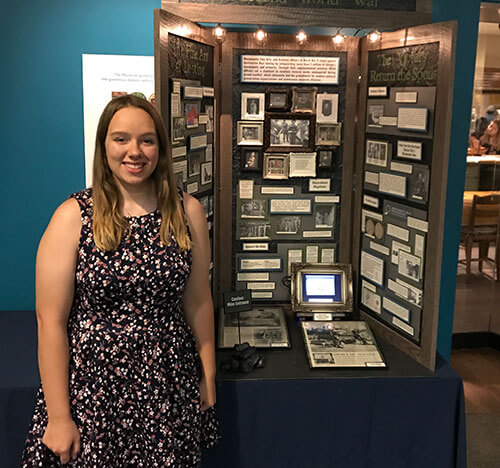 "The Monuments Men, who were officially called Monuments, Fine Arts and Archives officers, were a group of 345 individuals who took a stand against destructive Nazi looting in order to safeguard the heritage of Europe," Hannah said.
She designed her exhibit based on the environment of the Altaussee Salt Mine, which was used as a repository for Nazi-looted art. She constructed textured rock panels and even used hanging caged lights and a mine-entrance sign.
"My favorite part of researching this year was interviewing Robert Edsel who founded the Monuments Men Foundation and wrote the book which inspired the Monuments Men movie," Hannah said. Mr. Edsel even surprised me with a signed copy of his book!"
Hannah has been entering National History Day since she was in eighth grade when creating an exhibit was a required assignment for her gifted program. When she moved onto high school, National History Day wasn't offered through any of her classes, but she kept participating completely on her own volition as an extracurricular.
You can watch Hannah talk about her exhibit here and view the exhibit more closely here.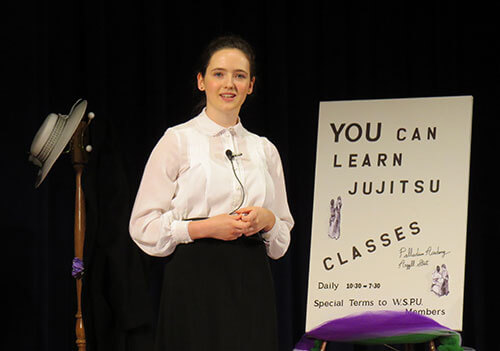 Erin, who is entering her senior year at Pembroke Hill High School, focused her performance on the British Women's Suffrage Movement. She specifically studied a militant group referred to as Suffragettes who became known for protesting, destroying property and even attacking prominent political figures. When police began to attack these women and arrest them even during peaceful protests, a small group emerged to fight back against this. Approximately 30 young women learned Jiu Jitsu to provide security at suffragette rallies.
"In my performance I embodied three characters: Edith Garrud, Florence, and a narrator figure," Erin said. "Garrud was the trainer of the group that came to be known as The Bodyguard, and some liked to refer to its members as Emmeline Pankhurst's Amazons. Florence was a fictional character whom I created to represent another perspective of the movement. She was pro-suffrage but staunchly against militancy, which allowed my performance to provide a more holistic representation of history. I used the narrator to bring the topic into modern day context and look toward the future."
You can watch Erin's performance in its entirety here.
Both students traveled to Washington, D.C., earlier this summer to compete in the national competition against nearly 3,000 other students from throughout the country. In addition to sharing their National History Day presentations and winning gold medals, Hannah, Erin and their coaches got to meet others with similar interests who had traveled from coast to coast to compete.
"One of my favorite parts of the National Contest is button trading," Hannah said. "It is always a challenge to get a pin from every state and country at nationals, but this year I managed to get my first complete set!"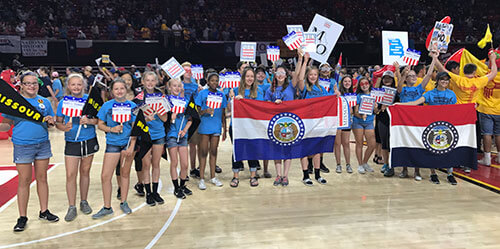 Find out more information about how to get involved in National History Day at the Truman Library here or by contacting Mark Adams at mark.adams@nara.gov or 816-268-8236.
---
Join our email list to receive Truman updates right in your inbox: