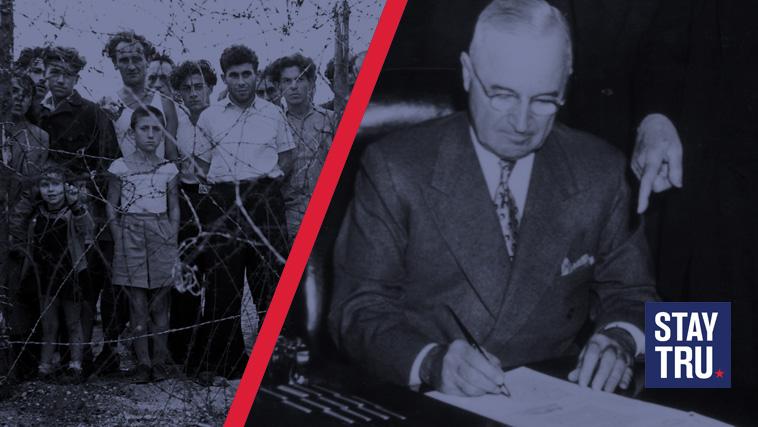 TRU History – Truman Signs Directive 225
We recently heard a remarkable story from an unexpected caller, and we wanted to share it today, in honor of International Holocaust Remembrance Day.

The caller was a gentleman from Florida. He introduced himself as "Harry" and said that he wanted to make a donation to the STAY TRU Capital Campaign.

"You see, I'm named for Harry Truman," he told us. "During World War II, my parents were sent to concentrations camps – Auschwitz and Dachau." Against all odds, they found each other after the camps were liberated, then were moved – along with millions of refugees – into a displaced persons camp. The situation wasn't hopeful. In Germany alone, there were 7 million refugees with no home to return to.

And then, in darkness: Hope. On December 22, 1945, President Truman issued Directive 225, allowing many more displaced persons to be admitted to the United States. In fact, between 1945 and 1952, some 80,000 of the 200,000 refugees entering the U.S. were Jewish displaced persons.

And that, in a nutshell, is how we came to be speaking over the phone with Harry from Florida. His American story began with being welcomed to this country by what is now known as the "Truman Directive."

If we were to name one sentiment we hear more than any other from folks it's this: "I owe my life to Harry Truman." For many European Jews struggling to survive the horrors of World War II, Truman was a symbol of hope.

Today, Harry still stands as a beacon of hope for our nation and for humanity. His values, his character and his courageous leadership can serve as a standard for each and every one of us.

Thank you for helping us share the life and legacy of America's 33rd President, today and every day.



"THIS IS THE OPPORTUNITY FOR AMERICA TO SET AN EXAMPLE FOR THE REST OF THE WORLD IN COOPERATION TOWARD ALLEVIATING HUMAN SUFFERING."
PRESIDENT HARRY S. TRUMAN
TRU HISTORY: Visit the Truman Library Digital Archives to Read Directive 225.
---
Join our email list to receive Truman updates right in your inbox: