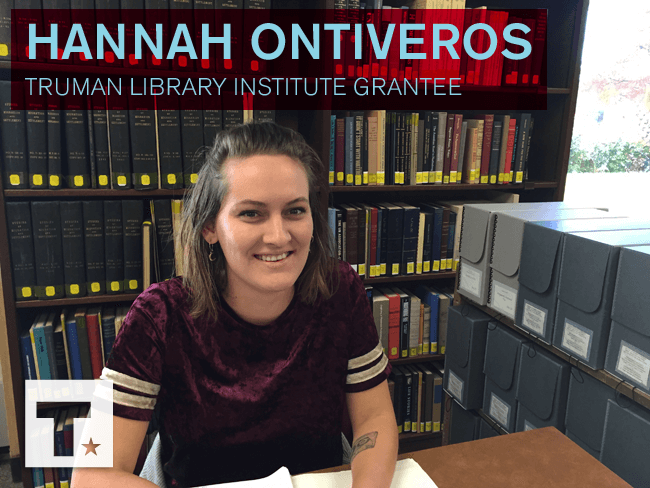 Each year some two dozen historians, writers and scholars receive Research Grants to explore the archives at the Harry S. Truman Library and Museum. These prestigious research grants are made possible thanks to the generosity of Truman Library Institute members and donors.
Donors have made it possible for the Truman Library Institute to give out nearly $2.7 million over the years for researchers all over the world to travel to Independence to immerse themselves in archival research and further our understanding of the Truman era.
Meet one of these grantees, Hannah Ontiveros, who recently traveled to the Truman Library to study how American women influenced foreign policy during the Korean War era. We took a few minutes of Hannah's time to learn about her research and what she learned while on site at the Truman Library.
Tell us a bit about your research project.
My dissertation focuses on American women and their influence on foreign policy during and following the Korean War. American women helped shape foreign relations with Korea based on ideas about caring for Korea as a childlike nation deserving of American friendship and help. While often racist and orientalist, these women were well-intentioned and worked on aid programs providing shelter, food and education to Koreans, which bolstered American foreign policy aims of maintaining a capitalist and American-friendly nation in East Asia and provided infrastructure for American diplomatic and military intervention in the Far East.
Why do you think it's important to study Truman-era history?
The Truman era is crucial to understanding 20th century American History. It was the era that planted the seeds for global Cold War conflicts, which, at the same time, shaped domestic politics for the rest of the century. Furthermore, the Truman era marked the solidification of the United States situating itself as a global police power, something that Americans still grapple with today.
What is the coolest discovery (or discoveries) you found during your research at the Truman Library? What does that discovery mean to your research?
By far the most fascinating tidbit I found in my research was a lawsuit from 1958. A number of American Legionnaires and their families sued Presidents Truman and Eisenhower for their roles in the Korean War. The plaintiffs, for the most part, sued on behalf of their sons, who had been killed or captured in the war, and charged that the presidents had acted irresponsibly and failed to follow through on protecting the Americans deployed in Korea. These documents were especially fascinating because of the way they framed the role of the state: like a parent. The plaintiffs expected the White House to protect its sons. Additionally, as part of the lawsuit, the particular Legionnaires involved attempted to rescind Truman's membership in the American Legion, claiming he was no longer a patriotic and responsible veteran.
What did it mean to be awarded a Truman Library Institute Research grant?
The funding from the Truman Library Institute was vital to my dissertation project. It allowed me to spend two whole weeks in Missouri, which on my graduate student stipend alone would have been extremely difficult. With all this time, I got to properly examine the documents I knew I needed for my project, as well as discover new things — for example, this trip got me started examining the U.N.'s role in my story, which is proving to be a rich and fascinating vein.
Thank you to the generous members and donors who have made it possible for researchers like Hannah to conduct their research! Are you interested in ensuring that important research like this continues? Donate today.
---
Join our email list to receive Truman updates right in your inbox: