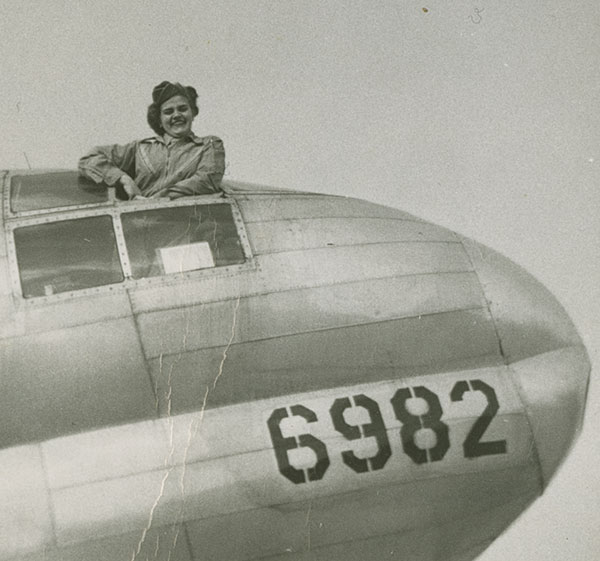 Ernestine "Ernie" Wagner and Women's Military Service
On June 12, 1948, Harry S. Truman signed the Women's Armed Services Integration Act (WASIA) which allowed women to serve in official capacities in all four branches of the military. Most importantly, the act permitted women's military service during peace time.
The WASIA paved the way for thousands of women's military careers, including a Korean War veteran named Ernestine "Ernie" Wagner.
The Truman Library recently acquired a large collection of artifacts from the Korean War that will help tell the story of the war and those who fought it in the museum's new exhibition.
Among the stories featured will be that of Ernie Wagner, who was born on July 16, 1932 to Austrian and Czech immigrant parents in Chicago, Illinois. At 18, Ernie enlisted in the United States Air Force (USAF), specifically the Women's Air Force (WAF) at O'Hare Field on October 23, 1949 – a little over a year after Truman signed the WASIA.
Ernie completed basic training at Lackland AFB in Texas in 1950 and was then stationed at Shaw AFB in South Carolina. In fact, most WAFs were sent to Shaw AFB for on-the-job-training since they were not activated for duty during the Korean War. This was largely due to the fact that women were not permitted to fly in combat, so most WAFs remained stateside.
At Shaw AFB, Ernie officially served with the 4406th WAF Squadron. However, she spent her days with the 20th Maintenance Squadron learning radio and radar repair and filling several journals with intricate notes, drawings, and technical jargon. Additionally, Ernie kept maintenance records on all of the C-46 and C-47 planes at Shaw AFB. She was the only woman assigned to the flight line hanger and routinely participated in practice flights with other airmen.
Ernie completed her service as a WAF in 1952, just two years after enlisting. She married Allan F. Soehrmann, who served with the 159th Field Artillery Battalion in Korea, on September 14, 1963.
In her later years, Ernie began collecting stories, memoires, photos, and service paraphernalia from fellow Korean War veterans in an effort to preserve their memories and experiences. Ernie wrote poems about her own service and how it profoundly changed her life. Eventually, she donated these materials, and some belonging to other Korean War veterans, to the now defunct Korean War National Museum in Springfield, Illinois.
When the Truman Library Institute purchased the Korean War National Museum's collections and transferred them to the Truman Library, it gave the Library a unique opportunity to tell a story about women's military service. More importantly, this is the first time the Library has acquired and cataloged a collection like Ernie's.
Although the Library has artifacts belonging to women such as Bess, Margaret, and others from the Truman and Wallace family, it now holds artifacts that allow staff to piece together a story of women's military service, Ernie's in particular, while expanding on Truman's decision to sign the Women's Armed Services Integration Act.
Furthermore, this is a real chance for the Truman Library to embrace more diverse perspectives when evaluating the past and Truman's presidency.
The new Korean War exhibit at the Truman Library will feature a space on Ernie Wagner, displaying some of Ernie's items and photos from her time in the WAF. Below are some of the artifacts you can expect to see when the Library reopens this fall.
---
Join our email list to receive Truman updates right in your inbox:
Natalie Walker is Museum / Archives Technician at the Truman Library Institute. She holds a Master's in Public History from Colorado State University.