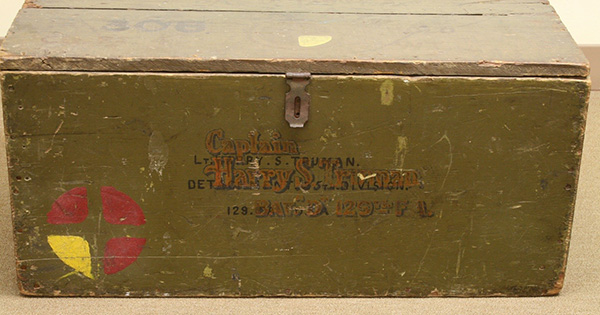 Today, military production is highly mechanized. Machines piece together uniforms, weapons, and all manner of personal equipment issued to soldiers. During World War I, however, soldiers occasionally found themselves making their own supplies.
Take, for example, this tack box which Harry S. Truman carried with him during his service in France. Soldiers crafted these tack boxes from a standard size wood crate, adding the necessary identification markings for each battery, division and rank.
1st Sergeant Verne E. Chaney, who served with Truman in Battery D, recalls the crafting process, explaining that they made the boxes "according to dimensions required by the [Quarter Master] and strapped with strap iron." Afterwards, "came the job of painting and addressing the boxes for identification." Chaney notes that when the men finished building and painting the tack boxes, "there were 154 boxes for our own battery alone." While crafting the tack boxes served a practical purpose, it also allowed the men of Battery D to build a sense of comradery as they worked to accomplish a singular task.
While it is unknown if Truman made his own tack box, perhaps the more interesting aspect of this artifact is its dual identification markings. On the front of the box, ornate red and orange lettering that reads, "Capt. Harry S. Truman Bat. D, 129th F.A.," covers smaller, black lettering which reads, "Lt. Harry S. Truman, Detachment, 35th Division, 129 F.A. U.S.A." The original black lettering denotes Truman's position as a lieutenant before his promotion to Captain of Battery D on April 23, 1918. It is possible that Truman painted over the original identification markings after being promoted.
Inside of the tack box, Truman stored his U.S. McClellan cavalry saddle which he acquired shortly after completing his training at the II Corps Artillery School in Montigny sur Aube, a small village in eastern France. Cavalry saddles used by individually mounted officers and non-commissioned officers were fitted with hooded wooden stirrups and stirrup strap fenders. This saddle retains its original saddlebags, coat straps, and officer's saddle cloth. The saddle cloth was made of a heavy olive drab cotton like the material used for soldier's uniforms.
Truman's tack box, saddle, and saddle cloth came from the basement of Truman's sister Mary Jane's home in Grandview, Missouri. You can find the tack box and saddle, along with Truman's spurs, in the 'Heroes or Corpses': Captain Truman in World War I exhibit at the Harry S. Truman Library and Museum.
---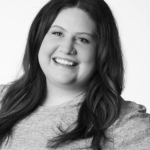 Contributed by Natalie Walker, Museum / Archives Technician at the Truman Library Institute who is currently finishing a Master's in Public History at Colorado State University.
The captivating story of Truman's service in World War I is on display this year only at the Harry S. Truman Library and Museum in the special exhibition, 'Heroes or Corpses': Captain Truman in World War I. Plan your visit today to view this temporary exhibition, included in museum admission or free for members.
---
Join our email list to receive event updates and the latest Truman news right in your inbox: