Cheers to 10 Years
Truman Library Institute Members have unlimited access to the Harry S. Truman Library and Museum every day, but each summer at Members Night, the museum is exclusively yours. We celebrated the impact your generosity has year-round last week at the 10th Annual Members Night at the Museum on Thursday, June 8.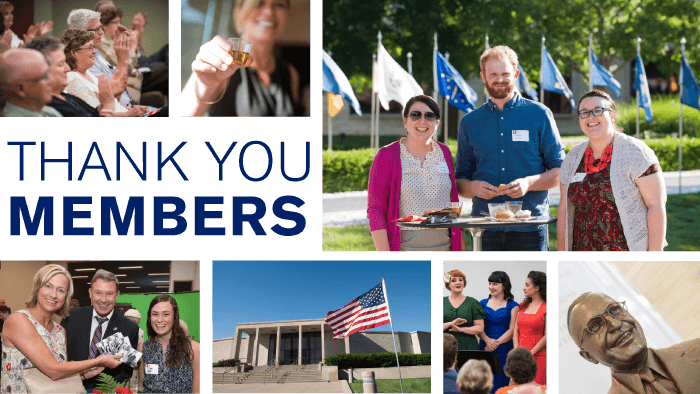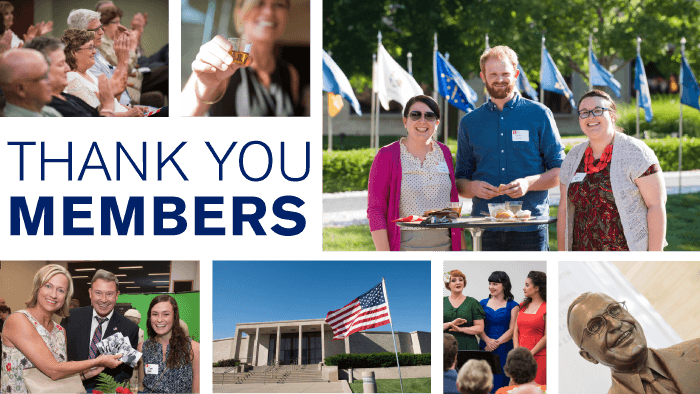 Members were invited to an after-hours event where they could explore the entire museum, including an exclusive curator-led viewing of the temporary exhibit Saving the White House: Truman's Extreme Makeover. Not only that, but we also offered drinks and hors d'oeuvres inspired by our presidents' favorite foods, including everything from Abraham Lincoln's favorite gingerbread cupcakes to Bill Clinton's favorite jalapeno cheeseburger sliders. We even had a display of a more unique favorite—Richard Nixon's cottage cheese and ketchup—although no one was tempted enough to try that!
Tom's Town Distilling Co. was on site for an exclusive bourbon tasting, and the beloved Star Spangled Betties charmed audiences with their vintage tunes inspired by the Andrews Sisters. Members even had a chance to take photos with Harry himself through a Truman green screen.
Here's what just one attendee had to say about this fun evening:
The Members Night at the Museum last week was spectacular! I was certainly surprised by all the activities and enjoyed every bit of it. The menu was brilliant. Photo ops in the green screen room and with Rosie were really fun and the Star Spangled Betties were terrific. They sounded like the Andrews Sisters. The White House renovation exhibit is fascinating (this was my second time to see it). Thank you very much for a fun evening.   -Arlene
Thank you to all of our Members who are carrying on the legacy of Harry S. Truman through their generosity!
Not yet a Member? Join today to ensure you get the exclusive invitation to the next VIP event just like this.
View photos from the evening below or tag yourself in our Facebook album: