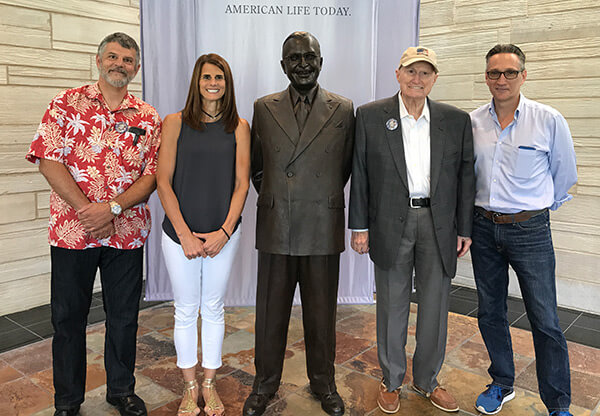 Truman fan's greatest wish comes true
John Nappi was 14 when Harry Truman became president in 1945. From that moment until Mr. Nappi's passing late last year, Truman was not just his favorite president but his hero.
"Harry represents everything my dad values about this country and the American Dream," said Debbie Mayo, Nappi's daughter. "Harry grew up in a working class family – like my dad, was an avid reader – like my dad, and stood by his convictions, even if they were unpopular – like my dad. Harry was the classic underdog who worked hard, had grit and determination and never gave up."
Despite his deep passion for and knowledge of Truman, Mr. Nappi had never made the trip from Fort Myers, Fla., to visit the Truman Library in Independence, Mo. "For as long as I can remember, my father talked about visiting the Truman Library and Museum," Debbie recalled.
When Mr. Nappi's health began to decline, Debbie and her brother Tommy Nappi took action to ensure that their father would get this experience he had dreamed about for so long. Before making plans, Debbie contacted the Truman Library Institute to discuss how to make this trip the best possible experience for one of Truman's greatest fans.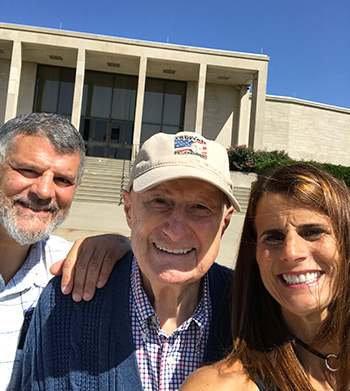 Debbie and Tommy decided to join The Buck Stops Here Society on behalf of their father, earning them The Society benefit of a VIP tour of the museum. Shortly after that, the Truman Library and the Institute stepped into action, scheduling a tour, an opportunity to view original documents from the archives and even a visit with President Truman's grandson, Clifton Truman Daniel.
"The Truman Library Institute rolled out the red carpet for us and gave my dad, my brother and me the trip of a lifetime," Debbie said. "Our experience at the Library was amazing from start to finish."
Mr. Nappi passed away just a few months after this unforgettable trip.
"My brother and I are forever grateful that we were able to fulfill my dad's bucket list trip before he passed away," Debbie said. "My dad's knowledge, love and respect for Harry was contagious. My brother and I couldn't help but feel a deep connection to Harry because of my dad, but after the trip I think we are both are in agreement that Harry Truman is, indeed, our favorite president, as well!"
The Nappi family visited the Truman Library in September 2017, and Mr. Nappi passed away in December 2017. Upon his passing, his family requested that donations be made in his memory to the Truman Library Institute's the Bus Stops Here Field Trip Grant Program, which provides funding for financially-challenged school groups so they can visit the Truman Library at little to no cost. With the Nappi family's generosity, perhaps the next generation of Truman fans will be as inspired by the Truman Library as Mr. Nappi was.
---
Membership in The Buck Stops Here Society starts at $1,000 annually and unlocks exclusive VIP benefits, including a private tour of the museum, invitations to exclusive events, unique travel opportunities and more. Join today.