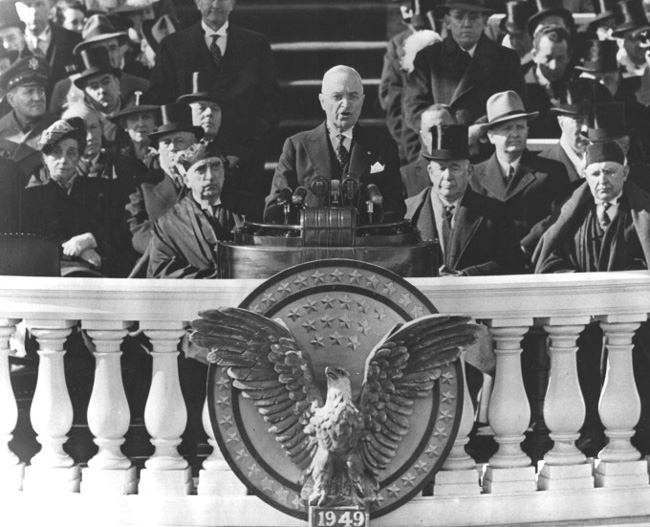 Inaugural Address
On this day in 1949, Harry S. Truman delivered his Inaugural Address on the U.S. Capitol's East Portico. More than 100,000 people were gathered in the Capitol Plaza when he began his 2,272-word address with these words…
"Mr. Vice President, Mr. Chief Justice, fellow citizens:
I accept with humility the honor which the American people have conferred upon me. I accept it with a resolve to do all that I can for the welfare of this Nation and for the peace of the world."
"In performing the duties of my office, I need the help and the prayers of every one of you. I ask for your encouragement and for your support. The tasks we face are difficult. We can accomplish them only if we work together.
"Each period of our national history has had its special challenges. Those that confront us now are as momentous as any in the past…"
On that historic day, Harry Truman shared the promise of our democracy and asked Americans to commit courageously to the ideals of liberty.
We say it a lot: we are "Wild About Harry."
Perhaps it's because Harry was "Wild about America."
He loved this democracy and worked tirelessly to safeguard it for future generations. He showed us what it means to be Americans.
Harry Truman's legacy of principled and decisive leadership is the standard that U.S. presidents now and forever will aspire to. What an honor it is to work with you to preserve and advance that legacy. Not just for Harry, but for this great nation we love.

"WE WILL DEVOTE OUR STRENGTH, OUR RESOURCES, AND OUR FIRMNESS OF RESOLVE. WITH GOD'S HELP, THE FUTURE OF MANKIND WILL BE ASSURED IN A WORLD OF JUSTICE, HARMONY, AND PEACE."
– PRESIDENT HARRY S. TRUMAN
---
Join our email list to receive Truman updates right in your inbox: