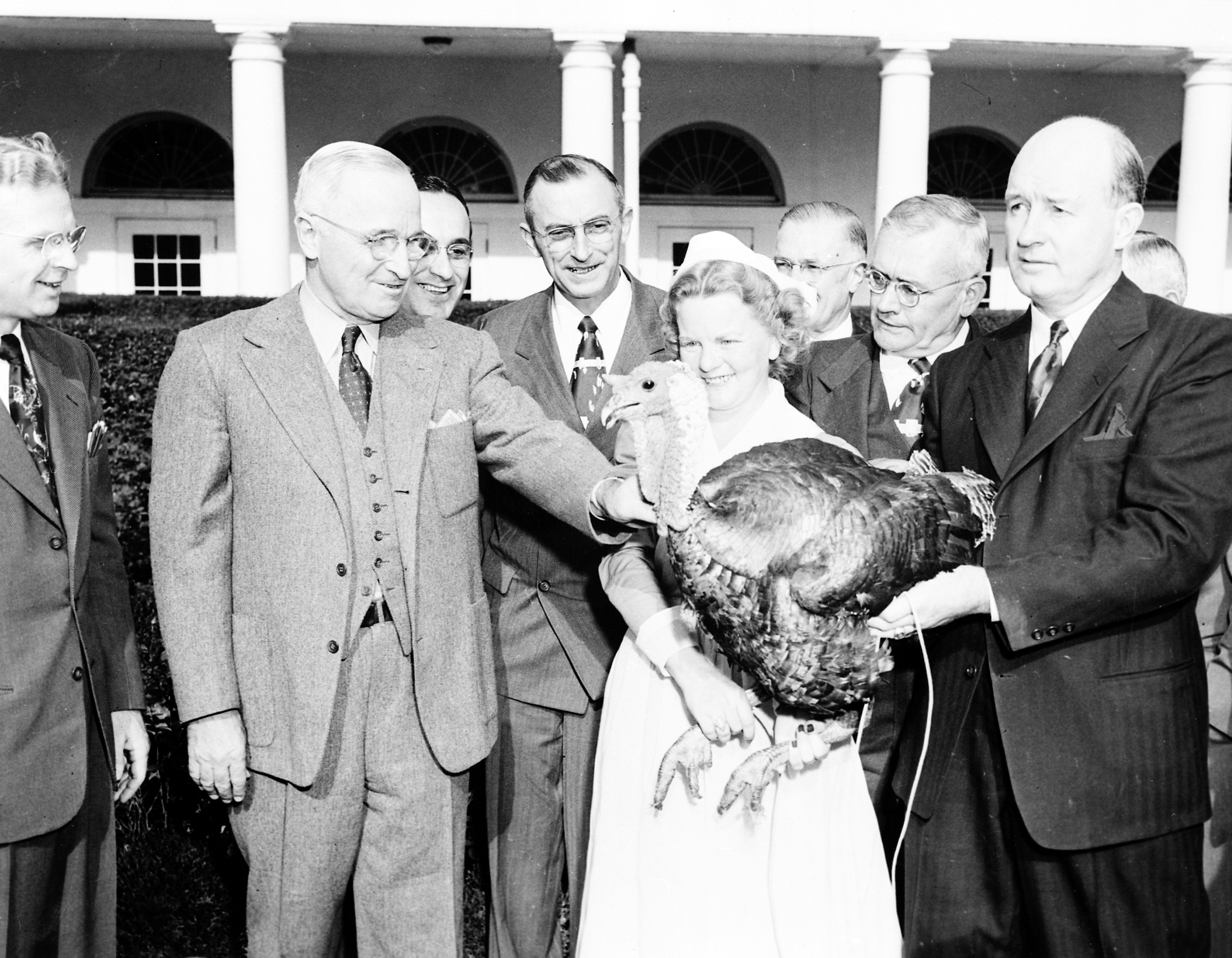 Did Harry Truman Pardon the First Turkey?
The official "pardoning" of White House turkeys is an interesting White House tradition that has captured the imagination of the public in recent years. Recently White House mythmakers have claimed that President Harry S. Truman began this amusing holiday tradition. However, the Truman Library & Museum disputes the notion that Truman was the first president to pardon the holiday bird.
Reports of turkeys as gifts to American presidents can be traced to the 1870s, when Rhode Island poultry dealer Horace Vose began sending well fed birds to the White House. The First Families did not always feast upon Vose's turkeys, but the yearly offering gained his farm widespread publicity and became a veritable institution at the White House. At Thanksgiving 1913, a turkey-come-lately from Kentucky shared a few minutes of fame with the fine-feathered Rhode Islander. Soon after, in December, Horace Vose died, thus ending an era.
By 1914, the opportunity to give a president a turkey was open to all comers, and poultry gifts were frequently touched with patriotism, partisanship, and glee. In 1921, an American Legion post furnished bunting for the crate of a gobbler en route from Mississippi to Washington, while a Harding Girls Club in Chicago outfitted a turkey as a flying ace, complete with goggles. First Lady Grace Coolidge accepted a turkey from a Vermont Girl Scout in 1925. The turkey gifts had become established as a national symbol of good cheer.
The focus on Harry Truman as the originator of the turkey pardon stems from his being the first president to receive a turkey from the poultry and egg board. From September to November 1947, announcements that the government was encouraging "poultryless Thursdays" grabbed national headlines. Homemakers, restaurant owners, and the poultry industry deflated the effort in time for Thanksgiving, but not before poultry growers had sent crates of live chickens— "Hens for Harry"— to the White House in protest. The turkey they presented to President Truman that December promoted the poultry industry and established an annual news niche that endures today.
In December 1948, Truman accepted two turkeys and remarked that they would "come in handy" for Christmas dinner. There was clearly no plan for these birds to receive a presidential pardon.
Originally posted by The White House Historical Association