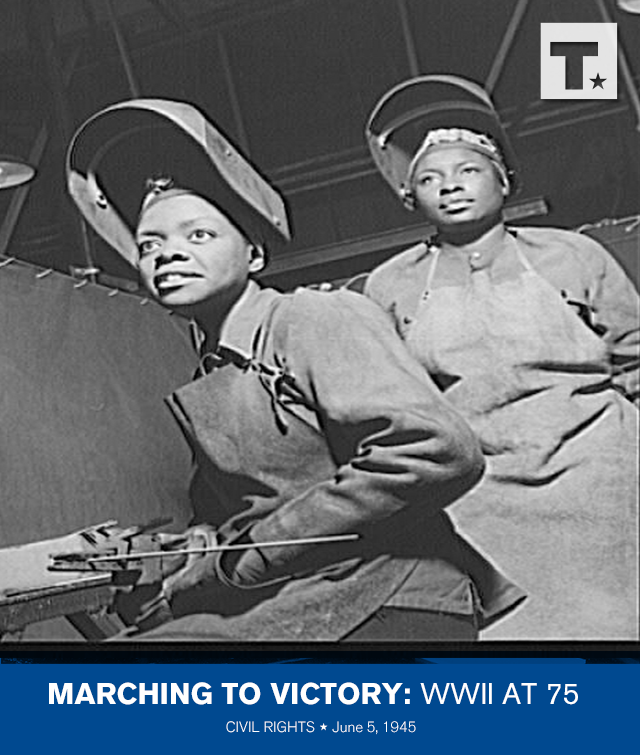 WWII highlights from the Truman Library's archives and collections
Marching to Victory: Civil Rights
June 5, 1945
President Truman knew that victory in WWII depended on the full participation of "all available workers regardless of race, creed or color." When Congress abruptly dropped appropriations for the Fair Employment Practice Committee (FEPC) – the agency in charge of protecting Americans from discrimination in defense industries or government – in the spring of 1945, Truman launched an impassioned defense of the FEPC and civil rights.
In a letter to Chairman Adolph Sabath of the House Rules Committee on June 5, 1945, President Truman urged prompt action on legislation setting up a permanent Fair Employment Practice Commission, which had been stalled in the rules committee for many weeks.
"To abandon at this time the fundamental principle upon which the Fair Employment Practice Committee was established is unthinkable," President Truman wrote in a letter to the Chairman of the House Rules Committee, Adolph J. Sabath. The reason: "The war is not over. In fact, a bitter and deadly conflict lies ahead of us."
Total war required participation of all people regardless of race. Defunding the FEPC endangered minority workers, defense work itself, and the very principles America was fighting for.

"Discrimination in the matter of employment against properly qualified persons because of their race, creed, or color is not only un-American in nature, but will lead eventually to industrial strife and unrest," as well as widespread poverty.
Foreshadowing his watershed Executive Order 9981 that would abolish racial discrimination in the military, Truman emphasized that fair employment policies should extend beyond the war effort.
"The principle and policy of fair employment practice should be established permanently as a part of our national law," he asserted.
Although Truman only achieved a partial victory for civil rights in 1945 – Congress voted to fund the FEPC for one more year before being permanently shuttered – he would wage a momentous battle with southern Democrats for civil rights after World War II. In the postwar years, Truman would establish the President's Committee on Civil Rights and build upon their findings to push for a wide-ranging package of progressive legislation, including a permanent FEPC.

Contributed by Will Hickox, Ph.D. He has written for The New York Times and contributed to several digital history projects.
---
Join our email list to receive Truman updates right in your inbox: