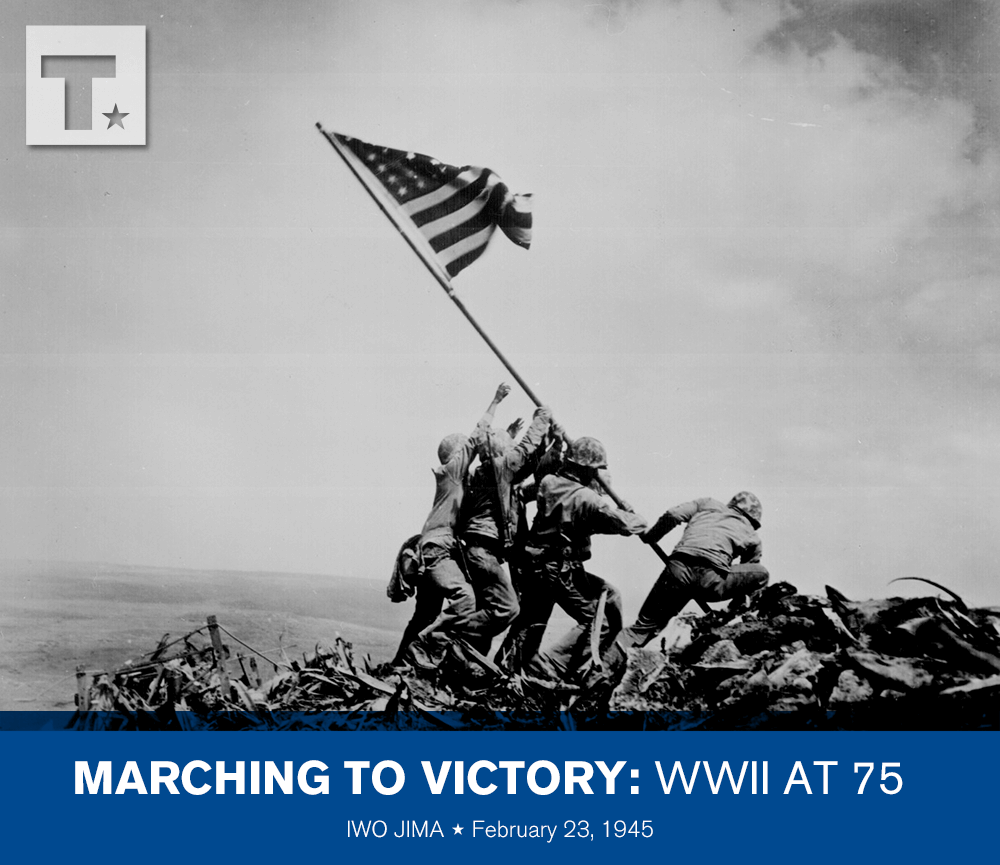 WWII highlights from the Truman Library's archives and collections
Marching to Victory: Iwo Jima
February 23, 1945
The Iwo Jima Memorial in miniature is a small testament to tremendous courage.
In February and March 1945, U.S. Marines and sailors fought a brutal battle with Japanese troops on a tiny island south of Japan. In the course of securing Iwo Jima – which the U.S. high command desired as a staging point for an invasion of the Home Islands – more than 26,000 Americans were killed or wounded, and the Japanese garrison of 22,000 was nearly wiped out.
For Americans, one iconic image of Iwo Jima predominates: Joe Rosenthal's photograph of troops raising the American flag over Mount Suribachi on February 23. The photograph later served as the model for the Marine Corps War Memorial at Arlington National Cemetery. To this day, many millions of people recognize the photograph and the monument as symbols of the American cause in World War II and the heroism of U.S. Marines.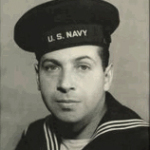 Far fewer, however, know that the remarkable collection of artifacts at the Harry S. Truman Library and Museum includes the memorial…in miniature. In February 1945, Austrian-born artist Felix de Weldon was serving in the U.S. Navy as an official painter of battle scenes. De Weldon's commanding officer showed him the photograph of the flag-raising on Iwo Jima.
"I was so deeply impressed by its significance, its meaning," de Weldon remembered, "that I imagined that it would arouse the imagination of the American people to show the forward drive, the unison of action, the will to sacrifice, the relentless determination of these young men. Everything was embodied in that picture."
De Weldon immediately made a wax model of the scene, and the following April de Weldon presented President Truman with a plaster cast of the model. De Weldon replicated the model on a much grander scale when he sculpted the Marine Corps War Memorial, which was dedicated in 1954. The plaster cast stayed in Truman's White House office for his entire administration.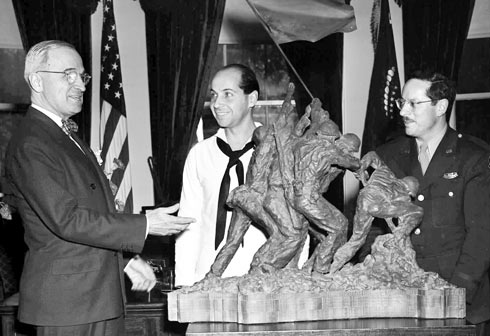 The Truman–de Weldon connection does not end there. The artist and the president met again in 1948 when Truman sat for de Weldon in preparation for a massive bust. De Weldon was so fond of Truman's friendliness and good humor that he raced to complete the bronze bust; after the sittings, de Weldon "took the bust up to New York to be cast in bronze, and because the workmen were worked in three shifts, they worked around the clock because of their great admiration for President Truman to get that bust cast in bronze in one week."
De Weldon later created a 12-foot bronze statue of Truman in commemoration of the economic and military aid given under the Truman Doctrine to support Greece. The statue still stands in Athens, Greece – one of only eight statues of U.S. presidents located overseas.

Contributed by Will Hickox, Ph.D. He has written for The New York Times and contributed to several digital history projects.
---
Join our email list to receive Truman updates right in your inbox: