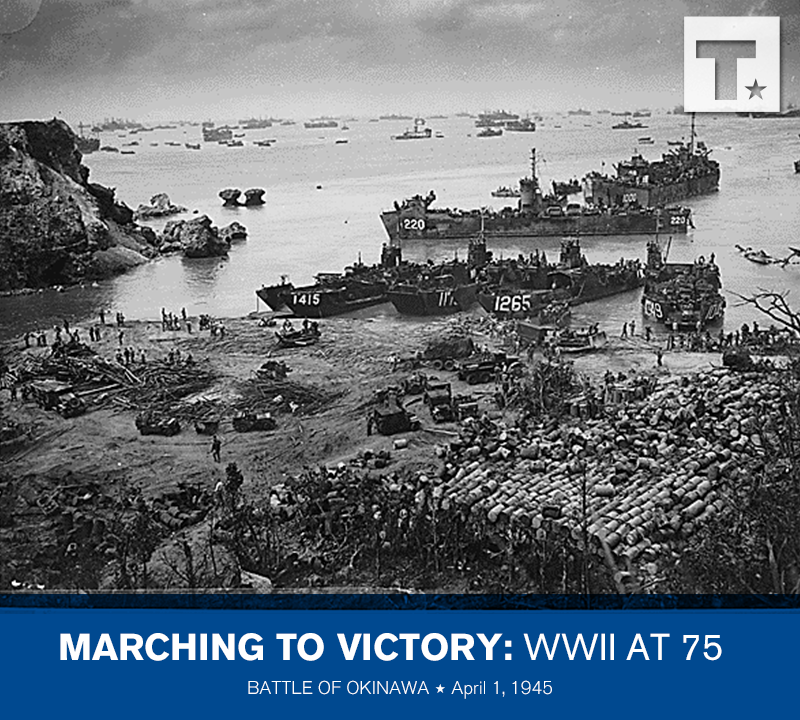 WWII highlights from the Truman Library's archives and collections
Marching to Victory: The Battle of Okinawa
April 1, 1945 – Easter Sunday, April Fools' Day, and codenamed "Love Day" by U.S. forces – must have seemed an unwarlike day for starting a major military operation. Yet it was on that date that American troops landed on the Pacific island of Okinawa, initiating one of the bloodiest and most important battles of World War II.
The U.S. high command sought to capture Okinawa and build air bases there for the planned invasion of Japan; the island's Japanese troops vowed to defend what they considered part of their home territory.
The Battle of Okinawa spanned 82 long days. During that time, Germany surrendered to Allied forces, ending the war in Europe. U.S. troops had yet to face the main military strength of the Japanese empire, and conditions on Okinawa indicated that America's fanatical enemies would only harden their resistance as the GIs closed in on the home islands.
By the end of May 1945, American dead and wounded in the ongoing Okinawa campaign totaled nearly 39,000. As the battle for Okinawa devolved into a brutal, costly slog, the U.S. government faced a difficult question: could Americans be inspired to carry on the fight against Japan despite heavy losses?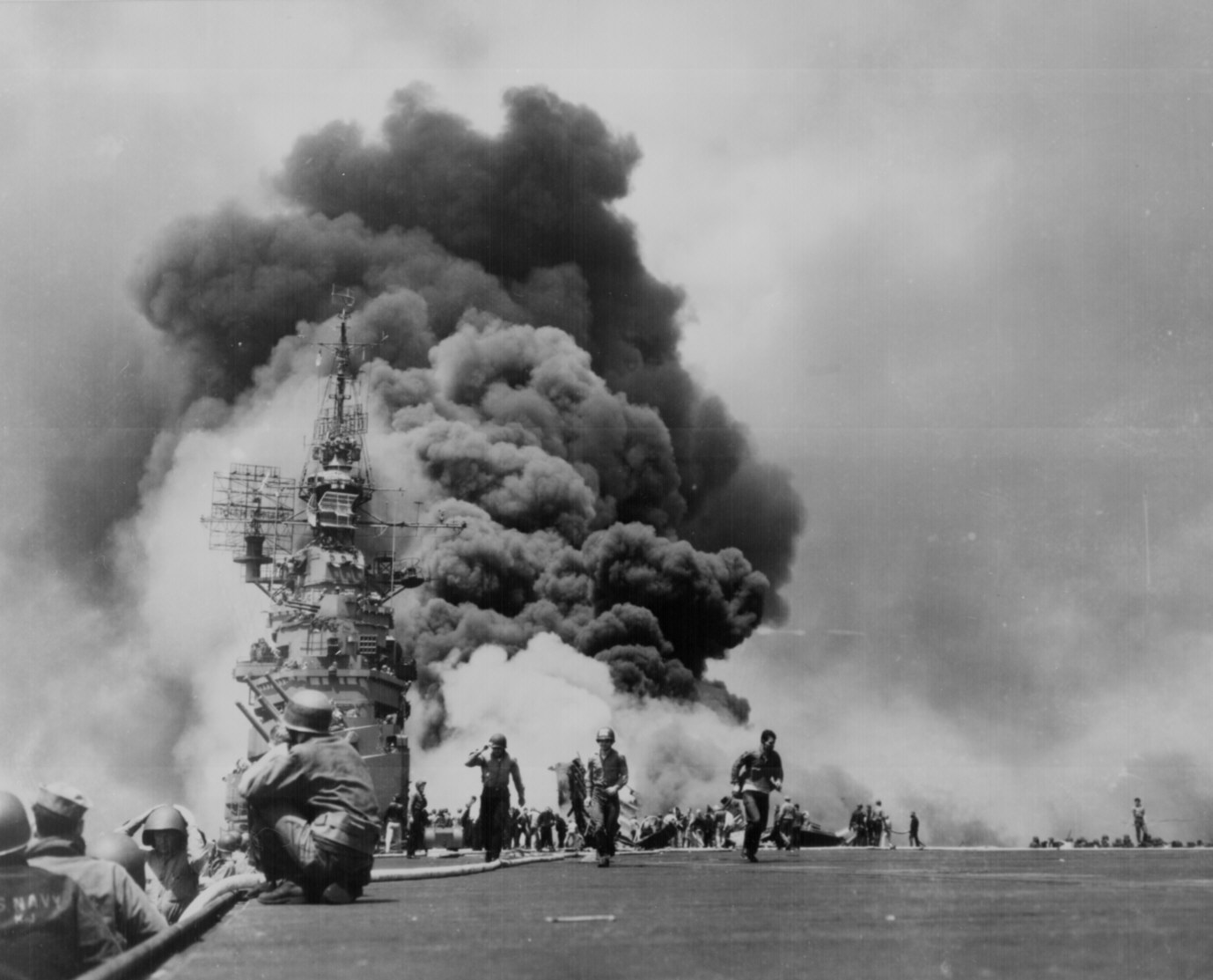 Two months into the battle, President Harry S. Truman delivered a special message to Congress in which he explained American strategy for defeating Japan. "There is no easy way to win," he asserted. Achieving victory would require concentrating all forces and applying overwhelming pressure on Japan from the land, sea, and air.
Victory was also dependent on a strong commitment from the home front to win the war of production. "[W]e must not slacken our support of the men who are now preparing for the final assault on Japan," Truman declared. "War production remains the paramount consideration of our national effort."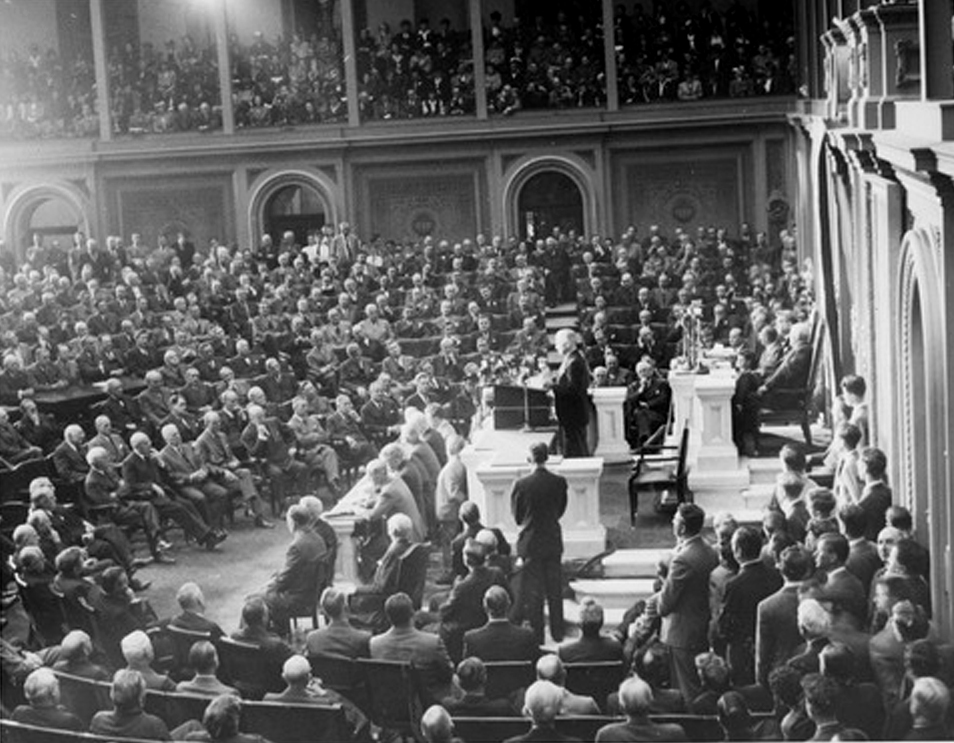 Near the end of his address, Truman cautioned the American people that Japan's only hopes for achieving peace on its own terms lay in "America tiring of this war—becoming weary of the sacrifices it demands." He warned that the Japanese "hope that our desire to see our soldiers and sailors home again and the temptation to return to the comforts and profits of peace will force us to settle for some compromise short of unconditional surrender."
Confident in his countrymen's ability to meet the demands of war, Truman stated that Japan's leaders "should realize that this Nation, now at the peak of its military strength, will not relax, will not weaken in its purpose. We have the men, the materiel, the skill, the leadership, the fortitude to achieve total victory." The president concluded, "We are resolute in our determination–we will see the fight through to a complete and victorious finish. To that end, with the help of God, we shall use every ounce of our energy and strength."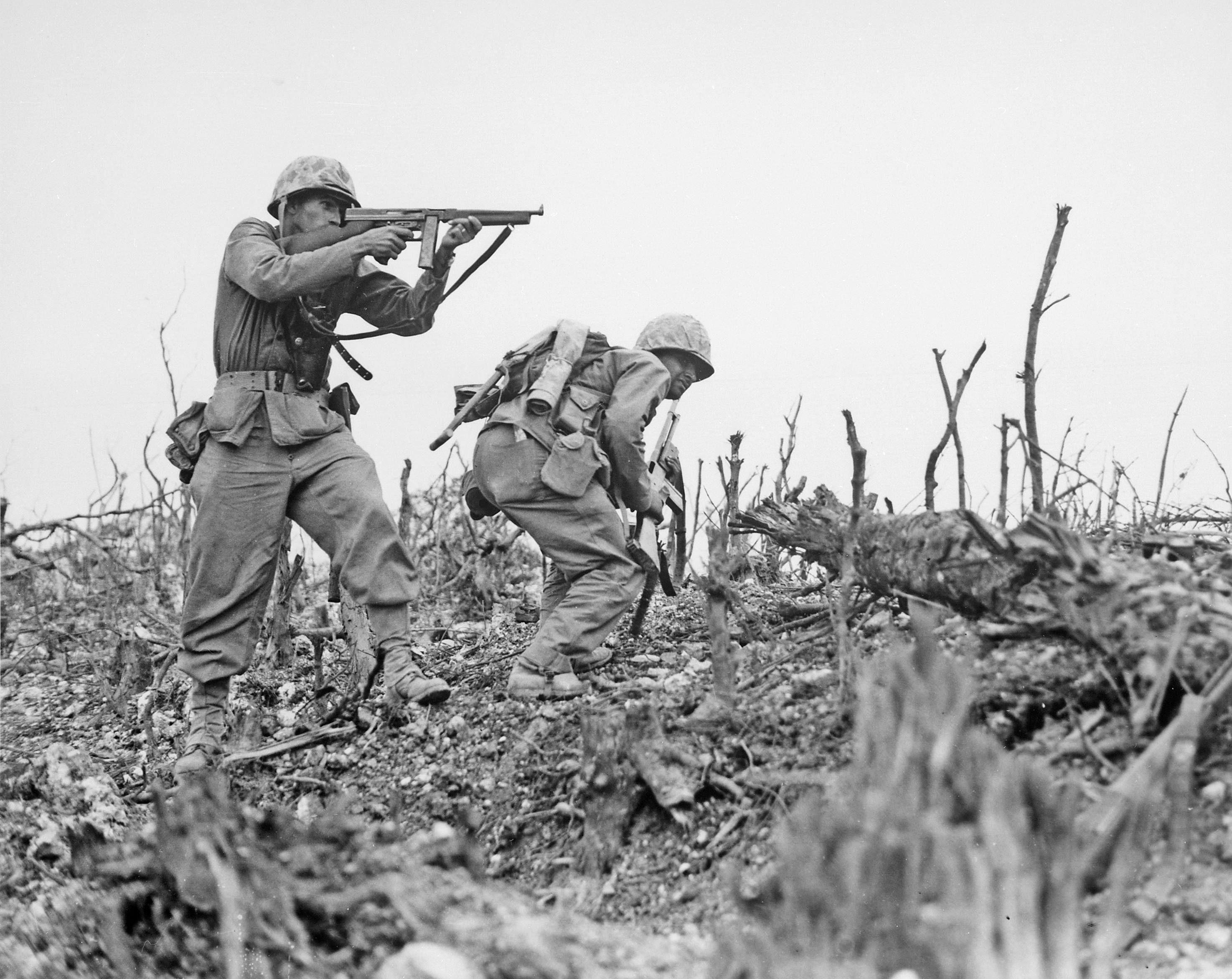 Three weeks after Truman's address, the Battle of Okinawa ended in an Allied victory. The combined death toll for Americans, Japanese, and native Okinawans numbered over a quarter of a million, with many more wounded and missing.
The island was now in U.S. hands, but the staggering cost of its capture led to a reappraisal of U.S. strategy for the assault on the home islands. Instead of a ground invasion, America would turn to a new and immensely destructive weapon to defeat Japan. Fifty four days after the Battle of Okinawa, Americans would celebrate V-J Day.
PHOTOS (top to bottom): A formidable task force carves out a beachhead, Okinawa, April 13, 1945; USS Bunker Hill is hit by two Kamikazes in 30 seconds on May 11, 1945; President Truman addresses a joint session of Congress; a U.S. Marine aims at a Japanese sniper on Okinawa, June 22, 1945
---
Related Posts

Contributed by Will Hickox, Ph.D. He has written for The New York Times and contributed to several digital history projects.
---
Join our email list to receive Truman updates right in your inbox: