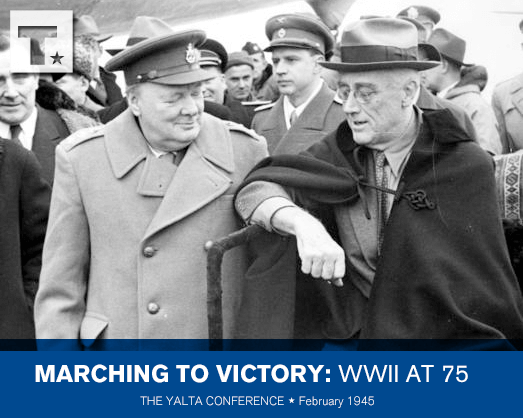 WWII highlights from the Truman Library's archives and collections
Marching to Victory: The Yalta Conference
February 1945
75 years ago, three men mapped the end of World War II. Did they also pave the way for a Cold War?
From February 4-11, 1945, the Crimean resort town of Yalta hosted some of the most powerful men in the world. These officials did not come to Yalta for relaxation, however. In what was only their second (and last) meeting together, American President Franklin D. Roosevelt, British Prime Minister Winston Churchill, and Soviet Premier Joseph Stalin (along with other military and political figures of the "Big Three" nations) planned their final victory over the Axis powers and reached an agreement for governing Europe.
The Yalta Conference occurred in an atmosphere of optimism and tension. Germany and Japan's empires tottered on the edge of collapse. Roosevelt and Churchill hoped to install governments in these areas that would be protective of democracy and human rights, but they could not ignore Stalin's military might. The Soviet leader was determined to hold Eastern Europe and extend his power elsewhere. The fates of hundreds of millions in Europe and Asia would rest on whatever agreement the Big Three reached at Yalta.
"Nazi Germany Is Doomed"
What, then, did their final settlement look like? Preserved among a large collection of World War II-era documents in the Truman Library's archives is a press release issued at Yalta on February 12. It includes a statement by Churchill, Roosevelt, and Stalin on the results of the conference. The leaders announced that they reached "closer coordination of the military effort of the three allies than ever before" and vowed to launch "new and even more powerful blows" against the enemy. "Nazi Germany is doomed," the statement continues, and Germans should surrender to avoid further suffering.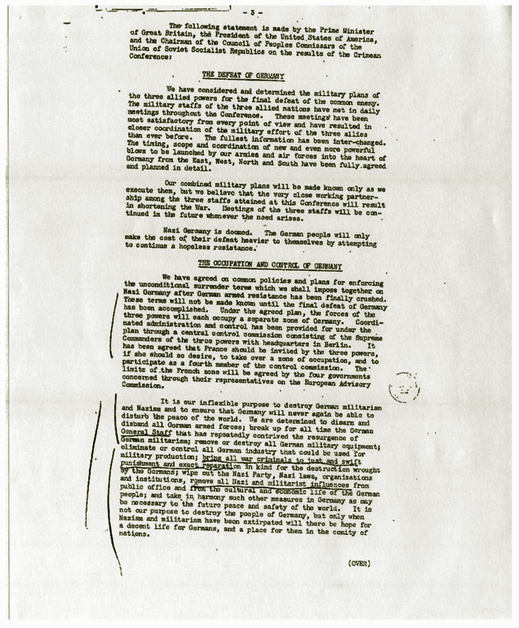 "To Maintain Peace and Security"
The Big Three also pledge to preserve peace once it is reached by keeping tight control over postwar Germany, founding an "international organization to maintain peace and security" (the United Nations), and working for the "restoration of sovereign rights and self-government to those peoples who have been forcibly deprived of them by the aggressor nations." They particularly promise to facilitate democracy in war-ravaged Poland and Yugoslavia. In overall terms, Roosevelt, Churchill, and Stalin emphasize Allied unity, imminent victory, and commitment to human rights.
But the press release and statement are also notable for what they don't address. There is no mention, for instance, of Allied plans in the Pacific Theater. At Yalta, Roosevelt and Churchill agreed to let Stalin annex parts of Japanese-held Manchuria in exchange for bringing his troops into the war against Japan. Additionally, the Western Allies acceded to Soviet dominance of Eastern Europe and thus undermined their stated goal of installing free governments in Poland and elsewhere in the region. Tragically, the Allies' zeal to end World War II set the stage for a much longer cold war.
The Yalta press release is a prime example of an official document that obscures as much as it informs, and it thus captures the hope and uncertainty of the Allied governments in the last year of the war.
PHOTO: February 1945; Prime Minister Winston Churchill speaks with President Franklin D. Roosevelt upon arrival for Yalta Conference; Harry S. Truman Library and Museum
Previous Posts
75 years ago, World War II ended under President Truman's decisive leadership. Now, follow key events from the war's final months with the Truman Library Institute's series, "Marching to Victory: WWII Highlights from the Truman Library's Archives and Collections." The 25-part blog series opens the vaults at Truman's presidential library to share eyewitness accounts and historic artifacts related to major conflicts and monumental victories – from the Battle of the Bulge to the liberation of Dachau to the unconditional surrender of Japan.
---

Contributed by Will Hickox, Ph.D. He has written for The New York Times and contributed to several digital history projects.
---
Join our email list to receive Truman updates right in your inbox: