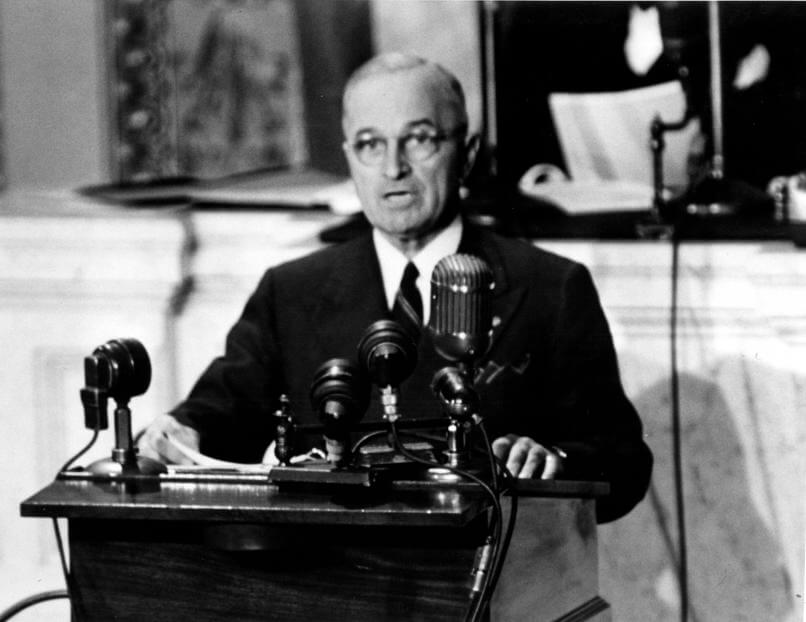 THIS DAY IN HISTORY
Truman Doctrine Announced: March 12, 1947
On this day in 1947, President Harry S. Truman asked for $400 million in military and economic assistance for Greece and Turkey. "It must be the policy of the United States to support free peoples who are resisting attempted subjugation by armed minorities or by outside pressures," Truman declared. "If we falter in our leadership, we may endanger the peace of the world — and we shall surely endanger the welfare of our own nation."
In asserting that the U.S. would intervene in faraway conflicts, President Truman dramatically reoriented U.S. foreign policy. What went into writing the Truman Doctrine speech?

The writing of this ground-breaking message went through multiple stages. In his memoir, Truman noted that the State Department's first draft of the speech "was not at all to my liking." Rather than asserting a new foreign policy doctrine, the State Department writers had "made the whole thing sound like an investment prospectus." Truman returned the draft to Secretary of State Dean Acheson "with a note asking for more emphasis on a declaration of general policy."
The State Department complied, and included a general policy statement in the next draft. But Truman was not satisfied. "It seemed to me half-hearted," he recalled. President Truman "scratched out" what he deemed equivocations. For example, Truman replaced "should" with "must" in a key sentence that read "I believe that it should be the policy of the United States…" According to Truman, "I wanted no hedging in this speech." Because this speech "was America's answer to the surge of expansion of Communist tyranny," it "had to be clear and free of hesitation or double talk."
A total of eight drafts of Truman's speech to Congress are featured on the Truman Library's website. Many include handwritten comments and corrections. Combined, they give readers a sense of the tremendous effort that went into drafting the Truman Doctrine as well as the importance a single word can make when crafting foreign policy.
Truman delivered his address on March 12, 1947. Over the next several weeks, Congress debated the merits of Truman's proposed foreign policy. On April 22, the Senate approved the legislation to provide assistance to Greece and Turkey. The House followed suit, approving the bill on May 9. On May 22, 1947, Truman signed the bill into law. According to President Truman, the enactment of his bill "served notice that the march of Communists would not be allowed to succeed by default."
VIEW UPCOMING EVENTS.
GET FREE ADMISSION AT AMERICA'S PRESIDENTIAL LIBRARIES.
SEE WHAT'S ON EXHIBIT AT THE HARRY S. TRUMAN LIBRARY AND MUSEUM.
---


Contributed by Mary McMurray, Ph.D. and director of learning and engagement.